We have watched this week as some of the market leaders in the commodities space have released solid quarterly results, and for the smaller E&P names there has been good progress made in understanding geology and increasing production numbers. This continues to set the stage for the next leg up in the energy sector specifically, but we are also noticing some solid demand for partnership offerings in the IPO market that deliver decent yields. This is key and could lead to a new wave of MLP offerings, something we have alluded to in the last month but believe is a near-term possibility given investor appetite right now.
Deal flow has certainly picked up in the industry, with a number of recently announced joint ventures to develop acreage in key shale plays along with some big deals that have been announced along with those that are rumored. We honestly believe that Halcon Resources (NYSE:HK) is a contender to get taken out in the next few years, especially after their most recent production report. They might announce a joint venture or two to develop some of their acreage in any number of their plays but ultimately this is a company that assembled its acreage position in order to sell the entire package and for those investors who are patient enough we do think that $10/share is the minimum that a deal gets done at.
Chart of the Day:
Copper is rebounding after its sell-off a few months ago and has actually, very quietly we might add, put together a solid month and a half of gains. There are still questions about China, but as we said when copper broke through a three handle, the Chinese news was not that bad and would actually drive prices higher once they started to implement economic programs to jump start growth.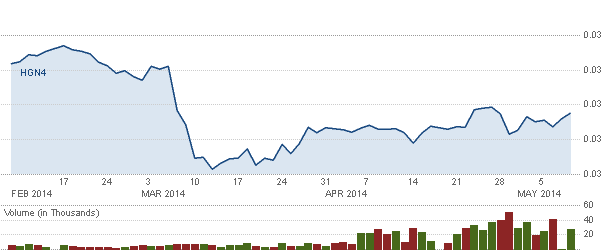 Source: CNBC
Commodity prices are as follows (at time of submission):
Gold: $1,288.60/ounce, up by $0.90/ounce
Silver: $19.02/ounce, down by $0.074/ounce
Oil: $100.68/barrel, up by $0.42/barrel
RBOB Gas: $2.9071/gallon, up by $0.0021/gallon
Natural Gas: $4.516/MMbtu, down by $0.056/MMbtu
Copper: $3.077/pound, up by $0.0145/pound
Platinum: $1,428.90/ounce, down by $9.20/ounce
Bonanza Creek Energy
We have not listened to the conference call, but the press release and some of the analyst comments we have read all appear to point to continued upside. Bonanza Creek Energy (NYSE:BCEI), like many of its peers, continues to find that they can decrease their spacing while they target numerous targets. Some investors will point to the quarterly results and say that the company missed, but as we have been saying all week we pay little attention to revenues and EPS when dealing with junior exploration companies that are drastically increasing production. On the conference call, or in the conference call transcripts for those who read, pay attention to the company's plans for spacing, the various targets they have and any hints to production growth and/or reserve growth moving forward in regards to periods the company has not yet provided guidance on.
There is a lot more attention on the US Rockies after EOG Resources (NYSE:EOG) announced that the area was their new focus. The questions we get from investors about the companies in the play have increased dramatically this week and we think that this might be beneficially to all names already with sizeable acreage positions. That is something to keep in mind moving forward, especially with a top name like Bonanza Creek Energy.
Mineral Rights Partnership
The energy sector has discovered that the MLP model is a great way to monetize assets in the current environment. With high energy prices and a huge demand in North America, the stable cash flows are enabling a stable environment for these tax efficient vehicles. Over the years we have seen some very interesting moves by companies to use MLPs to either raise cash directly or raise cash and offload a sizeable debt load by carving off some assets. The new MLP entities also provide a vehicle for future deals as they have their own credit facilities to fund drop downs.
Diamondback Energy has been a winner since its IPO. Could this mineral rights idea be the start of the next leg up?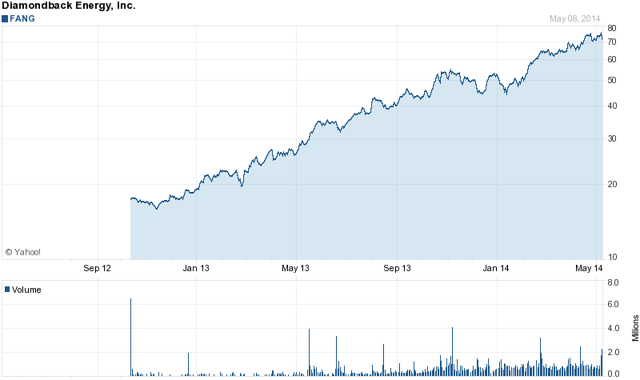 Source: Yahoo Finance
This is why we are interested to see how Diamondback Energy's (NASDAQ:FANG) mineral rights partnership deal pans out. They are putting the mineral rights from their recent transaction in Midland, Texas into the entity to raise cash and although they are getting money upfront while taking on obligations down the road, this would appear to help them fund their development moving forward without further diluting shareholders.
This is a smart management team that saw the need to gain scale in the Permian and thus exchanged equity in the company to Gulfport Energy (NASDAQ:GPOR) to get the acreage position they needed. Since then they have continued to increase their acreage position by using debt to fund the purchases, but this could lighten their debt load and allow for increased acreage purchases in the red-hot Permian Basin.
With the recent success of partnership IPOs we think that there might be strong support for this offering which could lead to further deals in the sector such as this.
Disclosure: I am long HK, GPOR. I wrote this article myself, and it expresses my own opinions. I am not receiving compensation for it (other than from Seeking Alpha). I have no business relationship with any company whose stock is mentioned in this article.