Allied Motion Technologies, Inc. (NASDAQ:AMOT) is engaged in the business of designing, manufacturing and selling motor, servo motion and optical encoder products to a broad spectrum of customers throughout the world. The company began focusing strictly on motion control markets in 2002, when their sales totaled $15.7 million and they operated at a breakeven level. Thereafter, sales grew consistently until peaking at $86 million in 2008 before being adversely impacted by the severe recession that brought 2009 sales down to $61.2 million. This sales drop resulted in AMOT reporting its first loss since 2002. Below are highlights:
click to enlarge images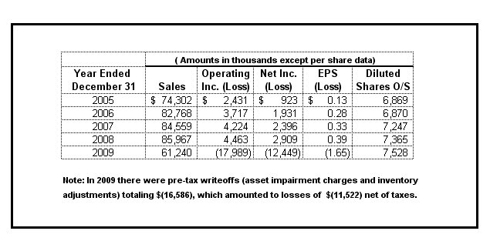 In the second quarter of 2009 AMOT wrote off $15,986,000 ($11,105,000 after tax) of asset impairment charges and recorded $600,000 ($417,000 after tax) of additional inventory reserves. With the onset of the recession the company's net "bookings" were adversely impacted starting in 2008 Q-3 and continuing through the end of 2009.
After experiencing four consecutive quarters of sub-par bookings the company, in accordance with generally accepted accounting principles, took asset write-offs and other charges in the quarter ended 06-30-09. Despite reducing operating expenses during the difficult period in 2009 the company maintained an objective of growing their future business by focusing on key areas expressed by management as follows:
"The company continues to pursue aggressive motor and drive development plans for new products that leverage the combined technology base of the Allied Motion companies. The company focuses on new product designs that design-out cost, provide higher level, value-added performance solutions and meet the needs of its served markets. Over the last few years, the company announced several new motor designs targeted at various markets. It normally takes twelve months to get new products designed into new customer applications.
The company continues its focus on a ONE TEAM sales force to more effectively leverage resources utilizing a company wide sales organization. With the ONE TEAM sales force selling all the company's products, management's expectation is that this capability provides opportunities to increase sales from existing customers and secure new business opportunities."
The results of their initiatives has paid off nicely with record "bookings" reported in 2010 Q-1 ($25.5 million), which was followed by even higher record net "bookings" in the second quarter of 2010 ($27.7 million). These quarterly bookings of new orders in 2010 is up substantially as compared to average quarterly net books of under $15 million per quarter for the last six months in 2008 plus the calendar year 2009. Below is a table showing quarterly "shipped sales" and "net orders booked" along with the end of period backlog of unshipped orders at the end of each quarter from Q-1 2007 through the second quarter in 2010: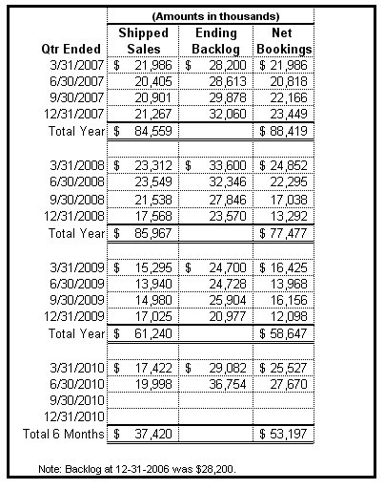 On the recent quarterly conference call, management stated that total bookings in 2010 through the end of July had exceeded the total 2009 shipped sales ($61.2 million). Since new orders booked for the first six months of 2010 amounted to $53.2 million, this translates into bookings of at least $8 million for July 2010, which is at a pace similar to the first six months of 2010. These strong bookings will translate into higher shipped sales, net income and EPS amounts going forward.
The company has a diversified customer base with no single customer accounting for more than 10% of total sales in the years 2008 and 2009. On June 3, 2010 the company acquired for cash Agile Systems Inc., which operates as Allied Motion Canada and contributed just a small profit in the quarter ended June 30, 2010. Management ended the most recent conference call by stating they were "very optimistic about the future of the company".
In the trailing twelve months ended June 30, 2010 sales totaled $69.4 million, operating income amounted to $2.4 million, net income totaled $1.9 million or $0.24 per share and they generated strong operating cash flow of $6.3 million ($0.80 per share). During this period the backlog of unshipped orders grew from $24.7 million on June 30, 2009 to $36.8 million at June 30, 2010.
The company has also strengthened their balance sheet over time. Before the recession on December 31, 2007 their total cash was $534,000, Accounts Receivable $10.2 million, Inventory $11.0 million, All Other Assets (including goodwill, other intangibles and fixed assets etc.) of $29.8 million, Total Liabilities of $17.5 million and Shareholders Equity of $34.0 million. As noted earlier, the shareholders equity was reduced by the after tax impairment charges and inventory reserves amounting to $11.5 million in the second quarter of 2009.
By contrast the balance sheet at June 30, 2010 reported cash of $5.3 million, Accounts Receivable of $10.2 million, Inventory of $8.2 million, All Other Assets of $14.5 million, Total Liabilities of $12.9 million and Shareholders Equity $25.4 million. Net book value at December 31, 2007 was $4.69 per share, but excluding intangible assets (goodwill, etc) was only $2.38 per share versus $3.11 per share at June 30, 2010. When evaluating a company's financial condition I place a premium on increases in cash combined with reductions in total liabilities, while pretty much disregarding amounts reported as goodwill and other intangibles.
There are no consensus estimates of revenues or EPS from analysts following AMOT and therefore the company is a relatively undiscovered story. I believe the company is now structured to exceed the operating levels achieved in 2007-2008, when sales were around $85-$86 million and EPS totaled $.39 in 2008. Operating margins in the first two quarters of 2010 were better than in 2007-2008 and should improve in the future as AMOT reaches even higher sales levels. At the closing price of $4.50 on August 13, 2010 the total market cap is approximately $35 million or about 0.5 of annualized sales in the trailing twelve months ended June 30, 2010.
We have a long position in Allied Motion Technologies Inc. My current target price for the shares of AMOT is $9.00 by sometime in the first quarter of 2011. A copy of our worksheet report on AMOT is available by emailing the request to resgroweq@yahoo.com.
Disclosure: Author holds a long position in AMOT