There are few topics that polarize investors more than Tesla (NASDAQ:TSLA). Proponents talk as if Tesla is destined to displace the old guard and become one of the world's largest auto manufacturers. Detractors argue that would be impossible, citing an insufficient supply of batteries that would persist even after Tesla builds its Gigafactory.
A more sensible view is that Tesla need not become a mass market success to secure its future. Though the company is reluctant to refer to itself as a luxury car company, it is and will be one for the foreseeable future. From a production perspective, the goal of joining the ranks of the world's top luxury auto manufacturers is much less daunting since the luxury market is just a fraction of the overall market. For example, the luxury portion of the U.S. automotive market has been stuck in the 10-11% range for the last several years.
From a demand perspective, there is ample evidence that Tesla is taking market share from other luxury car makers. Though Tesla's own engineering and design deserves much of the credit, it is getting just as much help from luxury car manufacturers whose motivation to build EVs and hybrids has much more to do with protecting their investments in the ICE (internal combustion engine) than it does with building the best car they can or even protecting the environment.
Tesla is a Luxury Car Company
Upon close examination of its planned range of vehicles, Tesla has no real plans to be a mainstream automaker in the sense that Ford (F), General Motors (GM), Nissan (NSANY) and Toyota (TM) are. Elon Musk expects that the most accessible vehicle in Tesla's pipeline, the Model E, will be priced around $35,000 and will basically be a 20% smaller version of the Model S. Elsewhere, he has also said that it will be competitive with the BMW (BAMXF) 3 Series sedan. With the 3 Series' current U.S. MSRP of $32,750 to $45,400, there is room for Tesla to miss on its target price without pricing itself out of competition. Those who have ventured a guess as to what the Model E will look like are not imagining an econobox akin to a Nissan Leaf or a Ford Focus.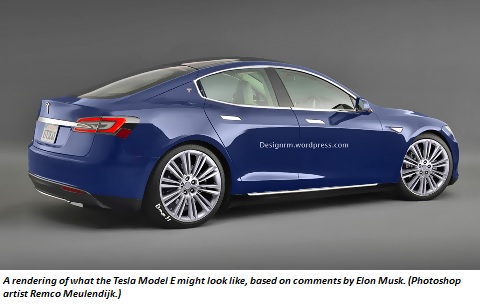 Though Elon Musk thinks of his cars as being more about performance than luxury, performance has always been the heart of luxury and the core of any luxury car maker's brand. Whether it's the earthshattering power of a big Mercedes-Benz (Daimler AG) (DDAIF) engine or the deft handling of an Audi (Volkswagen) (VLKAF) Quattro suspension, the success of these nameplates hinges much more on engineering than it does on the superficial trappings of luxury.
In true luxury car fashion, Tesla is competing on performance. It's just doing it in a very unorthodox way that happens to make the car very competitive. Where a Tesla really trounces the competition is in acceleration. Unlike top speed, which in most parts of the world requires an expensive track day or risking jail time to be appreciated, superior acceleration can be enjoyed guilt-free every time one takes a freeway on-ramp.
What the top luxury car makers don't seem to grasp is that Tesla is after their bread and butter - not just the alternative fuel segment. As the chart below illustrates, Tesla is not just competitive with their (marginally) green offerings, it is giving their flagship models a run for their money, too.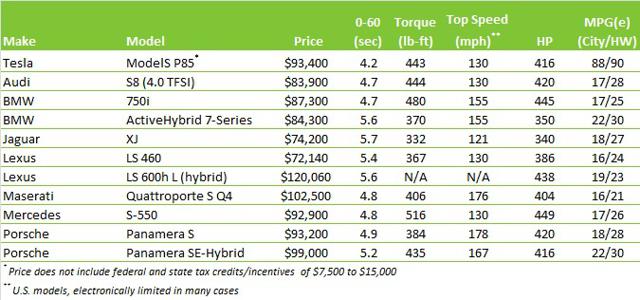 A half to a full second or so faster 0-60 time may not sound like much, but among performance car enthusiasts, it's an eternity. Achieving this with an MPG equivalent of 88 city/90 highway is the definition of disruption. Add to those qualities the long list of reasons why Motor Trend made the Model S its 2013 Car of the Year (near perfect weight distribution, unprecedented roominess, great handling, etc.) and the Model S becomes a bona fide category killer. No hype required.
The result is simple. Tesla is eating the competition's lunch. Last year in the U.S., the Model S outsold its closest competitor in the super luxury category, the Mercedes S-class, by an astounding 30%.
Tesla is not beating the luxury car makers at their own game. It is changing the rules of the game by daring to be all-electric. It's a trend to which even the kings of high-performance are waking up. The newest offerings from Ferrari, McClaren and Porsche all employ electric motors to push 100-year-old ICE technology over the 3.0 second 0-60 barrier. Upstarts like Rimac with no legacy investment in ICE technology are using the elegance of all-electric power to challenge the world's fastest ICE-powered supercars.
This begs the question: "If the more electric a car becomes, the better its performance, why don't all the high-end car makers go all-electric?" All-electric opponents point to range anxiety, but as battery ranges rise and public charging infrastructure proliferates this is becoming less of a real concern and more of a straw man argument. The leading public charging provider, Car Charging Group (CCGI), made huge strides in 2013. Through the acquisition of four competitors, its installed base of charging stations grew from 157 to 14,031. This has resulted in 1,860% growth in monthly net EV charging fees. With growth like that, the range anxiety argument is quickly fading in the rear view mirror.
Asking the Right Questions
The question that dominates the debate over ICE vs. hybrid vs. all-electric is "which one is the best at eliminating range anxiety?" Some say having some gas-power to fall back on is better than none at all, but this doesn't explain all the intricacies of the industry's behavior. It doesn't explain why Mercedes-Benz, BMW and Audi won't take direct aim at Tesla with an all-electric flagship sedan.
Sadly, it's political.
The governments of the world's major auto markets have all adopted emissions standards for new vehicles that place the onus of compliance on auto manufacturers. For example, U.S. federal regulations require auto manufacturers to achieve a fleet average of 35.5 mpg by 2016. As in other countries, these requirements will become stricter and stricter over time. By 2025, all vehicles sold in the U.S. will have to achieve an average of 54.5 mpg. Consequently, the amount of interest most car makers take in electric motors is proportionate to the amount of their profits that come from selling gas guzzlers and the size of their investment in ICE technology. This goes much further toward explaining why just 9% of world automobile executives (page 12) see all-electrics as their top priority than sympathy for their customers' range anxiety.
For example, BMW has a huge investment in high performance ICE engines that is central to its brand. Consequently, it is avoiding the idea of cannibalizing sales of its high-end ICE-powered sedans with an all-electric model. The most it will do is build a hybrid 7 series with a token-sized electric motor. BMW is, however, willing to go all-electric at the low end of its range with the i3. It's a little hatchback that BMW hopes to sell in volume to lower its fleet average emissions and allow it to sell more M3s. Audi's A3 e-tron and the Mercedes-Benz B-class are essentially the same - little econboxes that buy them more time to sell gas guzzlers.
Incidentally, the same logic applies to the supercar makers. They don't really have the option of launching a mass market econobox, which is why they have gone more aggressively electric with their over-the-top gas guzzlers. Could Ferrari build a 100% electric car that would blow away anything ever built? If the precocious twenty-five year-old at the helm of Rimac can do it, Ferrari certainly could. Will it throw away decades of investment in its crown jewel ICE engine? Absolutely not.
A Passion for Performance or Compliance?
To paraphrase Elon Musk, the object of the game for Tesla is to build the world's best car, which just happens to be electric. For the rest of the luxury industry, it is to build the best car that can still provide a return on their investment in the ICE engine, while dabbling enough in electric motors to keep them out of trouble with the regulators. Consequently, most of these competitors have said they will only produce all-electric cars in limited quantities. Tesla intends to make as many as people want, making it even easier to steal market share. It's not such a grave mistake as to put them out of business, but if they continue to turn a blind eye to the all-electric that's eating their lunch, the world's luxury car makers stand to lose significant market share in a segment where a 2-3% share worldwide makes you the leader.
Disclosure: I have no positions in any stocks mentioned, and no plans to initiate any positions within the next 72 hours.
Business relationship disclosure: Business relationship disclosure: Market Exclusive is a team of analysts and writers. This article was written by Carlos Uribe, one of our Group contributors. We did not receive compensation for this article (other than from Seeking Alpha), and we have no business relationship with any company whose stock is mentioned in this article.
Editor's Note: This article discusses one or more securities that do not trade on a major U.S. exchange. Please be aware of the risks associated with these stocks.