SunPower (NASDAQ:SPWR) is amongst the largest solar companies globally with a market capitalization of $ 4.2 billion. The company is known for its innovative solar technology such as the high efficiency "Maxeon" cell technology and its "Oasis" utility scale power block which considerably eases installation. SPWR has strong presence in the USA, but the company is now trying to expand its foothold in the Asia Pacific and Middle East regions. The company gave robust Q1 14 results and also gave a strong outlook for the current financial year. With its parent company influence, the company is trying to bag large utility project orders in Europe, Middle East and Africa. SunPower is also trying to increase its market share in rooftop solar installations in the United States and Japan. Both these countries have a strong focus towards developing rooftop installations.
The management has worked smartly to reap the benefits of the upturn in the solar industry in the current year. The company outperformed all the major solar stocks and gave good returns in the last month.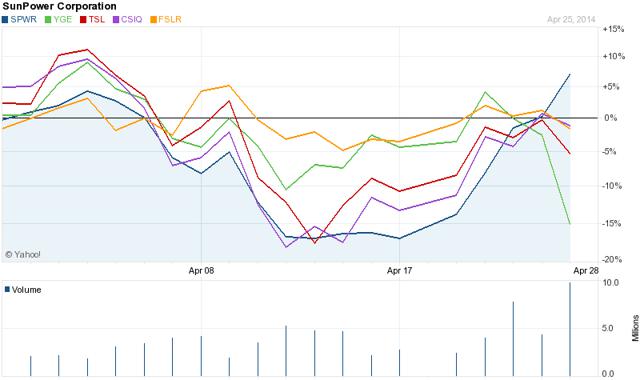 SunPower Positives
1) SunPower and Google Agreement - SunPower recently entered into two lease financing agreements. The first one was with Google (NASDAQ:GOOG) (NASDAQ:GOOGL) for $ 250 million, wherein Google invests $ 100 million and SPWR the remaining $ 150 million. This agreement is clearly a win-win for both, as Google gets to reduce its tax obligations by investing in the clean energy and SPWR gets to gain in more customers. The main focus for this deal will be to finance residential solar installation in USA. The other one is a leveraged deal for $ 42 million with Hannon Armstrong. Both the deals pertain to USA.
These two deals will give a boost to SunPower's residential leasing program, launched in 2011. Through this program SunPower has gained significant traction in the U.S. solar rooftop installation market. This program enables the company to receive tax benefits under the Investment Tax Credit structure, which aims at promoting solar photovoltaic installations.

Source: Yahoo Finance
2) Expanding into the Japanese & Chinese markets - SunPower has a strong US presence and but only a weak one in the Asia Pacific countries which have become the biggest demand drivers in 2013. The company rectified this with a strong growth in Japan. The company's total Japanese shipments accounted for 22% of their total shipments. In China, SunPower received a 70 megawatt C7 cell package order from a JV. This shows that the company is making some headway in increasing its marketshare in the Japan and China.
We posted another solid quarter in Asia Pacific as pricing remained strong and demand for our distributed generation and power plant solutions in Japan significantly exceeded our supply. In China, our C7 manufacturing joint venture achieved a number of key milestones during the quarter, including our first cell package order totalling more than 70-MW. We will continue to scale-up production of this power plant technology for the China market and expect additional orders this year.

Source: SunPower
3) Strong Presence in the residential segment - SunPower has a presence in all three segments - residential, utility and commercial. However, the company is the leader in rooftop installations. Rooftop solar has witnessed a boom across the globe lately. SPWR's solar panels are designed in a way to give maximum output in a space constrained area and hence work wonderfully for residential installations. Here the company enjoys an advantage over the other solar companies like First Solar (NASDAQ:FSLR) and SolarCity (NASDAQ:SCTY) which have a strong focus across the utility and residential segments respectively. With the company's strong presence in US, which is expecting a 45% growth in rooftop solar installations in the years to come, SPWR is in a strong position.
According to a report by Goldman Sachs, installations in the U.S. rooftop solar market will grow at a rate of about 45% between 2013 and 2016, while utility-scale solar will grow at just 8% during the same period.

Source: Forbes
4) Total Influence - SunPower is a subsidiary of French oil and gas giant Total (NYSE:TOT) and was able to survive the harsh industry downturn due to Total's backing. The company is now using Total's influence to gain projects in the European, Middle Eastern and African regions as well.
5) Project Pipeline - SunPower uses its Yieldco strategy called Holdco, to drive higher NPVs through deferring revenue recognition. The company has executed well on its projects in Q1 2014 and much of the revenues earned in 2013 were through projects executed in USA.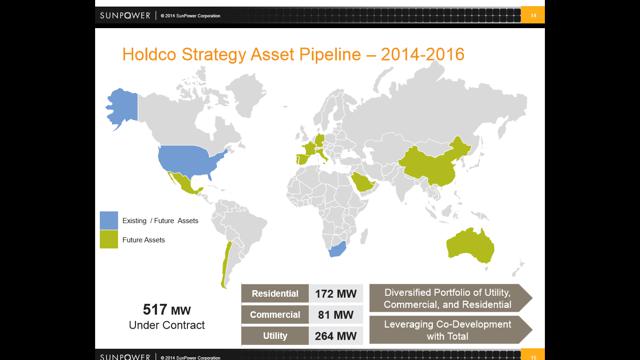 6) New Manufacturing Facility - SunPower plans to construct a 350 MW solar cell manufacturing facility (Fab 4). The company has closed down obsolete lines and as demand surges, the company is looking to expand capacity through high efficiency cell lines at its main manufacturing cluster in Philippines.
SunPower Risks
a) Competition from cheap Chinese Solar Modules - Though SunPower has is a technology leader manufacturing modules with high efficiency, it still is finding it difficult in competing with the cheap Chinese made solar panels. However, the company is striving to decrease the cost of producing solar cells, as the solar downturn forced the company to become more competitive with dirt cheap Chinese solar cells. SPWR manufactures highly efficient solar cells and modules which gives it a competitive edge where area is a constraint.
b) Project Business is lumpy in nature - SunPower has a strong utility project business which is lumpy in nature and returns are sometimes unpredictable. Large utility scale projects face a number of risks such as environment delays, regulatory issues, problems in land acquisition etc.
SunPower Outlook
Strong Q1 14 results and a positive outlook - SunPower achieved a revenue of $ 692 million in the first quarter of 2014, registering a $ 54 million increase from the last quarter of 2013 and a 23.5% gross margin. The company also gave a positive and strong outlook for the upcoming quarter and a whole year.
| | | |
| --- | --- | --- |
| Outlook for Q2 14 & FY 14 (non GAAP) | | |
| | | |
| | Q2 14 | FY 14 |
| Revenue (Million $) | 575 - 625 | 2500 - 2650 |
| GM (%) | 18 - 20 | 19 - 21 |
| EPS ($) | 0.15 - 0.35 | 1.10 - 1.40 |
| MW Recognized | 275 - 300 | 1200 - 1300 |
We again exceeded our revenue and profit goals for the quarter as we benefitted from strong execution in all of our key markets," said Chuck Boynton, SunPower CFO. "Additionally, we strengthened our balance sheet as we successfully managed our working capital and cash balances.

Source: SunPower
Stock Price & Valuation
SunPower is cheap when compared to the other solar US company SolarCity . SunPower's P/B and P/S values are 3.7x and 1.9x respectively, which are very less when compared to SCTY's 20.6x and 2.2x. We cannot compare both the companies on P/E basis since SCTY is not making profits currently. Thus we see that SunPower is better off this way. Both the companies have almost similar market capitalization values, operate in the US solar industry and are also into solar leasing. SPWR is currently trading at $ 32.30, which is very close to its 52 week high price of $ 37.14. Looking at the graph below and comparing the performance of some companies, we see that SPWR has outperformed most of the other solar stocks.
Source: Morningstar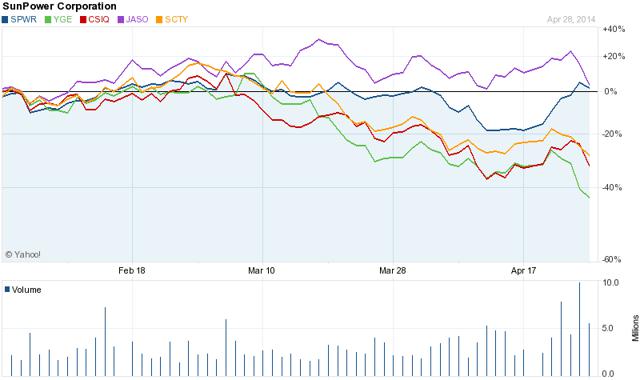 Summary
SunPower is one of the leading solar companies in the present day global solar industry. The company has established a strong foothold in the residential segment. The company is a leader in USA and is now trying to expand in the Asian countries especially Japan, China and Middle East. SunPower has a decent project pipeline in America, Asia and Australia and has given good results this quarter. The company's agreement with Google is being praised by the industry as well. With rooftop business booming, the company will continue to grow above industry growth rates. If the company can establish a strong footing in Asian countries of China and Japan and can compete with the Chinese made components fairly, it will become even more competitive. SunPower remains one of my favorite picks in the solar industry and I would look to buy it on dips.
Disclosure: I have no positions in any stocks mentioned, and no plans to initiate any positions within the next 72 hours. I wrote this article myself, and it expresses my own opinions. I am not receiving compensation for it (other than from Seeking Alpha). I have no business relationship with any company whose stock is mentioned in this article.