Bravo to corporate managements everywhere for consistently setting low expectations and then exceeding them. This leads, of course, to the many earnings season "beats" we read about every quarter, as if CEOs-and-crews knocked themselves out. So attuned to these projections have stock prices become that, even when the company projection is for disaster, if management delivers disaster-plus-2%, it's often seen as success.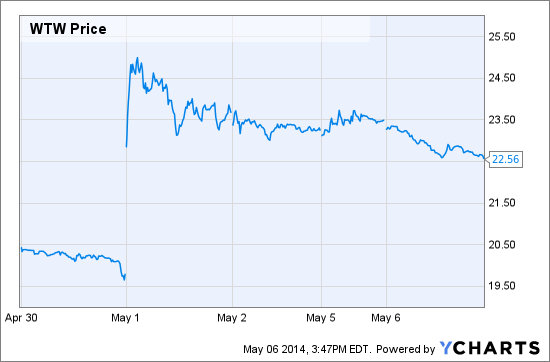 WTW data by YCharts
That's what appears to have occurred in recent days at Weight Watchers International (NYSE:WTW), where, management guidance aside, the decline in revenue is accelerating. After fourth-quarter revenue fell by 11%, Weight Watchers issued dreary-dreary full-year 2014 guidance, and CEO Jim Chambers says now:
Our Q1 financial results were ahead of our expectations.
Break out the champagne, Jim: revenue for the quarter, which typically is a good one in the weight-loss industry due to New Year's resolutions, plunged 16.6%, half again faster than the Q4 decline.
Safe to say, Weight Watchers isn't the same company it was a couple of years ago, before digital digital diet apps and activity wristbands became prevalent. Sales and profits have been falling and the outlook - Chambers upped the full-year EPS guidance range to $1.45-to-$1.70 with the release of first-quarter results, from the earlier low bar of $1.30-to-$1.60 - represents a huge decline from past performance: 2013 EPS of $3.63 and 2012 of $4.23.
A nickel or two down in the dollar-and-change range is nothing to celebrate about, given how far Weight Watchers has fallen.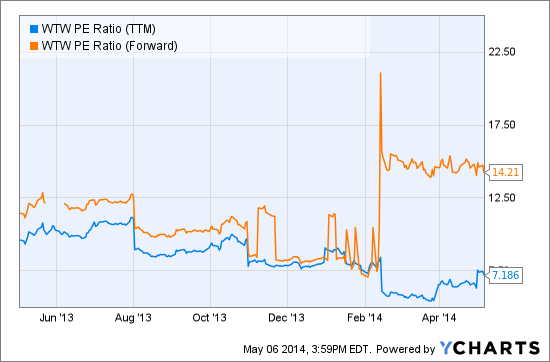 WTW PE Ratio (TTM) data by YCharts
With a trailing PE ratio of about 7, one might think Weight Watchers is a bargain. But the forward PE ratio is double that, or about 14, and the chart above shows how those two metrics - moving along together so nicely - parted company earlier this year with the initial dreary-dreary guidance.
Weight Watchers rolled out a new sales promotion to start 2014, and so far it's a flop. The company reported:
Despite the launch of Simple Start at the beginning of the year recruitment softness continues, impacted by activity monitors and free apps that generated significant consumer interest and influenced trial dynamics in the category.
Weight Watchers is particularly vulnerable to a downturn after having leveraged up in recent years with enormous stock buybacks funded with debt.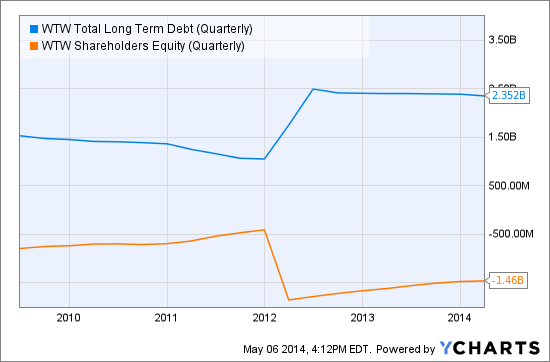 WTW Total Long Term Debt (Quarterly) data by YCharts
Customer engagement, meanwhile, has been on the decline as people increasingly pay for Weight Watchers meeting attendance and then don't go. Sure they paid, but lack of engagement suggests more members may drop out. And if they don't go to a meeting, they can't buy stuff; in-meeting product sales plunged 25.3% in the first quarter.
As we've noted before, Weight Watchers carries nearly $1 billion of goodwill on its balance sheet, an asset category that could come under pressure as the business deteriorates. And its long-term debt, at $2.3 billion, is huge for a company hoping to make net income in 2014 of maybe $100 million.
Chambers, the CEO, offered this up in the first-quarter earnings statement:
We are encouraged by the progress we are making on our transformation plan, but there is still a great deal of work to do.

The numbers don't spell progress just yet, even if the bar has been set awfully low.
Jeff Bailey, The Editor of YCharts, is a former reporter, editor and columnist at the Wall Street Journal and New York Times.
Disclosure: None