The following is a list of stocks and funds that are approaching an inflection point, based on moving average trends. For this article, we define an inflection point as the convergence between the 50-day and 200-day moving averages.

When these two moving averages cross, it often represents a shift in investor sentiment. If the 50-day MA moves above the 200-day MA (bullish), it's called a "Golden Cross" signal. If, on the other hand, the 50-day MA crosses below the 200-day MA (bearish), it's called the "Death Cross".

To compile this list, we only focused on stocks with a significant increase in recent volume. We used the Relative Volume indicator, which represents today's volume relative to the 3-month average. All of the stocks and funds in this list have Relative Volume above 2.0.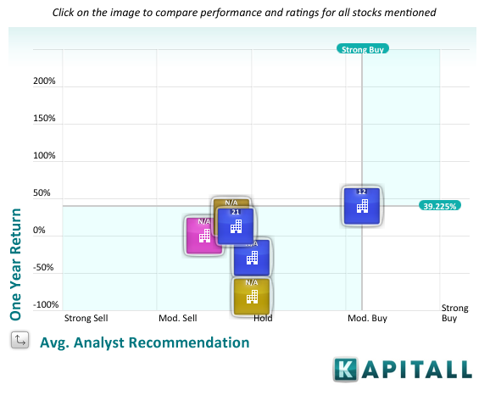 1. Delhaize Group (DEG): Grocery Stores Industry. Market cap of $6.64B. SMA50 at $76.91, and SMA200 at $76.81 (current price at $67.24). Relative volume at 22.79. Short float at 0.13%, which implies a short ratio of 3.72 days.

2. Satyam Computer Services Ltd. (SAY): Information Technology Services Industry. Market cap of $3.19B. SMA50 at $5.00, and SMA200 at $5.13 (current price at $4.55). Relative volume at 2.46. Short float at 0.19%, which implies a short ratio of 1.74 days.

3. Pearson plc (NYSE:PSO): Publishing Industry. Market cap of $12.50B. SMA50 at $14.52, and SMA200 at $14.34 (current price at $15.32). Relative volume at 2.6. Short float at 0.11%, which implies a short ratio of 4.25 days.

4. WisdomTree MidCap Earnings (NYSEARCA:EZM): ETF. SMA50 at $44.82, and SMA200 at $44.58 (current price at $43.8). Relative volume at 2.18. Short float at 0.77%, which implies a short ratio of 128.64 days.

5. Atmel Corporation (NASDAQ:ATML): Semiconductor Industry. Market cap of $2.65B. SMA50 at $5.20, and SMA200 at $4.94 (current price at $5.70). Relative volume at 2.24. Short float at 2.82%, which implies a short ratio of 1.79 days.

6. National Instruments Corporation (NASDAQ:NATI): Technical & System Software Industry. Market cap of $2.32B. SMA50 at $31.45, and SMA200 at $31.03 (current price at $29.40). Relative volume at 2.45. Short float at 1.23%, which implies a short ratio of 3.14 days.

7. Atlantic Power Corporation (NYSE:AT): Electric Utilities Industry. Market cap of $4.51B. SMA50 at $12.22, and SMA200 at $11.80 (current price at $13.02). Relative volume at 3.12.

8. UBS E-TRACS CMCI Agriculture TR ETN (NYSEARCA:UAG): ETN. Market cap of $2.04. SMA50 at $19.75, and SMA200 at $20.29 (current price at $21.47). Relative volume at 2.22.

9. Six Flags Entertainment Corp. (NYSE:SIX): General Entertainment Industry. Market cap of $3.13B. SMA50 at $33.53, and SMA200 at $34.19 (current price at $34.05). Relative volume at 2.8. Short float at 0.58%, which implies a short ratio of 9.55 days.

10. WisdomTree SmallCap Dividend (NYSEARCA:DES): ETF. Market cap of $4.52B. SMA50 at $40.75, and SMA200 at $39.98 (current price at $39.78). Relative volume at 2.7.


Disclosure: No positions