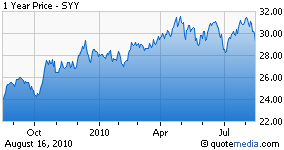 After opening lower today, the stock market is rallying off its lows. Before the opening bell Sysco (NYSE:SYY) released earnings for its fiscal fourth quarter. The company earned 57 cents a share, which was a penny below forecasts but four cents more than a year ago.
Sysco is a consumer staple so it's usually a good stock to own during a recession. Still, times are tough and, as the company's CEO said: "We have seen no consistent pattern of improvement on a week to week basis."
Looking at the numbers, Sysco is still doing well. Not great, but well enough. For the quarter, revenue rose 14% to $10.35 billion, up from $9.09 billion last year. For the full year, Sysco earned $1.99 per share which is up from $1.77 per share.
Sysco is your classic slow-and-steady stock so I'm not too concerned about it missing earnings by a penny. The company should probably make another $2 a share this year so the current price is a pretty good value.
Disclosure: None