Arena Pharmaceuticals (NASDAQ:ARNA) announced today that its marketing partner Eisai (OTCPK:ESALY) is increasing the sales force from the current 400 reps to 600 reps. The 50% increase in reps represents a committed step by Eisai to broaden awareness of the anti-obesity drug, Belviq. I had previously covered the additional reps about a month ago. The bigger news, in my opinion, is the announcement that insurance coverage is getting more traction. Arena also announced that 60% of covered lives now have access to anti-obesity treatment. This bodes well for not only Arena, but the sector as a whole.
It was just three months ago when insurance coverage for Belviq hit the 50% of covered lives level. The progression in insurance coverage will help with sales, as it translates to less out-of-pocket expense for consumers. Seeing the needle move by 10 points every three months means that slowly but surely, the insurance industry is recognizing the benefits of treating obesity:
July 2013 coverage was at 30%
December 2013 coverage was at 40%
February 2014 coverage was at 50%
May 2014 coverage is at 60%
In reaching broader overall coverage, the focus can now begin to shift on getting to better tiers within the various formularies. Insurance companies cover different drugs at different levels. A Tier 1 drug gets the highest percentage of the cost covered by an insurance company, while a Tier 4 drug gets the least amount covered. This means we have continued upside in getting covered lives higher, with additional upside in getting to better tiers within the coverage.
While this series of articles typically focuses on script sales, things like additional reps, better insurance, and ad campaigns relate closely. On the television ad front, we are about 4 weeks into the campaign. According to iSpot.tv, a service that is a handy tool for investors to track ad campaigns, we have just under 1,000 airings of the commercial, with the ad spend being at just over $1 million. Marketing partner Eisai is in charge of marketing Belviq.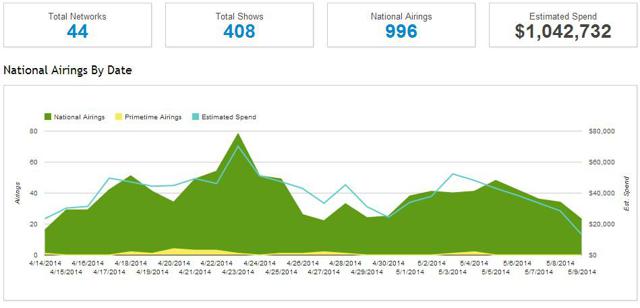 (Chart Source - iSpot.tv)
In looking at trends online, there is little doubt that the advertising has impacted awareness of Belviq. Last week, we saw the new prescriptions increase by about 18% to 20%, while refills were very flat. This is a real indication that script growth is essentially new and a direct result of advertising. In theory, the numbers will still improve, because getting a script is a process. The early rise would likely be attributable to people with existing appointments or quick access to a doctor. I anticipate that the ad campaign will be a driver for a few more weeks in terms of week-over-week growth. After that, we will see the week-over-week growth get into a more typical groove.
Looking at the awareness level, we can see that since the release of the television ad, internet activity has grown. Of course, perspective is part of the equation. Look at the awareness chart for the last 90 days: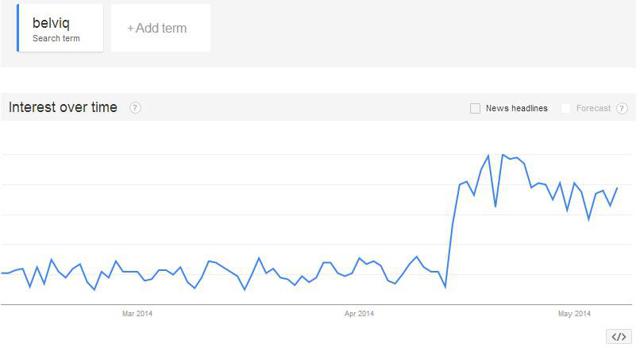 (Chart Source - Google Trends)
That chart above looks great. Now, if we add in Weight Watchers (as I did for the chart below), we can see that there is still a long way to go on the awareness front. The only change made was the addition of the search term "Weight Watchers". The "Belviq" search term does not look as impressive now, does it? That is not a good thing or a bad thing. It is simply speaking to the potential, where we are now, and where we want to get to.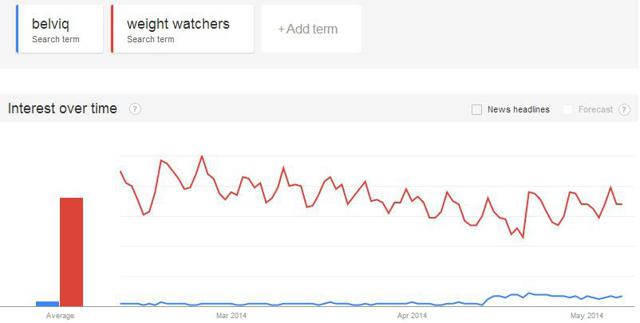 Chart Source - Google Trends
Perspective is important. It can keep you grounded when you need to be, and also can outline the potential. Will Belviq ever catch up to Weight Watchers on Google Trends? Perhaps. The important thing is seeing that gap narrow. We know that Weight Watchers is very well-established. If Belviq can keep increasing awareness in relation to something like Weight Watchers, it will be a positive thing.
On the sales front, as anticipated, another week-over-week rise in scripts was in the cards. This week, we saw a more modest gain of about 6%, according to industry tracker, IMS Health. My adjusted scripts for the week came in at just under 9,000. Refills were pretty much flat. Over the past couple of weeks, the growth has been primarily in the new prescription category, indicating awareness increase driven by advertising.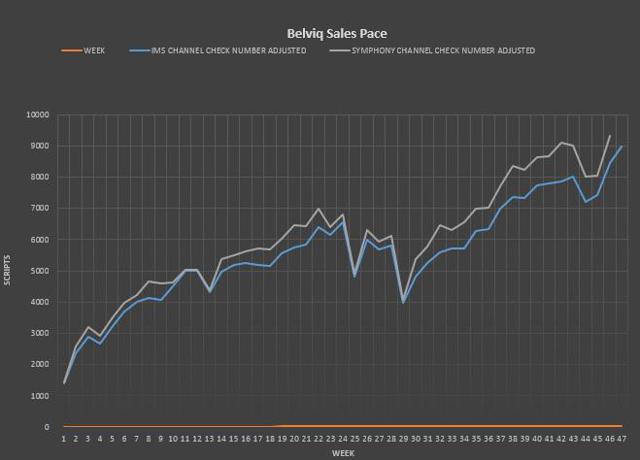 (Chart Source - Spencer Osborne)
As we look specifically to 2014, the sales numbers are trending just below $100 million if you use the adjusted IMS data, and just under $150 million if you use Symphony data.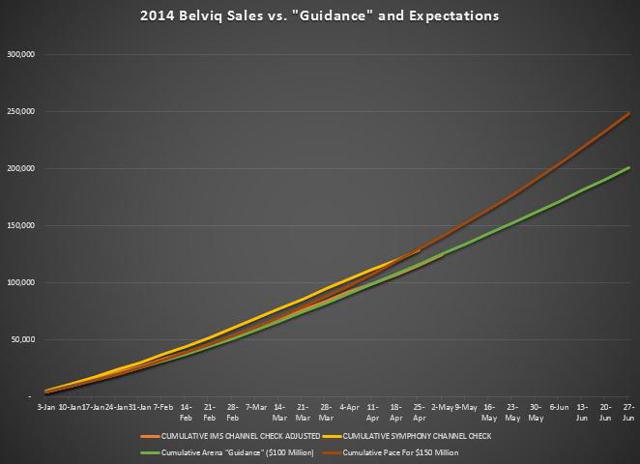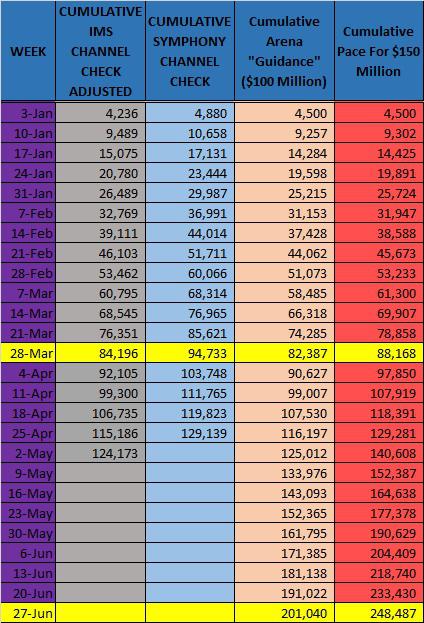 (Charts Source - Spencer Osborne)
In looking at the revenue side of the equation, overall estimated gross sales since launch stand at just shy of $52 million. Estimated gross sales in 2014 are at $24.7 million, with Q2 estimated gross sales at almost $8 million. I have net sales in 2014 at $13.6 million and Arena's share of net sales for the year at $4.2 million.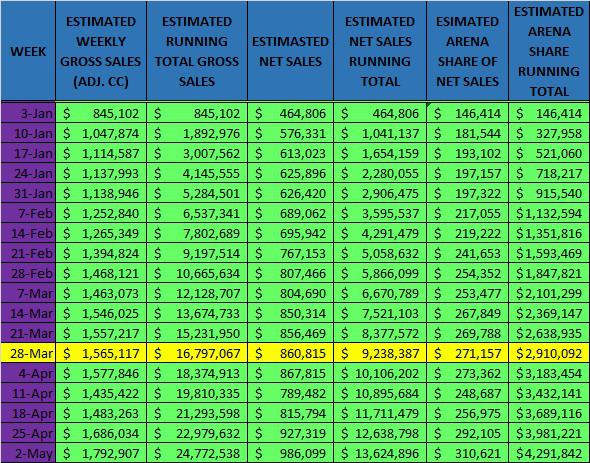 (Chart Source - Spencer Osborne)
In looking at the quarter-over-quarter comparison, we see that Belviq is tracking well vs. what it did in Q1. Week 5 of the current quarter came in 57% better than week 5 of Q1. Overall, quarter-over-quarter sales are up 51%. The sales track is holding a good trajectory, though, as you can see, the initial flatness of Q1 has helped the comparison.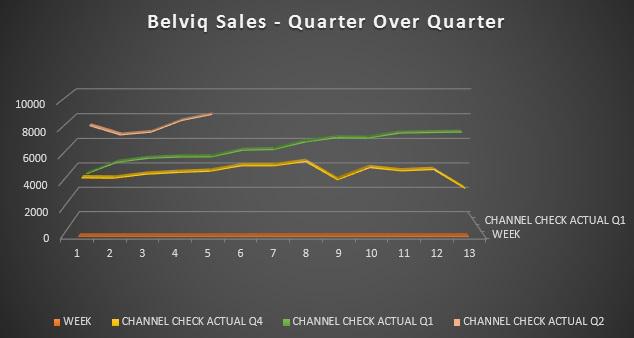 (Chart Source - Spencer Osborne)
The bottom line is this. We expect added awareness from television advertising. We expect television ads to take time to translate into new script sales. The key is for Belviq sales to pace (at a minimum) to $100 million in gross revenue for 2014, and preferably to $150 million. We will be able to see a clearer picture on pace as Q2 closes out. Arena will be reporting earnings on Monday. The rise in scripts this week was good, but nothing that will be a huge catalyst going into the earnings call. For the time being, a rise in the equity is hinging on the presentation we will see Monday. Stay Tuned!
Disclosure: I am long ARNA. I wrote this article myself, and it expresses my own opinions. I am not receiving compensation for it (other than from Seeking Alpha). I have no business relationship with any company whose stock is mentioned in this article.
Additional disclosure: I have no position in Eisai
Editor's Note: This article discusses one or more securities that do not trade on a major U.S. exchange. Please be aware of the risks associated with these stocks.