The business climate for the semiconductor industry is deteriorating. Along with fellow DRAM manufacturers, Samsung (OTC:SSNLF), Hynix, Elpida (OTC:ELPDF), Micron (NASDAQ:MU) will suffer from slowing sales of electronic gadgets and personal computers. In the CPU sector, the slowdown in PC sales will affect Intel (NASDAQ:INTC) and AMD (NYSE:AMD). Foundries such as Taiwan Semiconductor (NYSE:TSM) and United Microelectronics (NYSE:UMC) will also feel the impact.
Our proprietary global leading indicators had turned down. The hyper-growth already exhibited through 1H 2010 cannot be sustained because the poor macroeconomic climate could not support 50%+ semiconductor growth.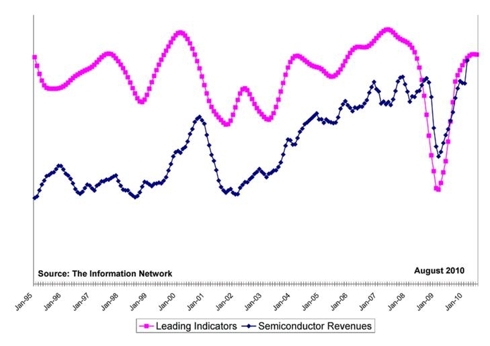 Click to enlarge
(Click to enlarge)

These proprietary leading indicators, which have continued to be refined over the past 15 years and show a clear correlation with semiconductor sales, indicate that a correction in the market is imminent.

As sales drop in electronic gadgets, the most pronounced affect will be in the DRAM sector, where sales grew 135% in Q2 2010 compared to Q2 2009.

The drop in semiconductor sales will usher in a corresponding drop in semiconductor equipment and materials sales. The front-end market will suffer pushouts and the lithography sector will be impacted most, where sales of $35 million immersion DUV tools have flooded the market of late. ASML (NASDAQ:ASML) is the largest supplier of immersion DUV lithography tools. Publically held material suppliers such as Air Products (NYSE:APD), OM Group (NYSE:OMG), Dow Chemical (NYSE:DOW), and Cabot Microelectronics (NASDAQ:CCMP) will also be impacted by slower utilization of their products as semiconductor sales drop.

2010 is becoming very reminiscent of 2000, where poor inventory control, fear of IC shortages, and concern over long waiting times for leading-edge equipment spelled disaster, and we ended the year with $10 billion in excess IC capacity and a shattered equipment industry that took years to claw out of the red and has never fully recovered until this year. I've noted repeatedly in this space that forecasts for the semiconductor and equipment industries seem to get bigger with each monthly announcement, and the fragile economies of the western world do not warrant such growth.
Disclosure: No positions