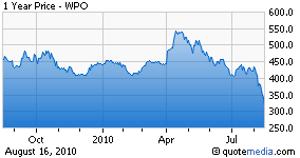 The for-profit education industry has grown rapidly in the last several years as enrollment grew and as tuition has been supported by government-supported student loans. Lately, however, the industry has come under a cloud after the government began an investigation alleging that the industry misled prospective students about their future earning power and job prospects.
The sector is hit hard again today after the US Department of Education released data last Friday on how rapidly students repay their federal student loans, a factor that could affect the ability of the for-profit companies to receive government-backed student loans. One of the stocks that are hurt today is Washington Post (WPO), which operates Kaplan, a for-profit educator. In the data released by DOE, Kaplan's rate at which students repay loan was just 28%, below the 35% threshold the school needs to qualify for continued federal funding.

After recently selling its Newsweek magazine segment, WPO now operates 4 segments. Kaplan is the education segment. It is the most profitable among the four; and it is no wonder that the investigation is hitting WPO stock so hard. But as you will see, at WPO's current price, the market is assigning no value to Kaplan already.
The other 3 WPO segments are cable TV, broadcast TV, and the namesake newspaper. The first two of these three segments generate about $400 million EBITDA a year. TV businesses typically trade between 6x and 8x EV/EBITDA. So the fair value EV of the TV businesses is between $2.4 (6x) and $3.2 billion (8x).
Adding WPO's over $600 million of net cash and $400 million of pension over-funding, a fair EV for WPO is between $3.4 - $4.2 billion. And this does not include the value of the Washington Post, the newspaper, which has a great brand and value. It also does not include the value of Kaplan.
Therefore, if the outcome of the investigation is less damaging to Kaplan than the market thinks, the value of WPO will increase. And if Kaplan fails eventually, WPO's fair EV still has a floor somewhere above $3.4 billion because Kaplan's value is not included in the calculation. Yet, WPO has a current EV of $2.2 billion.
Given that the government investigation is still ongoing, WPO shares will stay volatile for some time. Therefore, diving in head first is not recommended.
However, interested long-term investors should watch WPO and buy in gradually. Patient investors will very likely be well rewarded once the cloud is lifted. As an added icing, WPO pays about 2.8% dividend.
Disclosure: Author long WPO and BRK.B