Transocean Ltd. (NYSE:RIG)
The company released its Q1 2014 results on May 8, 2014, and it was followed by the conference call. After jumping over 4% the stock price started to lose steam after the conference call comments, and reversed the gain to post a final loss of -4.08% for the day. Here is the daily chart: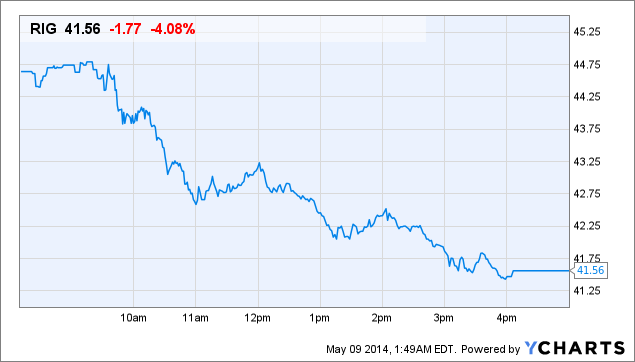 The shareholders were left with numerous unanswered questions about this irrational trading activity. I am still trying to understand why the street punished so heavily the company?
1 - Earnings release on May 8, 2014, financial snapshot.
Transocean Ltd. Reported strong first-quarter 2014 results. These surprising good results were justified by a higher day rate for the quarter, which again contradicted what the street was expecting. Earnings per share (excluding special items) were reaching $1.43 per share, compared to $0.94 a year ago which is an increase of 52%. It was a net income related to RIG controlling interest of $1.25 per share.
Few highlights:
RIG posted a quarterly total revenue of $2.34 billion, compared to $2.18 billion a year ago, an increase of 7.34%.
Q1 2014 operating income was $672 million, up 40.3% from Q1 2013. Net income attributable to controlling interest were $456 million.
Day rates averaged $413,100, up 14.4% from a year ago or $361,200. The rate of utilization was 78% compared to 80% a year ago.
Cash and cash equivalent were $1.987 billion and debt level was $10.31 billion end of Q1 2014.
On May 5, 2014, Transocean Ltd. unveiled its plans to create a new entity named Caledonia Offshore Drilling Company. The entity will get eight midwater drilling rigs based in the U.K. North Sea and will be initiated by the second half of 2014.
Creation of MLP-liked yield vehicle on track for Q3 2014, with an IPO plan for the Transocean Partners LLC.
General and administrative expenses decreased to $57 million from $75 million in the Q4 2013.
So far, $1 billion has been paid of the committed $1.4 billion under the Macondo agreement.
This financial situation was a flawless picture of a strong and healthy company, no doubt about it. Total capital expenditure for the quarter was at $1.1 billion, up from $948 million the previous quarter.
Steve Newman, CEO, said at the CC:
After adjusting for net unfavorable items of $64 million, we delivered adjusted earnings from continuing operations of $520 million or $1.43 per diluted share. Our revenue efficiency for the first quarter was 95.7%, the highest we've achieved since early 2008.
The stock price reacted to the news by a 4%+ increase from a day earlier, and reached almost $45 in a pre-market. The rapid deterioration of the stock price started when the conference call began around 10am. Was it an impending catastrophe announced or any surprising news?
2 - Negative momentum of the conference call on May 8, 2014.
Around 10 am, M. Steve Newman, President and CEO, started off the presentation.
Recognizing that we are currently in a challenging business environment, I think that it is useful to reflect on Transocean's strategy in the context of our long-term view of the offshore drilling market.

We remain very bullish on the long-term fundamentals available to deepwater business premised on a growing demand for energy and a belief that a majority of this new energy demand will be satisfied by hydrocarbon sourced from deepwater and harsh offshore environments.
So far, so good, and Steve Newman presentation was perfectly adapted to the excellence of the financial results posted earlier.
A) The conference call went on to the next presentation subject which was about the situation surrounding the infamous Macondo litigation, and the ruling that the company is awaiting right now; followed by some precision regarding the dispute with Norway's tax authorities.
Steve Newman, CEO, said:
First, from Judge Barbier regarding phases 1 and 2 of the multidistrict litigation trial. Second, from the Texas Supreme Court on the question of BP's (NYSE:BP) claim as an additional insured on our excess liability policies. Third, from the U.S. Fifth Circuit Court of Appeals regarding the BP SC settlement as well as other pending motions and appeals.

Additionally, Judge Barbier has recently set January 2015 for the phase 3 Clean Water Act penalty portion of the trial. As a reminder, Transocean settled its Clean Water Act penalties as part of the January 2013 agreement with the U.S. Department of Justice.

We remain confident in our position in the merits of our case, and throughout the various court proceedings, there have been no new facts relative to Transocean. And we have not been found guilty of any post-incident misconduct.
The uncertainty was about Norway's criminal's court ruling about the tax dispute with the Norwegian authorities. The company is still awaiting the ruling and believes that the Norwegian tax return has been correctly filed.
As we can see, we were not in the presence of a material extra-negativity or a new element which could possibly trigger any sudden red flag? These uncertainties are well-known for many quarters, and should not provide any further source of renewed concerns; they have been probably factored into the stock price by now.
B) The next segment was a thorough financial presentation by Esa Ikaheimonen, CFO.
Good presentation in general with a particular highlight on cost savings that will reduce 2014 guidance cost from $5.2 billion - $5.4 billion to $5.1 billion - $5.3 billion.
He concluded his presentation with some encouraging words regarding the dividends.
In the context of modest debt retirements, our current forecast of capital expenditures and the proposed $3 per share dividend recommended for approval by shareholders at next week's AGM, we expect to maintain our liquidity well within the target range through 2014.
C) The following segment was an outlook of the offshore market by Terry Bonno, SVP Marketing.
It was a fair presentation overall which highlighted the challenges ahead, as it is. Often, her comments were somewhat cautious, which amplified perhaps the negative side while indicating a nascent improvement in demand. Nothing very specific was said that changed the dynamic expressed a quarter earlier and even signs of the slow improving situation in general by talking about the African sector, particularly.
The outlook for 2014 and 2015 remains challenging with respect to oversupply of ultra-deepwater. However, it is encouraging to see some life in the Golden Triangle with a few expected awards in West Africa, Brazil and the U.S. Gulf of Mexico.

Floater opportunities are now pushing into 2015 and '16 while customers are competing with us via form outs for the one off well opportunities with their available rigs.

We also continue to see weak deepwater and midwater markets and as in previous oversupply cycles, the most capable rigs will compete down potentially displacing lower specification units.

While we believe that the floater market will continue to be difficult through 2015, we expect year-on-year customer demand to continue to grow assuming healthy relatively stable oil and natural gas prices.

The jack up market remains steady with new supply coming to the market currently being absorbed. Rates in utilization remain healthy and tendering activity is solid.
Some expectation for the next quarters.
Some extra idle time for some of the ultra-deepwater units to be expected.
A slight reduction of the day rates in a range of $375k to $500k+ depending on specifications, area of operation and the duration of the contract.
Day rates for short-term opportunities waiting to bridge long-term contract may be lower than the range indicated above.
The market remains oversupplied through to 2015.
The types of tendering continues to be slow in the deepwater market and actively marketed utilization has dropped to about 90%. The day rate range is expected to be around $365,000 per day to $400,000 per day, although there have been relatively few new indicative data points.
Midwater and harsh market environment is still slow with day rates between $400k to $500k.
Healthy market for jackups in general. With rate between $160k to $200k depending on location and specifications.
D) At last, the final questions and answers.
This segment brought some light on different specific items, but was not very important. One comment from Terry Bonno retained my attention and it was about the immediate future prospect of the market. There are many opportunities actually which may prove to be the turning point in the general softness felt. Two areas are particularly important:
Africa: Per her evaluation, about 15 to 20 real opportunities there which will surely take a lot of negative pressure off the offshore drilling sector.
Brazil: Petrobas will come to the market with more tenders.
Conclusion.
Transocean Ltd. Had an excellent quarter and was followed by a very interesting conference call that surprisingly depressed the stock by almost an absolute 9% drop in few hours. The questions are why and is it justified?
The company indicated an evident softness of the market that may last until 2015. This is not a surprise, and this subject has been used for the last six months to justify downgrades and a bearish outlook on revenue and earnings that did not come to fruition yet. New articles rehash the same argument over and over regarding a potential gap in utilization later in 2014 and 2015, which is the only real weak point which could depress a tiny bit the stock price right now.
I am really puzzled by this paradigm, and I had to read the conference call transcripts again to unearth any point that could have triggered this steep slide. I must admit it is a conundrum. The market is highly manipulated and fuels trading momentum in an irrational way. This is another example of the negative exuberance that prevails in today's market.
As a value investors, we have to recognize it and use it in a contrarian way, which means accumulating on weakness and betting on a long-term steady and healthy outlook. The company will release soon an increase in dividends to $3 a share, which is being approved as we speak, or about 7% yield, thank you Carl Icahn.
I added and averaged up again yesterday at the end of the day because I could not understand this totally blind bearishness on the offshore drilling sector.
Recently, Ensco Plc (NYSE:ESV) beat earnings while Diamond Drilling (NYSE:DO) released a similar Q1 result, the stock jumped over 8% while Transocean tumbled.
Overall and since January 2014 the offshore drillers have dropped another 9% to 16%, while they posted their best earnings?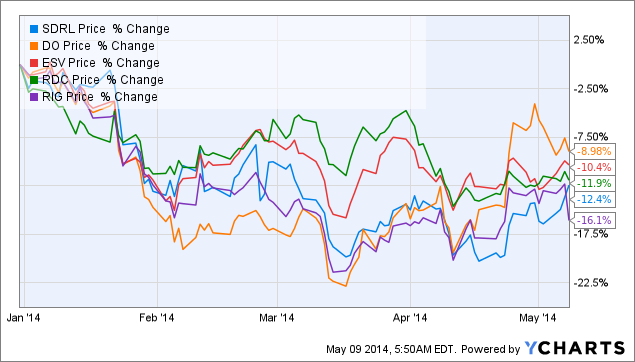 Is there some kind of vendetta going on that I am not aware of?
As a value investor, it is not really important after all. Stocks will never stop fluctuating up and down. It is what the market is all about! If you extend your horizon longer than a week or a month, this weakness is clearly a gift presented to us. This is what counts and while we patiently wait, we will be rewarded with a secured 7% dividend soon.
Disclosure: I am long RIG, SDRL, ESV. I wrote this article myself, and it expresses my own opinions. I am not receiving compensation for it (other than from Seeking Alpha). I have no business relationship with any company whose stock is mentioned in this article.