LinkedIn (NYSE:LNKD) shares have taken a severe beating during this market correction, now off by ~44% from their highs last August, while the broader Nasdaq Composite Index ($COMPX) is up ~10%, and the more comparable Morgan Stanley High-Technology Index ($MSH) is up ~15%, during the same time period. Its social media brethren Facebook (NASDAQ:FB) and Twitter (NYSE:TWTR) are off by ~22% and ~56% from their most recent highs in March 2014 and December 2013 respectively (see chart).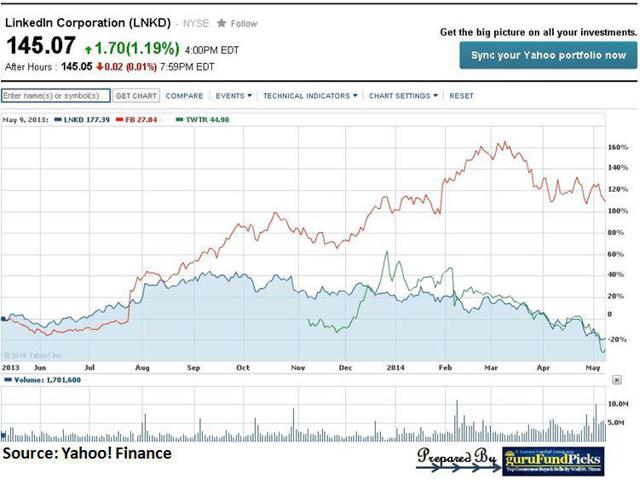 In a recent article in late-March, we analyzed Facebook based on both its fundamentals and the collective or consensus picks by our hand-picked 330+ top Wall Street fund managers, opining that its shares offered a compelling risk-to-reward opportunity during the current pullback, especially if they pulled back to the mid-$50s. Facebook shares since then have bottomed-out in the mid-$50s, and are currently holding that level. In this article, we will analyze whether LinkedIn shares are similarly good to buy during the current pullback, or if more pain is likely ahead for longs.
LinkedIn reported its latest Q1'14 last week on Thursday, beating analyst earnings (38 cents vs. 34 cents) and revenue estimates ($473 mill. vs. $466 mill.). Also, it issued in-line guidance for the next Q2'14, projecting $500 mill. to $505 mill. in revenue vs. $504.8 mill. analyst estimate, and projected EBITDA at $118-120 mill. vs. the $121 mill. estimate. However, it was its FY 2014 guidance that spooked investors, with revenues projected at $2.06 to $2.08 bill., lower than analyst estimates for $2.11 bill., and EBITDA projected at $505 to $510 mill., lower than the $518 mill. analyst estimate. While the company is usually conservative in its guidance, the FY guidance is low enough for investors to account for the possibility that growth is moderating, a death knell for a high P/E stock in any environment, and especially the current one when many of its high P/E peers have been taken to the cleaners.
At a current TTM (trailing-twelve-month) P/E of 94, and a fwd. P/E of 88 based on the FY 2014 earnings estimate of $1.65 per share, LinkedIn shares are unlikely to be attractive to any value investor, despite shedding a whopping $13.6 bill. in market-cap valuation since its peak last year. However, with a three-year historical annual earnings growth rate of 94%, its shares have always held special attention to growth investors. Indeed, many may consider it as a core holding to capitalize on the growth in social media.
At its peak above $250 last year, however, when LinkedIn shares were up about 150% in the prior ten months, and were trading at a TTM P/E of 183, they were probably not attractive to most growth investors, except the 'growth at any price' crowd, and momentum investors and traders. Well, for anyone watching the markets lately, it is clear that we are no longer in a raging bull market, and hence such a strategy is unlikely to work for the time being. With shares now down by ~44% from peak levels, it is certainly within reason to question if the stock would be attractive at these levels to 'growth at a reasonable price' or GARP investors like ourselves, the ones that try to fuse value and growth investing, looking for growth stocks, but careful to not over-pay for that growth.
Certainly, the poster child of GARP investing, Peter Lynch, would still balk at its current 94 TTM P/E and fwd. P/E of 88, especially given its projected five-year earnings growth rate of 34%. This, no matter how you calculate it, using historical or future growth numbers, would put the P/E over growth or PEG ratio comfortably over 1.0. The 1.0 level is the threshold top range value that GARP investors use in deciding if a stock is attractive using this philosophy, with many insisting that it be closer to 0.5.
Based on its current year fwd. projected earnings of $1.65 and a five-year projected 34.9% earnings growth rate, LNKD shares trade at a PEG ratio of 2.57. In comparison, its social media brethren, Facebook and Twitter trade at PEG ratios of 1.14 and 5.25 respectively. As you can see, all three are over the threshold 1.0 value, with Facebook being the closest, and only slightly above, the threshold value. In fact, Facebook's recent bottom-out at $54.66 was at a GARP ratio of between 1.0-1.1, perhaps hinting that at least some of the GARP crowd may have played a role in its rebound last month. For many GARPers the 1.0 lower bound is not an absolute number, but perhaps a starting point. Thus, in the case of social media investing, with this being the early stage of a long ramp-up, and the unusually high growth rates expected in the industry, one can argue that a PEG ratio slightly higher than 1.0, maybe even approaching 1.5 would be acceptable. However, LinkedIn's 2.57 PEG ratio is far above even 1.5 to not be in the attractive range for many GARP investors.
In the table below, we compare critical financial ratios that we have found to be most useful in analyzing stocks, for all of the big three social media companies, LinkedIn, Facebook and Twitter.

As illustrated, Facebook takes the cake in terms of valuation relative to growth, a reason perhaps that the stock has outperformed its two peers during the current correction. LinkedIn though is not too far behind, and outperforms its two peers based on PSR and P/B ratios. LinkedIn's attraction though may have to do with a lot more than just comparative valuation. It holds unrivaled domination of the social networking space for professionals, giving them the opportunity to establish a professional identity. Indeed, many view the professional profiles of its 300 million members as a working resume, used not just by professionals for networking, but also as a recruiting tool by corporate HR staff and headhunters alike.
In this respect, LinkedIn is barely in the middle innings, with potential network expansion to include students as well as international professionals, particularly in China, that together may easily grow its membership ranks many-fold over the longer term. Other opportunities exist in terms of more effectively addressing the small and medium business (SMB) market with its Talent Solutions offerings. While it's possible that Facebook, Google or Microsoft could try to encroach on its turf, LinkedIn's domination of the professional networking space is near total, and at present it looks inconceivable that either of them could make a significant dent in the space.
Perhaps the most compelling argument is that based on its 300 mill. members, the market is valuing LinkedIn at only $58 per member. In comparison, the market is valuing Facebook and Twitter at $74 and $114 per member respectively. This is in contrast to the attractive demographic of LinkedIn that generally includes more affluent, upwardly mobile professionals that are heavily sought after by advertisers. Moreover, while Facebook and Twitter's revenue is mostly from advertising, only ~58% of LinkedIn's revenue in the latest quarter was from advertising. Of the remaining 42%, about 20% was from Premium Subscriptions for its members, and the remaining 22% was from its Talent Solutions segment that offers enterprises and professional recruiters the ability to find, contact, and hire qualified candidates, including advertising job opportunities.
Besides a valuation and detailed fundamental analysis, we also consider an analysis of the moves of leading institutional money managers as imperative before pulling the trigger on a stock. On our site, GuruFundPicks.com, we track the collective or consensus buying and selling of over 330 of our handpicked leading Wall Street fund managers, based on their latest 13-F and SC 13D/G 5% ownership filings. Their ownership change over multiple quarters, and net buying and selling, both in shares and in number of funds, and the percent outstanding shares held by these leading funds, especially when compared to similar sized peers in the same industry, is like reading tea leaves. It gives us the extra edge, increasing the probability of making the right decision, and in many cases saving us from making a wrong decision on a stock.
The collective or consensus buying and selling activity of these leading fund managers in LinkedIn in the latest 4Q/2013 is shown in the Table below.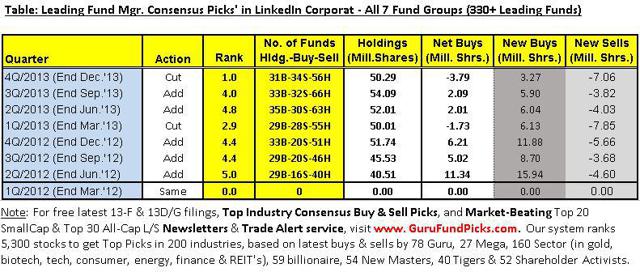 Our handpicked 330+ leading fund managers collectively own 50.29 million or 41.3% of the outstanding shares. In comparison, these leading fund managers own a far smaller proportion of the outstanding shares in peer social networking companies, Facebook and Twitter, at 30.3% and 9.9% resp., with the smaller ownership in Twitter probably mostly because it is a relatively new IPO. This high ownership by leading funds in LinkedIn verifies its status as a core holding, further supporting a higher valuation multiple for its shares.
The largest holders of LinkedIn shares in the latest 4Q'13 were:
mutual fund company FMR or Fidelity Investments, with $1.6 Trill. in AUM, that holds 6.89 mill. shares, including selling 1.72 mill. shares in 4Q'13;
leading mutual fund firm T. Rowe Price, with $617 bill. in AUM, that holds 6.04 mill. shares, including selling 0.50 mill. shares in 4Q'13;
BlackRock, the world's largest and most prominent asset manager, with $3.6 trillion in assets under management that holds 5.23 mill. shares, including adding 0.56 mill. shares in 4Q'13.
The ownership base also includes Tech, Media & Telecom (TMT) focused hedge fund Coatue Management, with $10.22 bill. in 13-F assets, that holds 1.06 mill. shares, including adding 26,631 shares in 4Q'13; international mutual fund firm Janus Capital Management, with $160 billion AUM, that holds 0.38 million shares, including adding 0.10 million shares in 4Q '13; and tech-focused hedge fund Criterion Capital Management, with $3.17 bill. in 13-F assets, that holds 0.23 mill. shares, including adding 0.18 mill. shares in 4Q'13.
You can view complete summarized 13-Fs of all of these funds, and over 330 more for free on our website, GuruFundPicks.com.
As shown in the table, leading fund managers aggressively bought LinkedIn over several quarters leading up to September 2013, adding 24.94 mill. shares or 85.5% in the six quarters between Q1'12 and Q3'13. During this period, LinkedIn shares rose 150% from the $100 per share range to its peak over $250 in Aug.-Sept. 2013. During Q4'13, these leading funds aggressively sold out of 3.80 mill. shares in just one quarter, with the number of funds holding the stock down aggressively from 66 to 56 in just one quarter, thereby garnering it a GuruRank of 1.0, the lowest on our proprietary 1.0-5.0 scale that measures the attractiveness of each stock relative to all other 5,300+ stocks to these leading fund managers.
If you had followed the advice of these leading fund managers when they sold heavily during Q4'13, the report for which came out in late-Feb., 2014, you would have sold out of LinkedIn in the $215 range, saving yourself the pain of the deep plunge from there to below $140 so far in the current correction. However, looking deeper into their buying and selling actions over the last few quarters, we can determine based on the average trading price of LinkedIn shares during the quarters they bought and sold, and the amount they bought and sold, that they paid on average $120 to $130 for the 24.94 mill. shares they added in the six quarters between Q2'12 and Q3'13. Judging by that, and looking at how the fwd. year estimates for its EPS have gone up by 30% during the same time period, we can determine that they would consider current prices in the $140-$150 range to be quite attractive levels at which to buy shares.
We have learnt to heed to these signals from leading fund managers, especially when they buy or sell collectively or in consensus. In our research, we have observed strong correlation between leading fund manager ownership, including their consensus buying and selling activities every quarter, and the stock's immediate and long-term performance. We have documented many such cases on our website and in our archive of articles on Seeking Alpha, including five cases we discussed in just the last few weeks on Gilead, Facebook, BlackBerry, Micron, and Apple.
In summary, we believe LinkedIn's shares are attractively priced, from a fundamental and valuation standpoint, as well as looking at the Consensus buying and selling by our 330+ leading Wall St. fund managers. The stock appears to be basing here, and while there is a chance it could fall further and close the gap from February of last year, from a fundamental and technical standpoint, it looks like the shares will most likely hold the $136 lows hit earlier this week. We would start buying here aggressively, adding a three-quarters size position, and adding another one-quarter each for every $10 drop in price, in case the stock falls further.
Disclosure: I have no positions in any stocks mentioned, but may initiate a long position in LNKD, FB over the next 72 hours.
Business relationship disclosure: The article has been written by the Hedge and Mutual Fund Analyst at GuruFundPicks.com. GuruFundPicks.com is not receiving compensation for it (other than from Seeking Alpha). GuruFundPicks.com has no business relationship with any company whose stock is mentioned in this article.
Additional disclosure: Use of GuruFundPicks' research is at your own risk. You should do your own research and due diligence before making any investment decision with respect to securities covered herein. You should assume that as of the publication date of any report or letter, GuruFundPicks, LLC, has a position in all stocks (and/or options of the stock) covered herein that is consistent with the position set forth in our research report. Following publication of any report or letter, GuruFundPicks intends to continue transacting in the securities covered herein, and we may be long, short, or neutral at any time hereafter regardless of our initial recommendation. To the best of our knowledge and belief, all information contained herein is accurate and reliable, and has been obtained from public sources we believe to be accurate and reliable, and not from company or persons who have a relationship with company insiders. Also, in our preparation of this article, we referred investor resources such as Zacks.com, Marketsmith and Sentieo.