While Monster's (NYSE:MWW) stock fell following its Q1 2014 earnings announcement due to weaker guidance, we increased our price estimate owing to some fundamental improvements in the business. Our current price estimate for the company stands at $7.92, implying a premium of about 40% to the market price. Although the company's business has suffered over the last few years, recent developments suggests that it may have bottomed out, especially in the U.S. The expected revival in Europe's economy, Monster's strategic initiatives, expected focus on mobile and improved resume search technology are some of the reasons why we believe that the company can return to the growth track. Given that LinkedIn (NYSE:LNKD) has changed the rules of the game, Monster needs to become more data-centric, run efficient algorithms and redesign its user interface to capture the talent acquisition market. Its buyout of social recruiting players Goazaik and TalentBin can help it do just that.
Stabilization in the U.S. Business
In Q4 2013, Monster grew its sales in North America by 1% sequentially and remained flat compared to Q4 2012. The trend more or less continued in the first quarter of 2014 with revenues increasing again by 1% sequentially, even though there was a mild year-over-year decline. This is encouraging given that the region's revenues have declined in the last two years. This can be attributed to a slow revival in the U.S. and increased traction of Monster's latest initiatives.
Monster has improved its resume search over the last few years by incorporating intelligent search technology, Semantic 6Sense, into its new generation of products for both employers and job seekers. Traditional keyword search for resumes is inefficient due to the high number of candidates that may have broadly similar relevant experiences. Such search results in a long list of candidates for recruiters to choose from, makes it more time-consuming to find the right candidate. However, Monster's 6Sense semantic resume search has been useful to many big recruiters. The company mentioned last year that 97% of recruiters in the U.S. who participated in a benchmark study, reported that they found relevant candidates faster using Monster's 6Sense search.
The "Apply with Monster" application, which integrates career sites and enables users to apply for jobs with a single click is also doing well. The feature is available both on desktop and mobile in the U.S., Canada and Europe, and makes the application process convenient and simple. Monster had processed more than 1.5 million job applicants through this new feature by the end of Q1 2014, and registered a 20% sequential increase during the quarter. Monster also stepped up its mobile efforts with 31% of its traffic coming from mobile in Q1 2014 compared to 25% in Q4 2013. There are multiple other initiatives in beta testing stage.
International Operations Can See a Revival
Monster's sales in Europe and Asia have declined due to adverse macroeconomic conditions and growing competition from new recruiting platforms such as LinkedIn. Additionally, local competitors have strengthened their position over time and have made it difficult for Monster to sustain its market dominance. The threats are real and significant, and the company has recognized it. It has been restructuring its international operations to improve its profitability and focus its marketing resources on specific markets. Monster has sold 49% of its stake in JobKorea and has formed a joint venture with Alma Media in Europe. The downsizing of business will reduce losses and may prove effective in the long run as Monster revamps its platform. In fact, the company stated that the joint venture is turning around the losses in the Eastern and Central European regions.
Although Monster's revenues from Europe in Q1 2014 were down 9% compared to Q1 2013, they were up 1% sequentially. The region has faced challenging economic environment in the last couple of years, but it appears that Monster's business is stabilizing. The company is strategically investing in key markets of Germany, U.K., France and Sweden. Recently, GE's CEO mentioned that Europe's economy has stabilized although its expansion remains slow. This coincides with the trends observed in Monster's results which suggests that its business can revive as the economy picks up. According to European Commission's forecasts, the GDP for European Union, which comprises of 28 countries, will grow by 1.5% in 2014 and 2.0% in 2015. The figures for euro zone, which consists of 18 countries, are expected to be 1.2% and 1.8% respectively. As the economy expands, job opportunities will increase. The spur in economic activity will help monster expand its recruitment business. In fact, this has already started happening. The chart below shows how certain countries in Europe are seeing an improvement in their job market.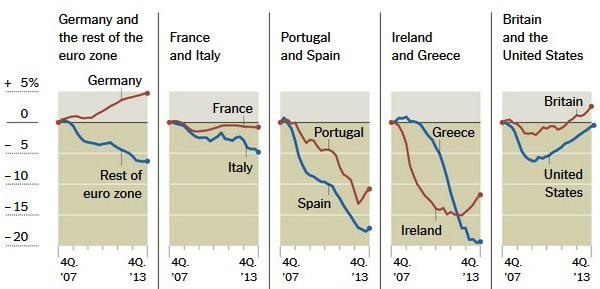 As far as the Asia-Pacific region is concerned, Monster faces more serious challenges due to softness in India, which is one of its key overseas markets. In general, emerging markets are facing a slowdown in their GDP growth and 2014 hasn't been any different. Nevertheless, with Monster trimming its business and some key political changes on the horizon, we expect the employment growth to revive in some of the countries such as India. Monster will see a spur of activity on its portal as this happens.
Disclosure: No positions.