Last week appeared to mark the end to our late summer bear-market-rally. After the FOMC meeting failed to convince traders that the government has everything under control, and China's economic reports added to fears of contracting growth, the bulls gave up the fight.
Both the large-cap S&P 500 as well as the small cap Russell 2000 have broken sharply lower and the bulls have been left feeling like Charlie Brown after Lucy pulled the football away again.
The price action gives us a much more attractive environment to follow high conviction trades as market trends are once again confirming economic weakness and the possibility of a double dip recession.
Rather than discuss political strategy or point fingers at failed policy, I'm happy to step into the turret this week with a number of short opportunities on my radar, and an opportunity to add to our returns through some strong risk/reward opportunities.
So let's take a look at the setups for this week…
Retailers Resume Weakness
Consumers continue to struggle under the weight of slow economic growth and high unemployment. So it's no surprise that a broad assortment of retail chains (from the low-end non-discretionary stores all the way to the high-end luxury brands) are feeling the pinch.
Last week, I noted that the SPDR S&P Retail Index (NYSEARCA:XRT) was ready to resume the downtrend. Friday's disappointing retail sales report confirmed the fundamental weakness and many of our short candidates became full-fledged positions.
We are now short Chipotle Mexican Grill (NYSE:CMG) which was one of the stocks profiled in last week's View From the Turret. The company is likely to be hurt not only by a retrenching consumer, but also by inflationary pressures on food costs.
Green Mountain Coffee, Inc. (NASDAQ:GMCR) looks like another good short opportunity as the stock has run into resistance near $33. Last week investors bid the stock sharply higher after an Italian coffee company, Luigi Lavazza, purchased a $250 million stake in GMCR. However, the market weakness dragged GMCR lower by the close.
When a momentum stock like GMCR is unable to maintain strength after good news, it's a sign that the bulls could have run out of firepower in this name. The stock is trading at nearly 44 times 2010 expected earnings and while management is still guiding investors to expect robust growth, there is considerable danger of both decreasing expectations and multiple contraction.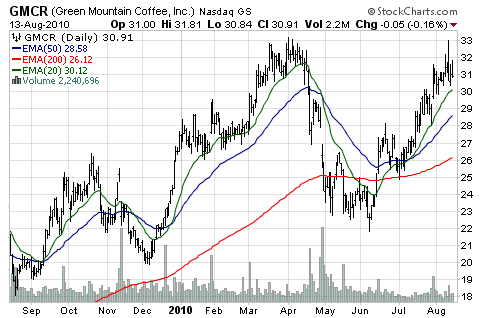 Harley Davidson Inc. (NYSE:HOG) is another purely discretionary retailer which is showing considerable weakness (although I guess I would make the argument that coffee is NOT a discretionary purchase, and Harley owners would make the same argument about their bikes).
Last week the stock broke lower along with many other retailers as the Fed downgraded its view of the recovery. HOG's stock price is not incredibly expensive when compared to 2010 and 2011 expected earnings. But as we saw in 2009 (when EPS dropped to 40 cents from $2.92 the year before), when the economy hits the skids, Harley sales take a disproportionate amount of the weakness.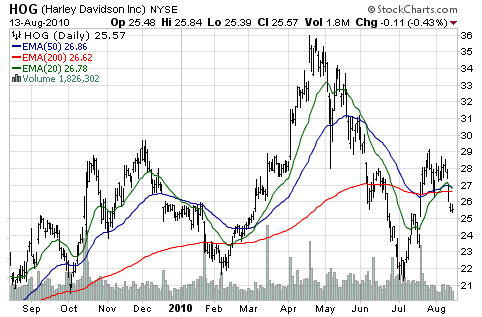 Finally, luxury mattress maker Tempur-Pedic Intl Inc. (NYSE:TPX) is flirting with a major support area. The company has seen a sharp rebound in sales over the last three quarters after a depressing period during the recession. Investors appear to have assumed that this growth in revenue would continue – and propelled the business to a higher level than even before the recession.
Now that broad growth is being called into question, it's a lot more difficult to make that argument. Tempur Pedic's business model requires customers to willingly pay a higher price for a better long-term value. That strategy works well in an environment where consumers have access to capital (savings or credit), but fails to make sense when spending levels are low and individuals are just trying to "make it" with low levels of income.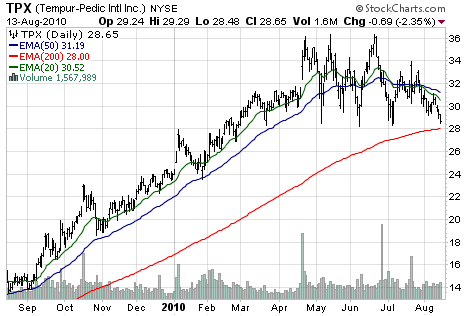 Homebuilders Offer Opportunity Again
From a trading perspective, it's always a bit dangerous to short stocks that have become extended on the negative side. This summer I booked some solid gains in homebuilder stocks as the housing picture turned decidedly negative. But once the stocks became extended, I tightened my stops and eventually got taken out of some profitable trades.
Sometimes stocks relieve an oversold condition by trading higher – others may consolidate and relieve the oversold condition through passing of time. Homebuilders for the most part have not rallied significantly during the late summer rebound – but instead have marked off time and now appear ready to roll south once again.
Toll Brothers (NYSE:TOL) continues to see revenue drop quarter after quarter, and is posting losses each quarter as well. The company has a significant amount of debt and may continue to be forced to liquidate property and inventory at distressed prices just to maintain solvency.
A break below $16 could be a major red flag for technical traders, and the light volume in July and August points to very little institutional support.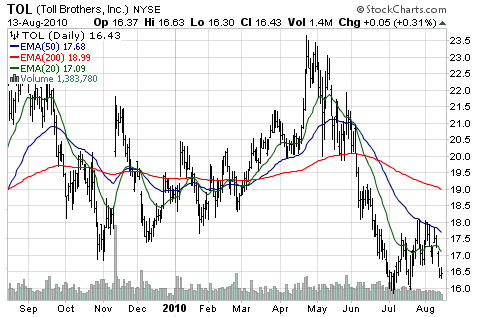 MDC Holdings, Inc. (NYSE:MDC) is perhaps even more attractive as a short position. The debt level is higher (listed at 96% debt to equity) and despite seeing revenue increase from depressed levels in the second quarter, traders continue to pressure the stock.
A break below $26 would be troubling and I would be interested in determining a good reward-to-risk angle to play this breakdown.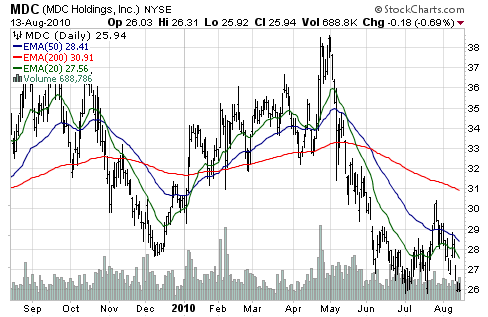 Precious Metals – Gaming the Flight to Safety
It's interesting to note that while the broad equity indices are taking on water, gold and other precious metals are attracting new capital. This flight to safety is likely to continue as investors and traders lose confidence in fiat currencies and look for safe places to store value.
There's a lot of fundamental ground to cover when dealing with precious metals, and Jack and I will have more on that subject in the coming days and weeks. But for now, let's take a quick look at some charts for this week.
Trading actual gold prices may be a wise way to participate in this trend. The SPDR Gold Trust Shares (NYSEARCA:GLD) match the spot price of gold fairly closely. A breakout last week has the commodity back on our radar.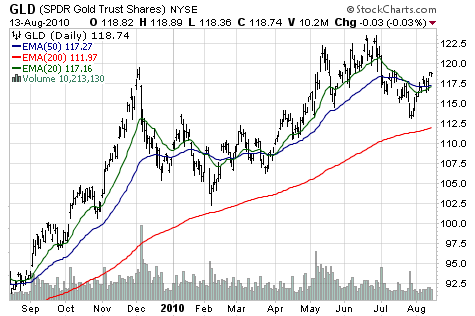 I'm actually a bit more interested in some of the gold miners which are leveraged to the price of gold. With production costs low and the ability to increase production, many of these companies will see much larger percentage gains if the price of gold moves to new highs.
The Market Vectors Gold Miners (NYSEARCA:GDX) is a good basket of individual miners and is a well-diversified way of playing this approach: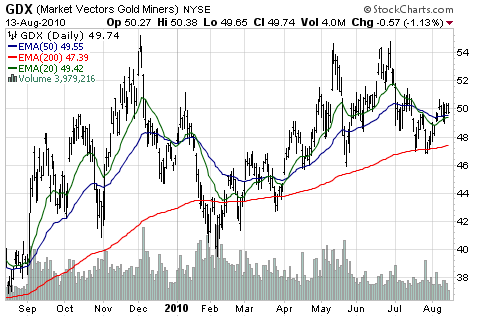 Jack and I spent some time this weekend crunching numbers on individual gold mining companies and may have some trades in the individual companies within this ETF. If precious metals continue to attract capital as managers seek safety, we will have more to say about this area.
So stay tuned and remain nimble. We've got a good shot at compounding our returns and taking some big swings in this coming week.
Disclosure: As active traders, authors may have positions long or short in any securities mentioned. Full disclaimer can be found here.