I wrote recently about the alleged bear market "safe havens" that are trotted out by journalists and academics -- like utilities, food companies, dividend aristocrats, big blue chips, etc. – and showed that such an analysis may have been correct but still lost you big money. In most cases they "only" fell 40% while the "market" as measured by the broad-based S&P 500 fell a whole 45%. That may have made the academics happy, but if you lost 40%, it brings scant joy that you did slightly better than some other poor schlub who was long S&P 500 index funds.

Our approach is somewhat different. In secular bull markets, we love buy-and-hold. Of course, it takes great discipline to not take the first profit that comes along in such times. After years of sideways-to-down ratcheting markets of the previous secular bear, it's tempting to grab the profit rather than chance another decline. By the same token, in secular bear markets, we realize that buy-and-hold can darn near destroy everything you've gained in previous years so we must be far more nimble and willing to reallocate resources to bonds or metals or agricultural commodities (in all cases, typically via ETFs) or to special situations that, for one reason or another, have been in their own private bear market already and are now selling at 1-year or 5-year or 10-year lows.

One such sector today may be energy, specifically oil companies and the oil service firms that depend upon a continued quest for affordable energy to continue to increase their revenues and earnings. In my short list of energy companies dragged further down by BP's travails (besides BP itself, which we now own, along with Exxon (XOM), Royal Dutch Shell (RDS.A), and Chevron (CVX)), their only sin seems to be that they, too, drill for oil. None has any exposure to the Deepwater Horizon.
By way of overview, my enthusiasm for actual "stuff" that we buy and use -- food, farmland, oil, coal, sugar, etc. - rests on two assumptions:
(1) The US government will knowingly and purposely continue to depreciate the value of the US dollar. The trillions our nation has borrowed simply cannot be repaid merely from increased productivity any more. So our government will depreciate our currency via inflation. As it does so, all dollars will be worth less.
(2) However, what will not decline substantially in constant US dollars are oil, gas and other essentials of daily living. China may experience a hiccup, or India a slight cough, but over the next few years the emerging world will continue to use more and more oil, gas, and coal. Energy exploration and production companies own something that does not depreciate -- oil, gas, coal, etc. -- which it can convert into something that is depreciating rapidly -- dollars. You may invest in dollar-backed Treasuries if you like. I see them as a short-term haven in investors' knee-jerk reaction to crisis. They run to Treasuries because they have always run to Treasuries. When there is blood in the streets, figuratively or literally, Treasuries are very dear and, typically, oil companies get even cheaper. That's when I like to buy.
I offer for your due diligence three companies that may well decline in a waterfall bear market, but which are already selling at or near their lows for the year. We are taking pilot positions in all three and will look to add to our holdings in the event they decline further. One is an international oil, one an international driller, and the other a US natural gas company.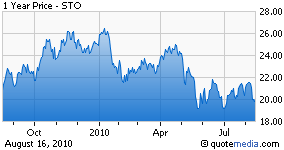 The oil company I'd like to recommend for your further research is Statoil (STO.) STO operates in 40 countries, but it earned its bones on the Norwegian continental shelf, one of the wildest, stormiest, coldest and most dangerous marine environments on earth. I know -- I've crossed it a number of times, once in 50-foot seas. Statoil takes the rigors and challenges of their operating environment seriously. They know that their countrymen live in one of the most beautiful places on earth and a disaster there would be a truly unmitigated catastrophe. STO's 29,000-plus employees hew to rigorous standards for health, safety and the environment (HSE). The company states on its website, "We are convinced that all accidents can be avoided, and our goal is always to achieve zero personal injuries. We emphasize continuous work for an improved HSE performance in all our activities." They mean it. I think their experience in harsh environments and their commitment to safe exploration and production is going to win them huge new business in the future. "Who ya gonna call" if you are seeking a partner with a flawless safety record and experience in the most extreme marine environments? I'm guessing Statoil is on Exxon's, Shell's, Petrobas' (PBR), Total's (TOT), and everyone else's short list. The stock is $1.50 above its low for the year, yields 4.5%, and sells at a trailing PE of 13 ½.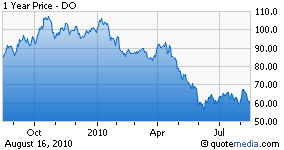 The driller is Diamond Offshore (DO.) DO is probably Transocean's (RIG) best competitor in deepwater drilling. As such, I think they stand to gain the most whether RIG slides away from the Deepwater Horizon accident or not. DO's diverse fleet consists of 32 semisubmersibles, 14 jack-ups and one dynamically positioned drillship. From the North Sea, the Gulf of Alaska, the Straits of Magellan, the south China Sea and Australia's Bass Strait, Diamond Offshore has proven it knows how to work offshore. I believe the biggest reason it has declined more than other drillers is, as witness to the low level of due diligence many analysts perform, simply because of its name: Diamond Offshore. DO was as low as 55 in the trailing twelve months and as high as 108 and change. It's currently just 61, at which price it pays a paltry dividend of 0.8%, but sells at a trailing PE of just 7 ½. (I am currently researching another driller that, while not as profitable as DO, sells for considerably less. If it meets our standards, I'll advise the results of that study in a future article.)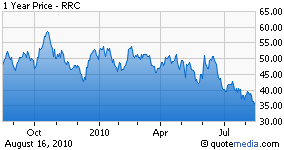 Finally, the natural gas company is Range Resources (RRC.) Range Resources is the biggest land holder in the Marcellus Shale, which may be the most profitable of the big shale plays simply because it is the closest to the highest number of big population centers. Beyond the cost of getting the natural gas out of the earth, the next biggest cost is transporting it to the ultimate user. Shorter pipelines equal greater profitability. The reason RRC is selling less than a dollar above its low for the year is that its cash flow doesn't meet its potential based upon its acreage. Its $1.2 billion in planned capital expenditures this year is pretty aggressive, considering its operating cash flow for the year is expected to be closer to $550 million. The reasons I am still interested in RRC are:
I believe natural gas will continue to grow as a percentage of the nation's fossil fuel mix,

I like their acreage position and location in the Marcellus Shale,

they have some $900 million in unused borrowing under its bank credit facility, and

if all else comes a-cropper, their acreage position makes them a tempting buy for a competitor.
Down 42% from its high, it sells for an astronomical 148 times earnings (not unusual for companies with lots of potential and limited results to date) and a pathetic 0.4% yield.
There's little that compels us to buy "the market" these days. We are being very selective and have a higher proportion of most portfolios in inverse ETFs and precious metals than in any equities. But we are taking pilot positions in STO for many clients, DO for some, and RRC for more aggressive accounts, and will add to them at even better prices.

Author's Disclosure: We and those clients for whom it is appropriate are long short-term bond funds and inflation-protected securities, precious metals, select agriculture and energy issues, inverse ETFs and special situations including STO, DO, and RRC.
The Fine Print: As Registered Investment Advisors, we see it as our responsibility to advise the following: We do not know your personal financial situation, so the information contained in this communiqué represents the opinions of the staff of Stanford Wealth Management, and should not be construed as personalized investment advice.
Past performance is no guarantee of future results, rather an obvious statement if you review the records of many alleged gurus, but important nonetheless – for example, our Investors Edge ® Growth and Value Portfolio beat the S&P 500 for 10 years running but did not do so in 2009. We are again ahead thus far in 2010 but "past performance is no guarantee of future results"!
We encourage you to do your own research on individual issues we recommend for your analysis to see if they might be of value in your own investing. There are only two ways you see our work at this site: by your choosing as a result of seeing an article or by taking the recommendation of another reader. In either case, we take seriously our responsibility to proffer intelligent commentary, but it should not be assumed that investing in any securities we are investing in will always be profitable. We do our best to get it right, and we "eat our own cooking," but we could be wrong, hence our full disclosure as to whether we own or are buying the investments we write about.