Many are confused, skeptical, and worried about Tim Cook's latest move of acquiring Beats By Dre. I can only say that Apple (NASDAQ:AAPL) is not overpaying for Dr. Dre's Beats Electronics. The $3.2 billion offer is just right for the world's biggest luxury headphone vendor. Beats Electronics was estimated to have hit $1 billion sales by 2012. By 2013, the headphone company was rumored to have achieved $1.4 billion in sales.
3.2/1.4 = 2.29 P/S
On a Price/Sales basis, this deal is way cheaper and smarter than Facebook's $19 billion buyout of WhatsApp. WhatsApp's estimated 2013 revenue was only $400 million. Beats Electronics was valued $1 billion last year with private equity group Carlyle Group invested $500 million in the company.
Premium Headphones, Premium Audio Products
Beats By Dre is the iPhone of premium headphones. Tim Cook is buying a company that is greatly in line with Apple's high-end, high-margin business mantra. Beats Electronics, like Apple did with the iPhone, created a cult following for its luxury headphones. Beats By Dre is a social status icon that people are eager to own. Beats Electronics leveled-up the entire headphone industry by making $300 headphones a must-have accessory.
Beats Electronics, founded in 2006 by Dr. Dre and Jimmy Iovine, reached a dominant 64% market share of the $100-and above- headphone sales in 2012. It's safe to assume that Beats By Dre will continue to enjoy its pole position in the headphone industry. Tim Cook won't be gambling $3.2 billion for Beats if he thinks HTC was right in selling its majority stake in the company.
It wasn't because Beats Electronics is a hyped-up company selling a fad product. HTC was hemorrhaging losses so it had to sell its stake in Beats. Cook understands the future potential and synergy that Beats By Dre offers to Apple. The audio quality and distinctive sound of Beats Electronics can help Apple's current and future product line. It's not all about headphones/earphones.
The iPhone and iPad can be bundled with premium wireless Beats speakers. The Apple TV, Macs and MacBooks also deserve a Beats speaker on their side. Affluent musicians and designers using $4,000 Mac Pro workstations wouldn't mind buying Dr. Dre's pricey studio-quality beatbox speakers.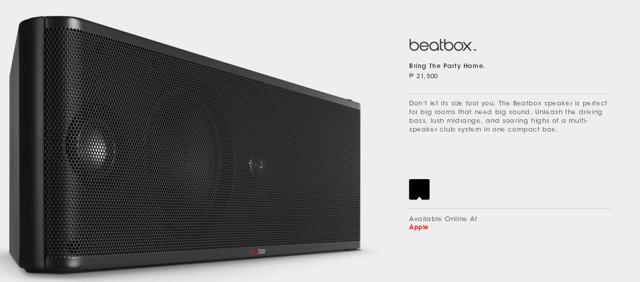 The Beats Audio technology was also licensed to HTC smartphones and HP computers. It's easy to assume now that future iPhone, iPad, iMac and Macbook models will come with Beats Audio bragging rights. solutions.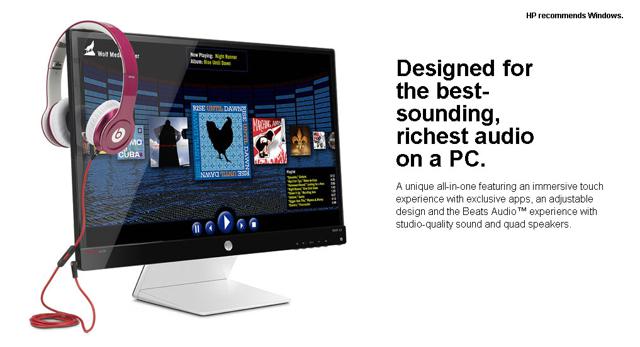 Source: Hewlett-Packard website
Beats Audio even found its way inside the 2012 Chrysler 300S luxury car. Some Fiat and Dodge cars also come with Beats Electronics audio.

Source: beatsbydre.com
Apple's CarPlay initiative can really benefit from Beats Electronics' existing contracts with Chrysler, Fiat, and Dodge. Beats Audio's software and hardware IP will be definitely used in Apple's future wearable and internet of things products. It's not hard to imagine that the new Apple TV set top box might also use Beats Audio. A real big-screen Apple iTV will also benefit from Beats Electronics technology.
It also helps that Beats has some serious star power endorsing it. Aside from music stars, Dr. Dre has LeBron James behind the Powerbeats. Apple has already a mega cult-following but Beats Electronics still brings a sizeable addition of loyal customers. Furthermore, anything that helps the company reduce its reliance on the iPhone should be appreciated by investors.
Acqui-Hiring Iovine & Others
The purchase will also come with the employment of Jimmy Iovine as "special adviser" to Tim Cook. Dr. Dre, soon to be the first billionaire in hiphop, is also rumored to take some part-time role in Apple. I do not care debating the future contribution of Dr. Dre to AAPL. I do agree that he is a great capitalist. Selling headphones for $300 won't have been possible if Dr. Dre did not have the business chops and global charisma.
The rapid rise to success of Beats Electronics is due to its great management team. Jimmy Iovine is a music industry veteran who co-founded Interscope Records. According to MacRumors, the $3.2 billion deal with Apple includes Iovine leaving his role as Chairman of Interscope Geffen A&M Records to take a job at Apple.
Iovine credits Apple for the idea of Beats Electronics - premium products for high-end market. Apple's late founder Steve Jobs has a long history with Jimmy Iovine. The two were already plotting for a subscription music venture as early as 2003. This close relationship with Jobs makes me believe that Iovine's insider and influencer status in the music industry was likely helpful in Apple's current success in music downloads.
Iovine will help Tim Cook improve the monetization potential of streaming music. He can persuade music industry heavyweights to give Apple a better licensing deal than Pandora (NYSE:P) and Sirius XM (NASDAQ:SIRI) have at the moment.
Music Streaming Will Ultimately Replace Music Downloading
The insider influence of Jimmy Iovine is already being predicted to boost the advertising sales of iTunes Radio. The music industry has also been bugging Apple to launch a true music streaming subscription model. Music streaming will gradually replace music downloading. The iTunes Radio launch last year is not satisfactory to music industry bigwigs and musicians because it's offered free.
The free business model of iTunes Radio has helped it become the third most popular streaming service. Musicians and record companies still want Apple to come up with a paid service because they believe they will get more income from the said format.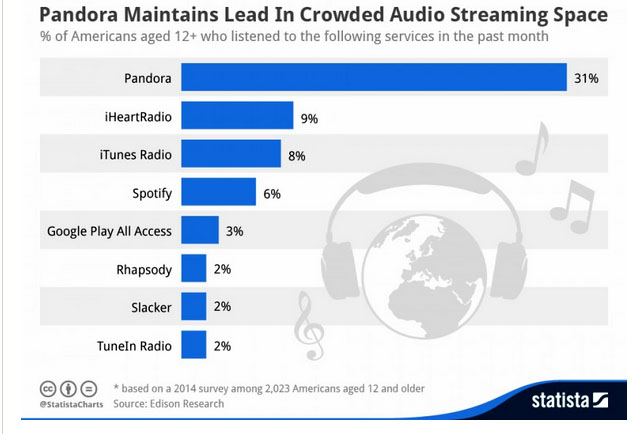 Ad-based music streaming is hardly profitable to musicians and songwriters. The great Bette Midler even tweeted her gripe about Pandora's pitiable royalty payments.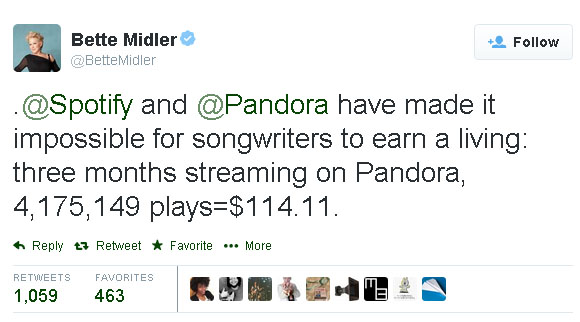 Apple, being cash-rich and its long history of generosity with its music royalty payments, is seen by the music industry as the saving grace in streaming services. The $3.2 billion price tag of Beats By Dre also includes the recently launched Beats Music subscription service.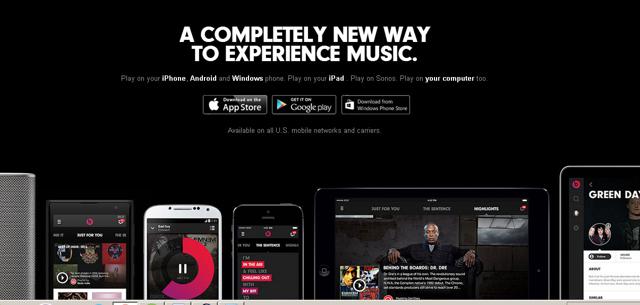 Source: beatsmusic.com
Iovine and Tim Cook can leverage this $9.99/month ad-free streaming service by bundling it with premium headphones, iPhones, iPads, and Mac computers. Yes, Beats Music can be played on desktop computers and Sonos. Apple will get a strong global platform for paid music streaming with its purchase of Beats Electronics.
Apple's 800 million of iTunes accounts is a large pool of future Beats Music customers. Most of Apple's customers already submitted their credit card files so it will only take a lot of star-heavy promotion of Beats Music to make it a true alternative to Spotify and Pandora.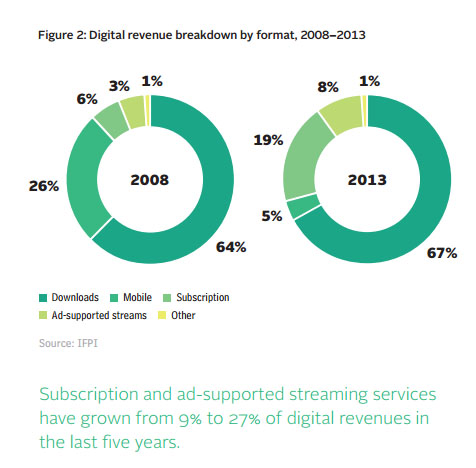 Beats Music boasts a 20 million song music library. It is being called a hybrid Pandora/Spotify with an excellent 320 Kbps streaming quality. The service is differentiating itself with its professional-curated playlist creation feature that relies on real human decisions instead of pure computer algorithm.
More and more people are signing up for ad-free music streaming and Apple's iLoyalists are probably a majority of them. It can be assumed that iPhone users subscribed to other services might consider defecting to Apple's own Beats Music service.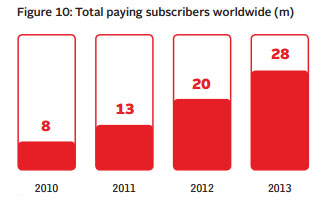 Source: IFPI Estimates
Conclusion
Apple is buying a company that has a cult following for premium high-margin headphones and speakers. Tim Cook is right in paying $3.2 billion for Beats Electronics. The market leadership of Dr. Dre's company says that Apple will recoup its investment sooner than later.
The Beats Audio technology, management, and engineers will contribute to improving Apple's current and future products' audio components.
Beats Music is also an easy stepping stone for Apple to start a true paid music streaming service. Jimmy Iovine's influence on the music industry is another tailwind for Apple's music and media revenue stream.
Getting a foothold in music streaming is essential to Apple's overall future success.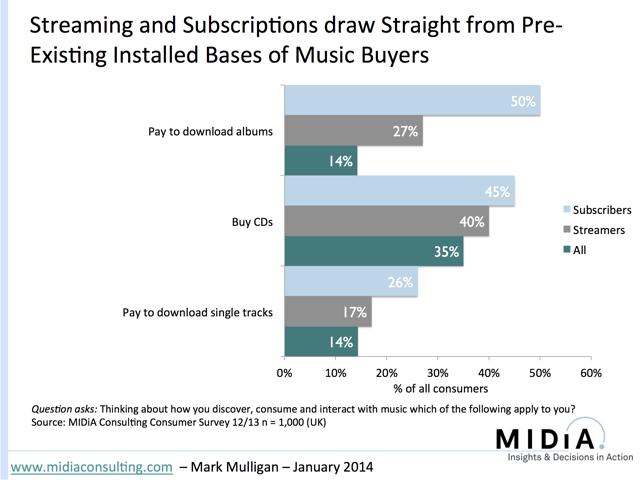 Disclosure: I am long AAPL, SIRI. I wrote this article myself, and it expresses my own opinions. I am not receiving compensation for it (other than from Seeking Alpha). I have no business relationship with any company whose stock is mentioned in this article.