By David Russell
US stock futures are pointing higher today as takeover activity heats up and after equities pulled back from a four-week low yesterday.
The S&P 500, Dow Jones Industrial Average and Nasdaq Composite are indicated to open higher by 0.5 percent to 0.7 percent after closing little changed yesterday. The S&P 500 and Dow rebounded after touching their lowest levels since July 21 and July 22.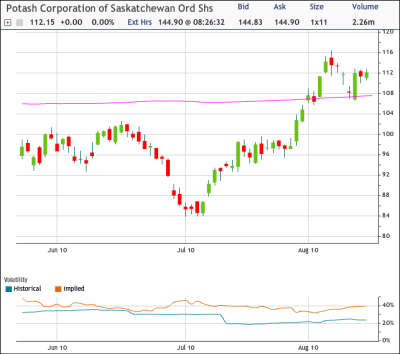 The big merger buzz this morning centers on fertilizer maker Potash (NYSE:POT), which rejected an unsolicited takeover bid from BHP Billiton (NYSE:BHP) for $130 a share. POT is skyrocketing nearly 30 percent to near $145 in pre-market trading.
There were also advances in deals that had been previously discussed: The Financial Times reported that Spanish bank Santander (STD) has renewed talks with US regional lender M&T Bancorp (NYSE:MTB). The Wall Street Journal reported that packaging company Pactiv (PTV) is on the verge of announcing that it will be acquired by Australia's Rank Group (RANKF.PK). The news seems to have offset potentially negative headlines from Germany, where the ZEW economic index unexpectedly plummeted from its breakneck pace in July.
In US markets, Wal-Mart (NYSE:WMT) and Home Depot (NYSE:HD) reported weak revenue but raised their earnings forecasts on strong cost controls. WMT also benefited from strong overseas growth.
Later in the morning, investors will also be waiting for US economic data, with Housing Starts and the Producer Price Index due at 8:30 a.m. ET and Industrial Production at 9:15 a.m. ET.
Disclosure: No positions