A year ago, preferred stock prices were very high, propped up by the Fed's QE bond-buying program. Common equities soared on cheap money while bond and preferred stock yields dropped to historic lows, even for the highest quality issues. What a difference a year makes.
The highest quality preferred stocks trading on U.S. stock exchanges are now offering an average of 1.9 times the dividend yield as the same company's common stock, almost double the return for income investors.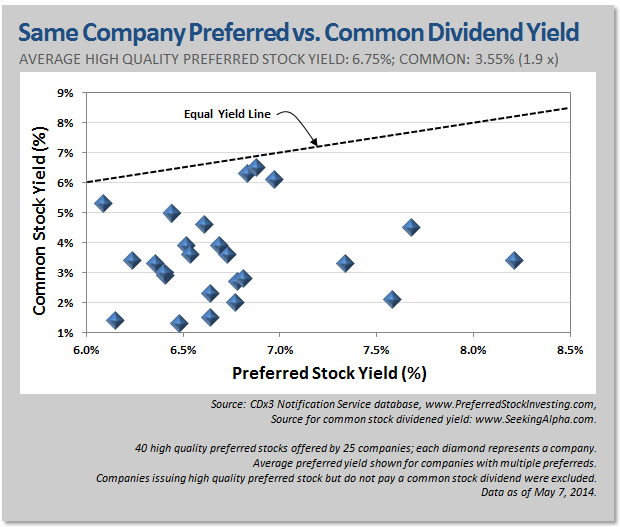 Beyond the compelling 1.9x dividend advantage being offered by today's high quality preferreds, these securities are delivering an average annual dividend yield of 6.75 percent to today's buyers.
(Sources: common stock dividend yield, SeekingAlpha.com | preferred stock data, PreferredStockInvesting.com)
QE exit already "priced-in"
During the last six months of 2013, income investors anticipated that the Federal Reserve was about to pull out of its Quantitative Easing rate-lowering program, assuming that if the QE program had the effect of lowering rates (and increasing prices), removing the QE program would have the opposite effect of increasing rates (and decreasing prices).
Sellers who had overpaid for their shares fulfilled their own fears by liquidating their positions in fixed-return securities, lowering the prices of corporate bonds and preferred stocks. Prices went down and rates went up even though the Fed did not start gradually backing out of their QE program until January of this year.
It was primarily the fears and expectations of income investors that set rates during the second half of 2013, not action by the Fed.
And that appears to be happening now as well. Income investors appear to have priced fixed-return securities as if the Fed has exited its QE program entirely, not just as if a gradual taper is underway. And so far this year, while the Fed has gradually been reducing their monthly bond-buying, treasury rates have remained unchanged all year.
The 10-year treasury started the year at 3.0 percent and is now at 2.68 percent (April 25). The 5-year note, which I view as more closely related to preferred stock yields due to their five year call date window, started 2014 at 1.72 percent which is exactly where it was as April came to a close.
(Source for 2014 treasury rates: U.S. Federal Reserve, FederalReserve.gov)
Preferred stock prices
Preferred stock prices returned to their pre-QE2 price level during June, 2013 (see "Preferred Stock Prices Return To Pre-QE2 Level, Bargain List Grows For Buyers," June 24, 2013). Further, today's 6.75 average high quality preferred stock yield is very close to the seven percent long-term average offered by these securities.
The implication in these data is that the Fed's exit from the QE program has already been "priced in" by income investors. If that's the case, we should not expect continued tapering to have much more of an effect on preferred stock prices over the next several months than it has since tapering began in January.
Put another way, if QE tapering causes rates to go up and, commensurately, prices to come down, why hasn't that been the case since tapering began in January (unless a QE-free market has already been priced in)?
Federal funds rate
Another Fed policy that may affect preferred stock rates and prices is its manipulation of the federal funds rate.
Manipulating the federal funds rate is the primary tool used by the Fed to control inflation. Not just any inflation, but consumption-driven inflation (more specifically, the "Personal Consumption Expenditures Deflator"). Inflation caused by some geopolitical event that disrupts energy prices, for example, is not what the Fed is looking at.
The Fed knows that you cannot have consumption-driven inflation without an increase in consumption which, in turn, cannot occur without an increase in jobs.
The Bernanke Fed was very clear that they would not consider increasing the federal funds rate until unemployment fell to about 6.5 percent. Yellen's Fed has expanded on that metric, giving more attention to the "participation rate" within the U.S. workforce (the participation rate accounts for those who have given up looking for work and remain unemployed). The participation rate was at 66.1 percent ten years ago but has fallen to 62.8 percent (ending April), the lowest level that we have seen since March, 1978.
(Sources: current participation rate, U.S. Bureau of Labor Statistics, bls.gov | historical participation rate, St. Louis Fed, StLouisFed.org)
What's next?
In an April 2014 Bloomberg Research survey, 100 percent of the 67 economists surveyed responded that they expect rates to increase during the second half of this year. Increasing rates brings higher dividend income available at lower market prices to preferred stock investors, so these economists are predicting a strong market for preferred stock buyers for the remainder of 2014.
While these economists might be right, it is not clear that QE tapering is having any affect whatsoever on preferred stock rates and prices nor is it clear that any change in the federal funds rate is going to occur any time soon.
But for most risk-adverse preferred stock investors, the extent to which the economists have it right is largely irrelevant considering the strengths of the current offerings.
As illustrated in the above chart, high quality preferred stocks are already providing almost double the dividend yield (6.75 percent) as the same company's common stock shares (3.55 percent), with the S&P 500 and Dow indices of common stock price performance essentially flat this year.
Whether or not the predicted higher rates materialize over the coming months, today's high quality preferred stock market is offering dozens of cumulative, investment grade issues with coupons of 6.5 percent or greater and an average 6.75 percent dividend yield. There are also several such issues available very close to, or even below, their $25 par values with many more on the way if the economists have got it right.
What a difference a year makes.
Disclosure: I have no positions in any stocks mentioned, and no plans to initiate any positions within the next 72 hours. I wrote this article myself, and it expresses my own opinions. I am not receiving compensation for it (other than from Seeking Alpha). I have no business relationship with any company whose stock is mentioned in this article.
Additional disclosure: The CDx3 Notification Service is my preferred stock email alert and research newsletter service and includes the database of all preferred stocks used for this article. Securities identified within this article are for illustration purposes only and are not to be taken as recommendations.