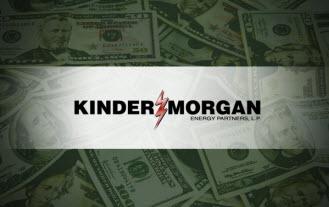 Kinder Morgan (NYSE:KMI) is well positioned to benefit from resurgence in oil and gas production in North America not experienced for years. Nevertheless, the company's stock has taken a sharp downturn as of late due to a massive public relations blunder. I surmise this will be a short-lived downturn and actually provides dividend investors with an excellent buying opportunity in the stock. In the following sections I will lay out my bull case for the stock.
Kinder Morgan is well positioned for the revitalization of North American oil and gas production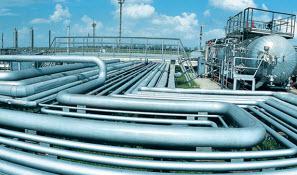 Oil and gas production in the United States and Canada has vastly increased over the last few years. New technology has unlocked previously unattainable oil and gas deposits. Canada's oil sands and America's Bakken and Eagle Ford shale plays are evidence of this phenomenon. The phenomenal increase in oil and gas production is altering global energy markets. Kinder Morgan Kinder Morgan is the largest midstream and the third largest energy company in North America. The company operates roughly 80,000 miles of pipelines. The pipelines transport natural gas, refined petroleum products, crude oil and more. Kinder is currently investing billions of dollars to build new pipelines and infrastructure to bring these assets to market. The oil and gas revival is underway and shows no sign of letting up anytime soon. I submit the phenomenal growth of oil and gas production in North America underpins Kinder Morgan's growth prospects and the stock's upside potential if the company can execute. Nonetheless, a recent public relations blunder has masked the company's seemingly unmistakable upside potential.
Deconstructing Kinder's Public Relations blunder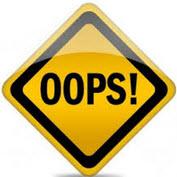 Kinder Morgan is presently confronted with a public relations disaster of epic proportions. The horrendous public relations gaffe is attributable to a portion of the company's proposal to expand the Trans Mountain pipeline. In the proposal the company detailed the positive economic effects of an oil spill. Rachel Maddow was among the first of many outraged critics that jumped on the story. Kinder stated it was required to analyze both positive and negative effects of a spill in its project application. Even so, a spokesman for Enbridge (NYSE:ENB), a supporter of the pipeline to B.C., says he does not believe Canadian government guidelines require such an analysis. When questioned about the statement Kinder Morgan Canada President Ian Anderson stated:
"No spill is acceptable to me anywhere, anytime, for any reason... Spills are not part of our economic benefits analysis, nor do we in any way say that money spent on spill response would be justification for our project."
Needless to say, there is no excuse for the blunder and no reason for the analysis to be included in the proposal. A public relations blunder of this magnitude is unacceptable. Nonetheless, I posit there is no stopping the oil and gas revolution and the current drop in the stock will be short-lived.
A major buying opportunity for dividend investors exists
"Great investment opportunities come around when excellent companies are surrounded by unusual circumstances that cause the stock to be misappraised." ~ Warren Buffett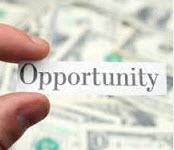 This is a lesser known quote from Buffett that I believe is quite apropos at the junction regarding Kinder Morgan's current predicament. The long-term outlook for the company is bright. Nonetheless, based on the current circumstances at hand, the near-term prospects for the company appear dim. This has created a definitive buying opportunity for dividend investors.
The opportunity for capital appreciation and income production
Dividend investors on the hunt for capital appreciation and income production may want to consider starting apposition in the stock currently. The Fed's zero interest rate policy and quantitative easing policy has left savers out in the cold. Fixed income instruments such as bonds and CDs have virtually no yield currently. Kinder Morgan's outstanding 5.2% yield coupled with the company's opportunity for growth suggests a scenario where investors can achieve both capital gains coupled with income production. This would seem to be an excellent opportunity for dividend investors. Furthermore, a shift from growth to value has materialized.
Market shifting from growth to value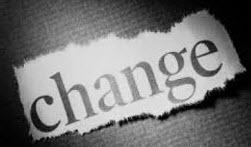 Over the past few weeks a major paradigm shift has occurred in the market which may underpin Kinder Morgan's stock. The high-flying momentum stocks have been severely sold off regardless of the results. It appears market participants are no longer satisfied with ephemeral valuation metrics such as the number of eyeballs and the like. Investors have come to their senses so to speak and are demanding earnings and income, as they should. This cycle happens every so often with the disparity between growth and value stocks widens significantly. Now that the snapback has begun, I submit some of that money flow will find its way into Kinder Morgan's stock.
Kinder Morgan appearing fundamentally undervalued on a relative basis
Kinder Morgan has a net profit margin of 17.53 outpacing the company's peers and the industry by a wide margin. Furthermore, the company is trading for nearly for a significant discount to peers on the price to free cash flow basis.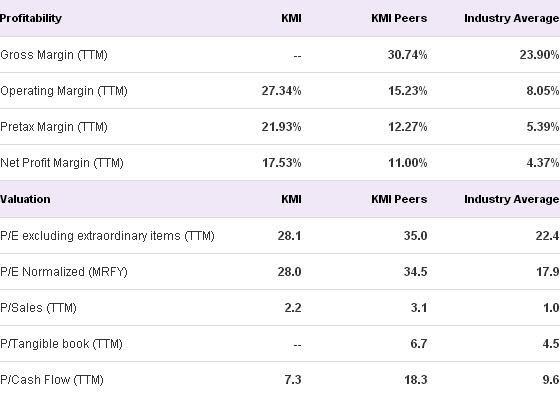 (Table provided by Scottrade.com)
Kinder's weak point is the heavy debt load. The company sports a total debt to equity ratio of 2.9, nearly twice as high as peers.

(Table provided by Scottrade.com)
Nevertheless, the company is well aware of the debt burden and appears well positioned to tackle it over the next few years. Furthermore, technically, the stock looks in good shape.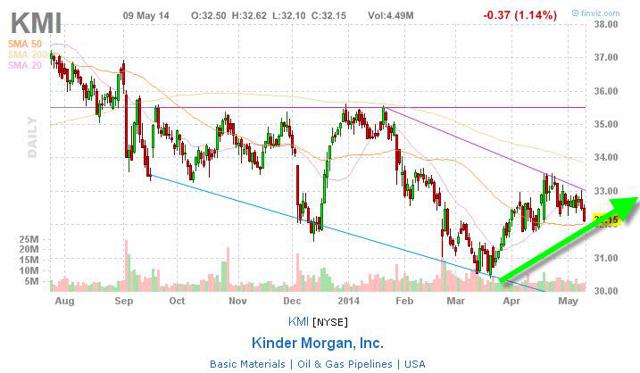 (Chart provided by Finviz.com)
Downside Risks

There are multiple downside risks for Kinder Morgan going forward. Oil pipeline projects are massive endeavors. Kinder Morgan will have to double down on the company's efforts to ensure continued improvement on margins. New pipeline projects must remain on schedule and under budget for the company to remain on track.
Conclusion
A model dividend investing approach is to construct a diverse portfolio of stocks with significant capital gain potential and exceptional dividend yields. Kinder Morgan definitely fits the bill. With the Fed keeping interest rates at all-time lows for the foreseeable future, investors are being driven to dividend-paying stocks in a search for yield. The positives regarding Kinder Morgan's stock far out weight the negatives. I suggest the current public relations debacle has actually provided an opportunity for savvy investors to lock in shares at a higher yield.
Moreover, Kinder Morgan is a dividend-paying stock with the potential for both capital gains and income production. This combination of capital gains and income production will be necessary to fund the lengthening retirement that comes with a greater life expectancy for investors. The stock is currently trading just 10% off its 52-week low based on the recent public relations bungle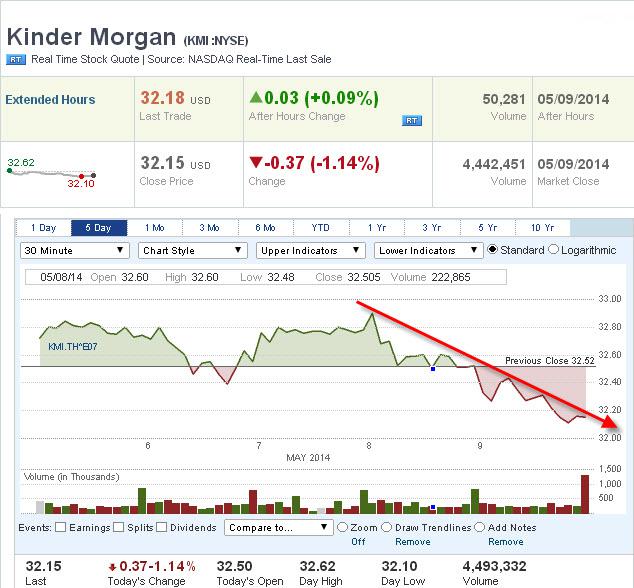 (Chart provided by CNBC.com)
Final Thought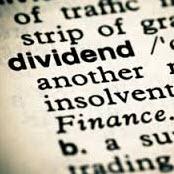 Kinder Morgan is a solid long-term growth story and pays a hefty dividend of over 5%. These facts, coupled with the Fed's announcement that rates will remain at ultra-low levels for at least the foreseeable future leads me to believe the company is an excellent hedge against inflation. Factor this in with the fact that historically, dividend-paying stocks have outperformed non-dividend-paying stocks, and you have a recipe for outstanding returns. Nevertheless, if you choose to start a position in any stock, I suggest layering in a quarter at a time at a minimum to reduce risk. The current public relations debacle is transitory in nature. Nonetheless, future headline risk in the short term lies ahead for the stock unquestionably.
Disclosure: I have no positions in any stocks mentioned, but may initiate a long position in KMI over the next 72 hours. I wrote this article myself, and it expresses my own opinions. I am not receiving compensation for it (other than from Seeking Alpha). I have no business relationship with any company whose stock is mentioned in this article.