Overview
In this series of articles, I will be identifying which stocks for various S&P industries are best suitable for income investors, based on dividend growth and yield. For Part 4, I will be taking a look at Broadcasting & Cable TV stocks. These stocks include:
Cablevision Systems (NYSE:CVC)
CBS (NYSE:CBS)
Comcast (NASDAQ:CMCSA)
DirecTV (DTV)
Discovery Communications (NASDAQ:DISCA)
Scripps Networks Interactive (NYSE:SNI)
Time Warner (NYSE:TWX)
Time Warner Cable (TWC)
Viacom (NASDAQ:VIAB)
Walt Disney (NYSE:DIS)
Out of these stocks, DirecTV and Discovery Communications currently do not pay dividends.
When ranking the dividend paying stocks by yield, the order is as follows:
Cablevision Systems - 3.62%
Time Warner Cable - 2.17%
Time Warner - 1.86%
Comcast - 1.76%
Viacom - 1.43%
Disney - 1.05%
Scripps Networks - 1.04%
CBS - 0.85%
When ranking them by dividend growth over the past five years, the order is as follows:
Comcast - 233.3%
Scripps Networks - 166.7%
Cablevision Systems - 159.7%
Disney - 145.7%
CBS - 140%
Viacom - 100%
Time Warner Cable - 87.50%
Time Warner - 69.33%
Based on yield, Cablevision Systems is really the only stock out of this group recommendable in terms of an income investment. The other stocks all have yields under 2.50% and Time Warner Cable is the only one with a yield above 2.00%. Cablevision System ranks third out of the group in terms of dividend growth.
Cablevision Systems
When looking at the financials of Cablevision Systems, you can see from the chart below that the company has seen some sporadic revenue and earnings growth over the past ten years.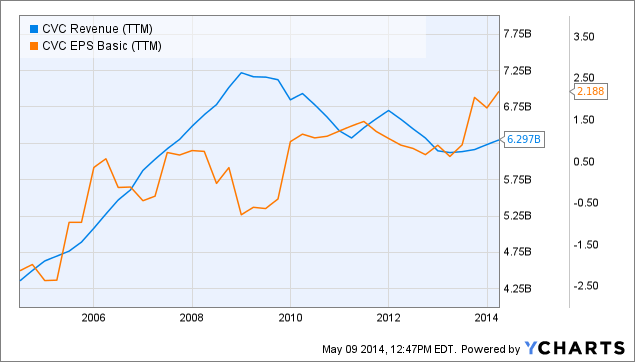 CVC Revenue (TTM) data by YCharts
Cablevision Systems currently displays an attractive PE ratio as well as a low payout ratio.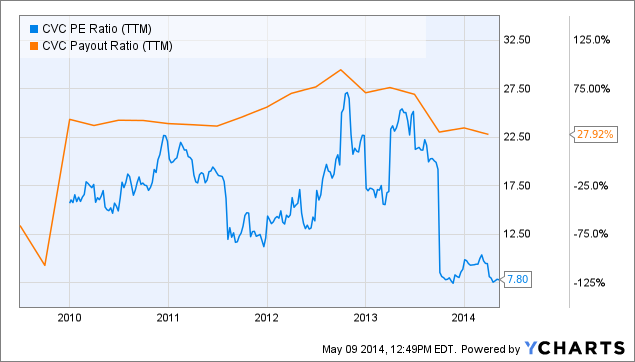 CVC PE Ratio (TTM) data by YCharts
In its most recent quarter, the company produced solid results. Net revenue increased 4% compared to the same period last year, adjusted operating cash flow increased close to 25%, and revenue per customer increased.
Conclusion
As Cablevision Systems continues to introduce new products and services, enhance its services, and increase its market, I feel confident that Cablevision Systems will continue to reward income investors with a fairly nice dividend. I also believe there is definite room for the price of this stock to grow as well, and there have been plenty of rumors related to Cablevision possibly being acquired by a larger player in the industry.
I think income investors would be served well by taking a look at Cablevision Systems as a possible buy. Disney is another stock I really like in this group, but not as an income investment. It is more of a growth stock, but for interested investors, I wrote this article back in March detailing some of the positive factors surrounding Disney currently.
As always, I suggest individual investors perform their own research before making any investment decisions.
Disclosure: I have no positions in any stocks mentioned, and no plans to initiate any positions within the next 72 hours. I wrote this article myself, and it expresses my own opinions. I am not receiving compensation for it (other than from Seeking Alpha). I have no business relationship with any company whose stock is mentioned in this article.