By Chris McKhann
Shares of H&R Block (NYSE:HRB) are sitting at their lows, and option traders are setting up for the possibility of further significant declines.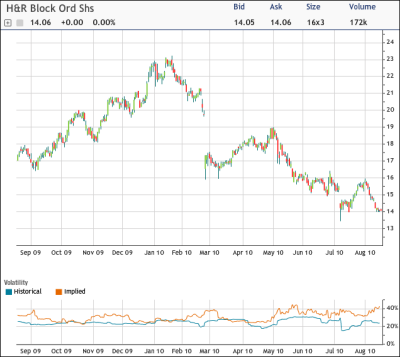 The tax-consulting company is flat on the day at $14.06. Shares have traded from just below $16 at the beginning of the month and have been trending lower off the 52-week high of $23.23 set in early January. HRB is now just above long-term a support level that was broken only briefly on heavy volume July 8.
Almost all of today's option volume is in one strike, the January 11 puts. More than 4,000 of those puts have traded so far, the largest block of 3,500 bought for $0.50. This compares to the previous open interest of 339, so it is clearly a new opening position.
This put buying is not directly tied to any trading in HRB shares today. That doesn't mean that it can't be a trader buying protective puts against long shares bought previously.
But HRB hasn't seen $11 since February 2001, and those puts are more than 20 percent out of the money, so it does appear that this is an outright bet that HRB declines through the rest of the year.

Disclosure: No positions