First Solar Inc. (NASDAQ:FSLR) presented top first quarter 2014 results on May 6, 2014 which outperformed analyst estimates by a huge margin and reflected substantial y-o-y earnings growth. The largest U.S. solar company reported a first quarter diluted EPS of $1.10 which compares against an EPS of $0.64 in the previous quarter and against an EPS of $0.66 a year ago. EPS growth rates stood at 72% sequentially and 67% y-o-y. The consensus analyst EPS estimate stood at $0.50 according to Bloomberg and has been outperformed by 120% -- a massive earnings beat. Total net income for the first quarter also increased materially to $112 million, up from $65 million in the previous quarter and up from $59 million a year ago.
First Solar's operating income came in at $139 million in the most recent quarter compared against $60 million in Q4 2013 and compared against $61 million in Q1 2013. Its first quarter 2014 gross profit stood at 24.9% -- a slight improvement compared to 24.6% in Q4 2013 and 22.4% in last year's quarter.
In terms of sales, First Solar also presented a good quarter: Q1 2014 revenues were reported at $950 million -- an increase of 24% sequentially and 26% y-o-y.
Updated guidance
First Solar also raised its guidance for a variety of financial metrics and line items for 2014: Most notably, First Solar increased its EPS guidance from $2.20-2.60 to $2.40-2.80 and revised its operating cash flow forecast up by $50 million -- a meaningful upgrade considering the cash flow consciousness of growth investors. At the same time, First Solar is a little bit more optimistic with respect to its gross margin in 2014: The guidance was raised slightly from 16-18% to 17-18%.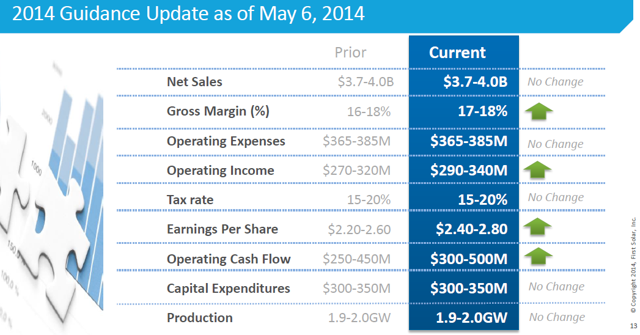 Click to enlarge
(Source: First Solar Q1'14 Earnings Call Presentation, May 6, 2014)
What's happening here?
With respectable increases in revenues and operating income, strong sequential and y-o-y earnings growth, a sizable earnings beat and an updated guidance for the financial year, it remains a mystery to me as to why Mr. Market reacted negatively to results of the solar company: First Solar's stock lost 6% on Wednesday.
The only explanation to explain this paradox: Disappointed analyst expectations with respect to second quarter earnings. It is somewhat irritating, that we live in a world in which a company reports earnings per share growth of 67% and the market scoffs. In any case, irrational pullbacks caused by the disappointment of inflated expectations make for excellent buying opportunities, especially if short-term traders determine the market price of a stock more than long-term investors. After all, First Solar trades at only 13.5 times forward earnings -- not too much for a market leading solar manufacturer with a solid financial performance and balance sheet.
Last time I wrote about First Solar, on January 7, 2014, I aggressively recommended the company to contrarian investors after Goldman Sachs downgraded the stock from Buy to Sell and the stock plunged 10% as a result. I think this time will be no different: The pullback offers an entry opportunity for long-term investors.
EPS volatility remains main risk factor
Investors will have noticed the wild swings in earnings per share that are being reported by First Solar over the last couple of quarters: In Q2 2013 First Solar reported an EPS of $0.37 which subsequently increased to $1.94 in the third quarter and then fell back again to $0.64 in the fourth quarter of 2013. High earnings volatility reflects the underlying risk of First Solar's business model with wildly fluctuating revenues. Looking forward, investors should expect high volatility in both earnings and the share price of First Solar.
Technical picture
First Solar's shares have consolidated quite a bit after they skyrocketed to new 52-week Highs at the end of March. Shares are now quoting 16% below their most recent 52-week High of $74.84. However, occasional breathers are a healthy signal and ensure that short-term and momentum traders do not get the upper hand.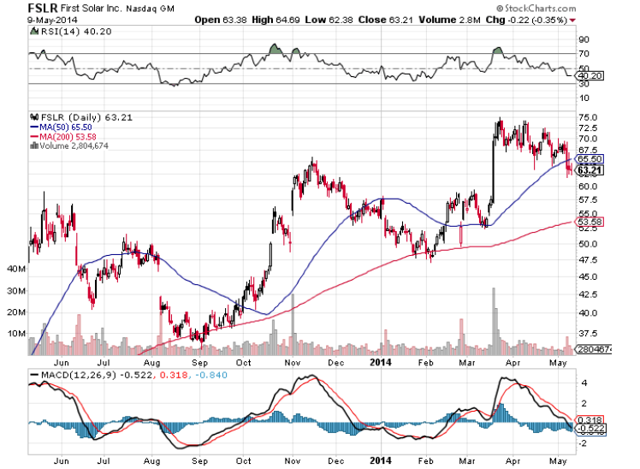 Click to enlarge
(Source: StockCharts.com)
Conclusion
First Solar has made many shareholders happy over the last two years and I have little reason to call an end to its growth story. Over the last two years, First Solar has returned 293% to shareholders and I believe First Solar's financial performance supports further upside potential. Considering the strength of First Solar's first quarter results, I think the sell-off is completely unwarranted. Mindless sell-offs like the one we saw last week make for excellent buying opportunities: Trading at less than fourteen times earnings, investors are hardly overpaying for an industry leading solar module manufacturer with a solid balance sheet ($1.4 billion in cash and marketable securities, $199 million in long-term debt) and outstanding growth prospects. Long-term BUY.
Disclosure: I have no positions in any stocks mentioned, and no plans to initiate any positions within the next 72 hours. I wrote this article myself, and it expresses my own opinions. I am not receiving compensation for it (other than from Seeking Alpha). I have no business relationship with any company whose stock is mentioned in this article.