Happy Tuesday. It appears to be a good day because we are opening in the green for the first time in several sessions. Yesterday was a nice day for us as we got into and out of one position in Urban Outfitters Inc. (NASDAQ:URBN) for a 3% gain. We got involved in the morning at 30.70 and exited at 31.60. We liked the stock to run up before earnings as it was expected to do very well. The company did not fail to deliver and continued to increase over 4% in after hours. Anyone holding is going to be able to sell at the open for a very solid gain. Our Short Sale never entered the needed range I set on Eastman Kodak (EK) at the middle of the day, so we did not enter it.
Let's get into some plays for the day…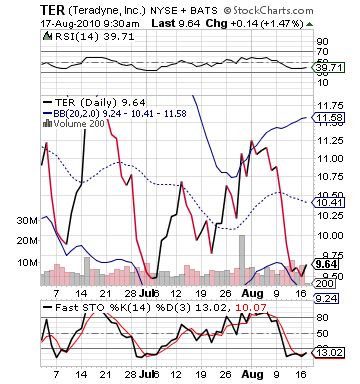 Buy Pick of the Day: Teradyne Inc. (NYSE:TER)
Analysis: One of our favorites from a couple weeks ago has fallen hard over the last week amidst a bear market. Today, however, could be a solid day to expect a Teradyne bounce back. The market is looking like it is poised to make some gains as bargain shopping is on the menu along with strong earnings from Wal-Mart (NYSE:WMT), Urban Outfitters (URBN), and Agilent Technologies (NYSE:A). Additionally, housing starts increased for the first time in several months. Futures have continued to creep up all morning, which is a positive sign.
So why expect a rise out of Teradyne? Agilent Technologies is one of Teradyne's very similar competitors. The companies are both in the semiconductor equipment industry and provide similar businesses. Teradyne should get a nice rise out of Agilent as the company reported very solid earnings with an EPS of 0.54 vs. the expected 0.48 and a beat on one year ago's 0.15. Additionally, the company saw a 30% rise in revenue. The stock is not a buy, though, as it is up 5% in pre-market already and is beginning to look slightly toppy. Teradyne, on the other hand, since last Monday has dropped more than 10% after a solid July and Q2 earnings report that helped move the company.
Now the stock is near its lower Bollinger band, is bottoming on fast stochastics, and has dipped below the important 40 level on RSI. It is a stock that has very few sellers left, and momentum to the downside cannot last. The Agilent news should truly give the stock a boost upwards along with the entire market being upwards. Further, the company also had a strong outlook for the equipment sector, which is another boost for TER.
TER had a blow-out quarter, but the stock price has been blown down ever since. Look for a rebound today as people remember how good this company actually is. Get in early before the market moves away.
Entry: We are looking to get involved at 9.55 - 9.65.
Exit: We are looking to exit for a 2-3% gain.
Stop Loss: 3% on bottom.
Short Sale of the Day: Cott Corp. (NYSE:COT)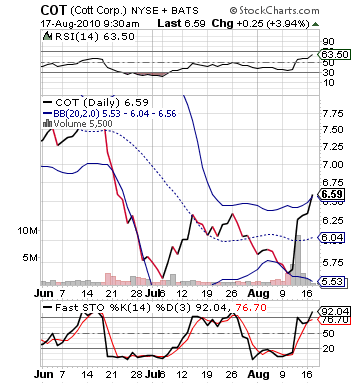 Analysis: I love pop. I don't know about you, but my favorite soda is Dr. Pepper (NYSE:DPS). I have never tasted Cott soda. If anyone has, please let me know where you got it; I would like to try it sometime. Cott Corp. (COT) is a soda maker and bottler that is performing quite well over the past few sessions. The stock jumped since last Thursday on news of the company selling $375 million in senior notes. The stock gained 20%. This morning, the company received an upgrade from Stifel Nicolaus as a buy. This has sent the shares up even higher. The stock is starting to look very toppy and suffering from too fast syndrome.
The stock has moved up way too fast, and my guess is that some heavy selling is going to start occurring as the stock is about to hit its upper Bollinger band and is becoming overbought on stochastics. The upgrade really pushed it to the limit, and while the company looks like it could be a great speculation buy moving forward, for today, it is a short sale.
The company has a lot of issues on its hand. It has the highest debt to asset ratio in the soft drink industry. The company has severely outperformed its industry as of late, and it should be ready for a reality check. It is set to open at 6.49 this morning, which is exactly where I have an upper band set. I am thinking a 1 - 2% pop could still be in store, but from there, we should expect heavy selling.
Entry: We are looking to get involved at 6.55 - 6.65.
Exit: We are looking to cover for a 2-3% gain.
Stop Buy: 3% on top of entry.
Disclosure: No positions at time of writing.