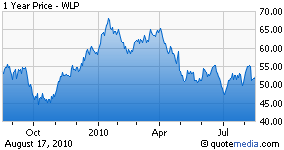 Following the release of second quarter results on July 28, 2010, the majority of analysts covering WellPoint Inc. (WLP) made upward revisions to their fourth-quarter and 2010 annual estimates. However, third-quarter of 2010 and 2011 annual estimates witnessed more of a downward trend among analysts over the last 30-day period.
Earnings Report Review
The company performed impressively in the second quarter, beating the Zacks Consensus Estimate by 11 cents and year-ago earnings by 17 cents (excluding special items). Following the impressive first quarter results, the company raised the 2010 net income guidance and lowered its operating revenue outlook.
WellPoint's earnings in the reported quarter were $1.67 per share, excluding net investment gains of 4 cents per share. On a reported basis, the company earned $1.71 per share, against year-ago earnings of $1.43 per share. Higher-than-expected favorable reserve development and continued strong performance in capital management in the reported quarter contributed to the improved performance.
Earnings Estimate Revisions: Overview
Quarterly estimates haven't showed any significant movement for WellPoint since the earnings release, though 2010 estimates have moved up noticeably on raised outlook. It seems that the enrollment challenges are partially offset by the favorable cost trend. The earnings estimate details are discussed below.
Agreement of Analysts
Over the last 30 days, five of 19 analysts covering the stock raised their estimates for the third quarter of 2010. However, eight of them revised downward. For the fourth quarter, nine of 18 analysts revised their estimates upwards, while 5 moved lower.
Of the 20 analysts following the stock, fifteen have raised their earnings estimates for fiscal 2010 with one downward revision over the last 30 days, owing to revised guidance for 2010. However, 2011 estimates witnessed an upward bias from 5 out of 22 analysts, with 9 analysts moving in the opposite direction, attributed mainly to expected medical loss ratio (NYSE:
MLR
) deterioration due to minimum MLR requirement and greater regulatory scrutiny on premium rate requests in 2011.
Magnitude of Estimate Revisions
For the third quarter, estimates declined by a penny over the past 30 days, while the fourth quarter didn't witness any revision in estimates. This implies that analysts were generally unmoved by this information.
On the contrary, fiscal 2010 estimates have risen 11 cents over the last 30 days while fiscal 2011 estimates plummeted 7 cents over the same period. The upward trend shows the company's ability to maintain a strong capital position, compared to its peers, along with its continuous acquisition strategy. The declining estimates trend is expected to come from shrinking medical enrollment and lower operating revenues.
Our Recommendation
Currently, we have a Neutral outlook on WellPoint. While we are pleased with the strong results along with solid capital management, we remain concerned about the health reform headwind.
WellPoint relies on growth through acquisitions and divests non-core assets. It has completed many deals over the past few years. The sale of NextRx to
Express Scripts
(
ESRX
-
Analyst Report
) has strengthened its balance sheet and fueled a major stock repurchase. The acquisitions have, in turn, enhanced WellPoint's financial standing with expanding margins and increasing top line.
However, the health reforms are expected to compress profit margins going forward. Moreover, concerns over continued high unemployment are likely to overshadow the stock.