On the surface, Sandridge Energy (NYSE:SD) had a tough Q1 2014 as production declined 2% to 50.6 MBoe/day. However, the good news is this reduction was due to one of the harshest winters in history.
During the conference call, COO David Lawler said:
"The first quarter also included a number of challenges related to extreme weather in the midcontinent region. This was the 12th coldest winter on record and the prolonged freezing temperatures created disruptions in our development program."
Then, later in the call, CEO James Bennet said:
"The Mid-Con production was down about 2%, completely weather-related."
Management stated out of the 94 planned wells to be completed, only 71 were connected, a 24% shortfall. Moreover, the "vast majority" of these 71 wells were completed very late in the quarter. Considering these startling statistics, I consider it impressive there was only a 2% production decline.
Now that I've put production decline concerns to bed, how will the company compensate for this short fall going forward you ask? Management has stated 45 wells have already been completed in April, so Q2 is already off to a solid start. Thinking it over, that's more than 60% of all of Q1 completions in just 30% of the time.
In addition, $25 M in cap-ex wasn't spent due to weather restrictions, and will be pushed forward and utilized through the rest of the year. Estimating costs of $2.5 M-$3 M per well, we can assume another 8 to 10 wells depending on the exact economics. This enhanced production for April and spending deferment of 8-10 wells will put production back on track for FY 2014, as management reiterated production guidance for 26% YOY growth, net divested GOF assets. Management also confirmed long term growth goals of 20%-25% CAGR through 2016 as expected.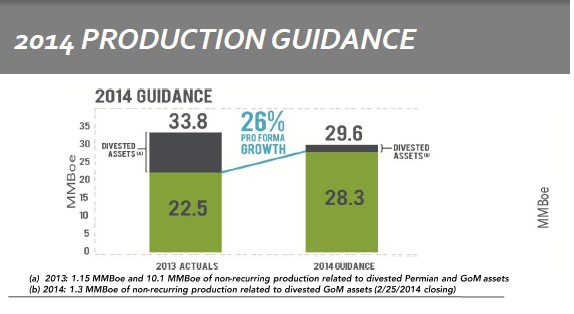 IP Rates:
The number of wells coming online and well cost are important factors for SD, however performance per well could be even more important as SD further develops their asset base. SD's midcontinent 30 day IPs averaged 410 BOE/d, or 29% above type curve averages. This increase was mostly due to new technologies, including sub surface modeling efforts and the use of Open Hole packer systems in completion operations. Management announced day IPs over 1,000 BOE/day for 7 wells completed in Q1, which are huge numbers for SD, and management wasn't shy about it either. In the conference call, they said this was the "...largest number of high rate wells in a single quarter since the inception of the play."
Summary:
Apparently the harsh winter didn't just slow down consumers from heading to the local strip mall; it also slowed down new well production at SandRidge. However, management has already taken steps to boost production for the remainder of 2014, as evidenced from April's strong start to Q2. I have no doubt management will meet guidance of 26% pro forma growth for FY 2014, despite battling through the "12th coldest winter on record" in SD's operating areas. For more detail on SD's plans to lower well costs and improve efficiencies, read my recent article. In this light, it might be best to end this write up by quoting Mr Bennet as he ended the Q1 conference call:
"... EBITDA was up over 50%, we have discovered another high return area of the play, we continue to drive innovations in the business, we had second highest IP rate ever in the quarter and seven wells over 1,000 BOE per day."
Disclosure: I am long SD. I wrote this article myself, and it expresses my own opinions. I am not receiving compensation for it (other than from Seeking Alpha). I have no business relationship with any company whose stock is mentioned in this article.