On Monday we had the Home Builder's Index report, which came out at 13, a 17-month low and down from an already low level. Any reading over 50 indicates optimism, so this is abysmal. The last time the index was above 50 was in April 2006.
If it was gloomy with all the stimulus money, now expiring, being thrown at it, no wonder we are going from bad to worse. Builders are facing many of the same problems as private sellers: problems with inaccurate appraisals, competition from the large number of distressed properties on the market, and tight consumer-lending conditions are causing them to lose potential sales.
If the mortgage finance industry hadn't been forced to abandon traditional underwriting standards on behalf of an affordable housing policy, the mortgage meltdown and taxpayer bailouts would perhaps not have occurred.
Here's what liberalized lending standards have brought us: in 1990 one in 200 home purchase loans (all government insured) had a down payment of less than or equal to 3%. By 2006 an estimated 30% of all home buyers put no money down.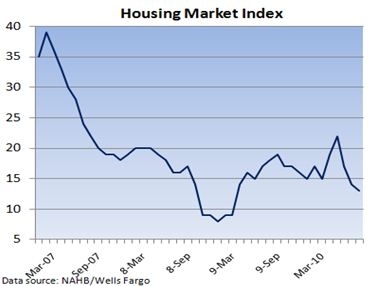 Disclosure: No stocks mentioned