By David Russell
Bears are waiting at the long end of the Treasury curve.
optionMONSTER's Heat Seeker tracking system is detecting heavy call activity in the ProShares UltraShort 20+ Year Treasury (TBT) exchange-traded fund, which moves in the opposite direction of long-term government securities.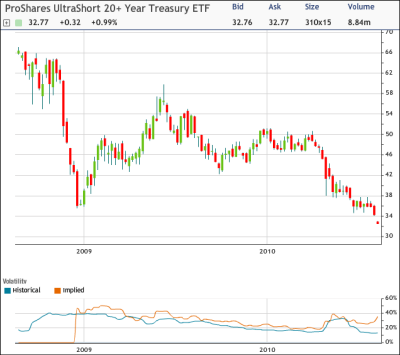 The most popular trade was to buy the September 33 calls, which traded more than 21,000 times against open interest of 4,102 contracts. The bulk of the large transactions priced for $1.15 to $1.30, according to the Heat Seeker.
One investor purchased 5,000 March 40 calls on the TBT for $1.38 and sold a matching number of March 46 calls for $0.64, resulting in a debit of $0.74. The strategy, known as a bullish call spread, will earn a maximum profit of about 700 percent if the fund closes at or above $46 on expiration.
The TBT is up 1 percent to $32.77 in morning trading. The ETF has lost about one-third of its value since the beginning of April as investors poured money into fixed-income securities. That buying binge drove the yield on the benchmark 30-year Treasury bond to a major support level from early 2009--the same time that stocks began rebounding from the subprime meltdown.
Today's bullish activity in the ETF suggests that investors believe bond prices will reverse in coming weeks, which could have potentially bullish implications for equities.
Overall option volume in the fund is almost twice the average level today, with calls outnumbering puts by more than 8 to 1.
Disclosure: No positions