While the broader market seems to hold up pretty well, this isn't the case for numerous individual stocks.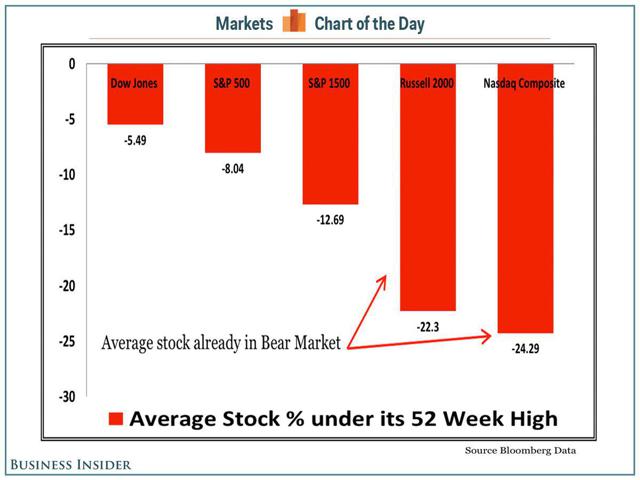 Click to enlarge
Some of these have been so heavily sold off that they are real bargains. Here are a few.
Phoenix New Media (NYSE:FENG)
Phoenix New Media is a leading Chinese media company. There is a very thorough write-up from a year ago from Toro Investment Partners, which we refer to for a more comprehensive and fundamental view of the company. Since Toro wrote that article, the company has thrived, and to a lesser extent, the shares have thrived as well, reaching a high of $13+ early March this year.
However, these shares have sold off with the rest of the tech market and are now lingering at $9. This seems unjustified. Consider the following simple metrics:
EPS is expected to be $4.22 this year, rising to $5.25 in 2015
Revenues are expected to grow at very healthy 20%+ rates
Last quarter earnings were $1.07, a 37% positive surprise
The company has $224M in cash and no debt, and generated $57.5M in cash flow from operations last year
The company managed to massively surprise on the upside in all of its last four quarters.
Note, the EPS estimates (both from Yahoo and CNBC) are stated in dollars, but this isn't correct, it's yuan. According to the 2013 year-end report, EPS in 2013 was RMB 3.59 or 59 U.S. dollar cents (fully diluted). Analysts expect this to rise to RMB 4.22 this year, or +20%, which would mean an EPS of 71 dollar cents and around 88 cents in 2015.
This makes the company cheap. We're rather hard-pressed to find a reason for this, apart from the fact that it is a Chinese company, but we're not aware of any hints of accountancy problems. The short count (1.78M out of 77M outstanding shares) seems to confirm the lack of any "issues."
The excellent Toro introduction article linked above cites a few reasons why it was cheap a year ago:
The China 'taint'
Fears of a slowdown in the Chinese ad market
Transition to smartphones and 3G
Intel Capital liquidation
These factors all seem temporary or unwarranted (the China 'taint'), and indeed, there were intervening quarters, during which Phoenix continued to surprise on the upside. Toro also mentioned 'unappreciated potential,' which seems by far the most likely explanation.
One should also keep in mind that if one deducts the substantial ($224M) cash from the market cap ($700 million), the valuation becomes considerably more compelling. The shares have also arrived at a major support level.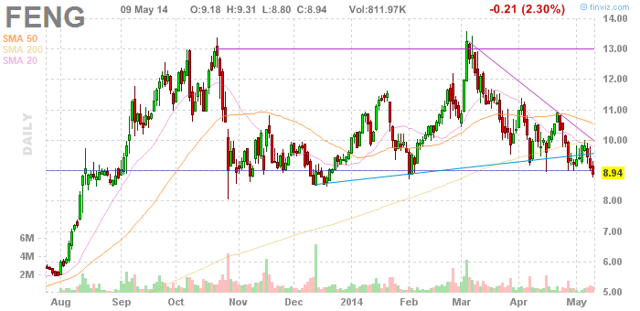 Click to enlarge
Earnings will be out on Monday, May 12, unless management announces some kind of disaster, we don't see how you can go wrong with picking these shares up in the low $9s.
22nd Century Group (NYSEMKT:XXII)
Once again, there are good introductory articles on Seeking Alpha, so we can be brief. XXII is the owner of 114 patents in 78 countries, covering a minimum of 75% of the world's smokers. The patents cover technology which enables the company to regulate (increase or decrease) the level of nicotine in tobacco, so it can produce cigarettes with next to no nicotine, without altering the taste. Needless to say that this is potentially very valuable technology.
It has several possible revenue streams to monetize this technology:
Licensing: at present, the company already has a $7M research licensing deal with British American Tobacco, which can be extended with another $7M and can also a move toward a non-exclusive commercial licensing deal
Spectrum Research cigarettes: these are used by the FDA and NIDA already (17M and 5.5M sold)
Sales of commercial brands Red Sun and Magic: small quantities are already sold overseas (Benelux)
Modified risk branded cigarettes, Brand A with 95% reduced nicotine, Brand B with a low tar to nicotine ratio: Subject to FDA approval.
Smoking cessation aid: the X-22 cigarette. Requires FDA approval.
The first two are already in progress, while the reduced-risk branded cigarettes and the smoking cessation aid are probably quite some time away, due to regulatory barriers. That leaves the sale of the premium-brand cigarettes Red Sun and Magic. The hold-up here is membership of the Master Tobacco Settlement Agreement [MSA].
The company has applied, but when progress was slow, it acquired a company that is already a member of MSA, NASCO. In the process, XXII also acquired production equipment on the cheap. All seemed to go well, the company cleaned up its balance sheet, applied for the NYSE market, and the shares started a phenomenal rally (see graph below) in anticipation of NYSE listing and approval of the NASCO acquisition.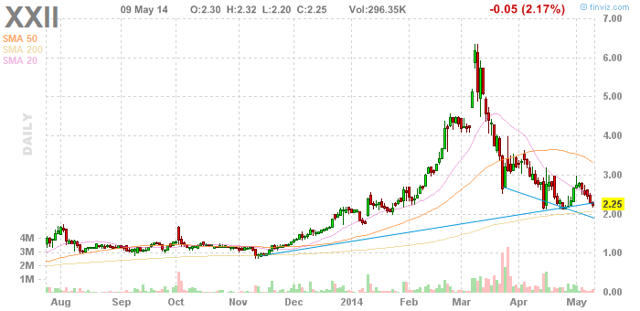 Click to enlarge
However, the latter has still not materialized, and the shares have fallen back heavily. In an update, the company announced:
A $45M three-year shelf registration
A road show to U.S. institutional investors and brokers (early June)
The approval for the NASCO acquisition is "close to being finalized"
A 10-day trip to Asia to talk with possible joint-venture partners
The upshot:
The valuable IP gives the company some downside risk protection, as these are validated by BAT.
Upon approval of the NASCO acquisition, which can come at any moment, the company can produce, market and sell its two premium brands in the U.S.
The Asia trip, compared with the war-chest from the shelf registration, could provide fairly rapid entry into other countries where the regulatory burden is often less onerous.
The company expects NASCO approval to arrive pretty soon. When that happens, it is highly likely to produce a resumption of the aborted rally. The company is all set to start distributing Red Sun cigarettes in the U.S. in the summer, if approved. You can read here that they have been ready for quite some time.
Solazyme (SZYM)
The third company which is due for a rebound is Solazyme. This is a company which has unique capabilities. SZYM is able to produce designer oils from plant-based sugars with the help of algae. Commercial production has already started in one factory, with a much bigger factory almost ready to come online.
Again, there exists some really good deep research on the company on Seeking Alpha, in the form of the articles from Kevin Quon, so we refer to those for a much more extensive take on the fundamentals. What you have to realize is that:
SZYM is not just another biofuels company, but one that can design specific (high value-added) oils and quickly mass produce these.
This capability is unique and opens up multiple revenue streams
For instance, the company basically stumbled on a skincare product (Algenist), Encapso, a drilling lubricant that speeds up drilling for hydrocarbons, oils that Unilever uses in soap, and it already produces four different oils in the Clinton/Galva plant that has just come online. The second, much bigger (100,000 MT) plant at Moema in Brazil is about to come into production as well. Yet, the share price has taken a really big hit: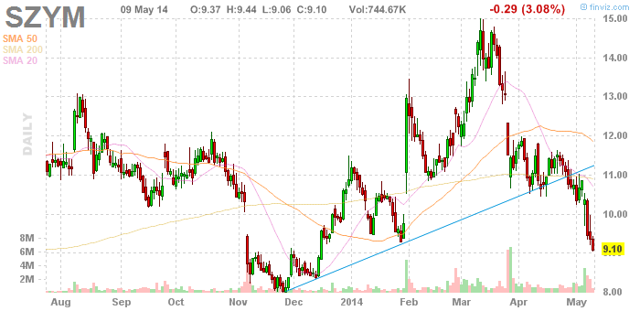 Click to enlarge
As you can see, the shares were trading above $14 as recently as last March, but are now lingering at $9. What's going on?
The company did a fairly large financing of just over $200M in order to take advantage of growth additional opportunities
Start-up problems at Moema, which aren't the company's fault [there are problems with power and steam supply from Bunge's (NYSE:BG) facility], but have delayed the time-lines a bit, and management expects limited or no impact on the ramping-up of production.
We think the shares have taken too big a hit on this delay. Yes, it is still making a fairly substantial loss ($30.5M), but that's not terribly relevant at this stage, and it has sufficient cash ($336M) to see through the ramping-up of production.
Revenues are growing at triple rate and production in the two new plants will ramp-up this year. The shares are also oversold, with an RSI well below 30.
We think it's time to start accumulating the shares of this exciting growth play at these levels. Further sell-offs should be aggressively bought unless caused by some kind of disaster.
Disclosure: I am long FENG, XXII, SZYM. I wrote this article myself, and it expresses my own opinions. I am not receiving compensation for it (other than from Seeking Alpha). I have no business relationship with any company whose stock is mentioned in this article.