A dearth of positive catalysts for precious metals could make the period ahead a trying one for gold and silver investors, as two bullish factors - safe haven demand stemming from violence in the Ukraine and the weakening U.S. dollar - could be fading. This sets the stage for another move lower this summer, and the possible completion of a reverse head-and-shoulders bottom later this year that would be wildly bullish.
Due in large part to seasonal factors, demand for gold and silver in Asia is likely to offer little support to metal prices over the near-term after record buying last year in China and the reluctance to lift gold import curbs in India this year. Traders and investors in the West are decidedly uninterested in precious metals as evidenced by steady ETF holdings, however, a surprise in this week's U.S. inflation report could rekindle their interest.
For the week, spot gold fell 0.8 percent, from $1,300.60 an ounce to $1,290.10, and silver dropped 1.6 percent, from $19.46 an ounce to $19.15. The gold price is now up 7.0 percent so far in 2014, some 33 percent below its record high of over $1,920 an ounce in 2011, and silver is down 1.5 percent for the year, still 61 percent below its all-time high near $50 an ounce reached just over three years ago.
Gold and silver prices jumped early last week on renewed tensions in the Ukraine, however, the move higher was short-lived after Russian President Vladimir Putin called for a delay in the secession vote in Eastern Ukraine and said that Russian troops massed at the border would be moved back. Pro-Russian separatists are planning to conduct the vote on Sunday anyway and, as a result, some fresh safe haven demand for precious metals could emerge depending upon how this all plays out, but Putin taking a step back has surely turned some gold bulls into gold bears.
Another bearish development last week was the sudden reversal in the trade-weighted dollar after some dovish comments from the European Central Bank about providing monetary stimulus to combat low inflation and help ward off deflation. This came after the U.S. Dollar Index had slid to a six-month low on Wednesday. Since there is a strong inverse correlation between gold and the world's reserve currency, and the latter now seems unlikely to break to multi-year lows, this may have removed another important support for precious metals prices lately.
To be sure, positive catalysts seem few and far between for gold and silver.
The situation in the Ukraine could heat up, the dollar could plunge anew, or some new catalyst could emerge, but the chances are good that the two-month long oscillation around the $1,300 mark for gold will soon come to an end, probably to the downside.
About the only good news in all of this for gold bulls is that, as shown below via StockCharts, this could set up a very bullish reverse head-and-shoulders bottom later this year if another "shoulder" develops.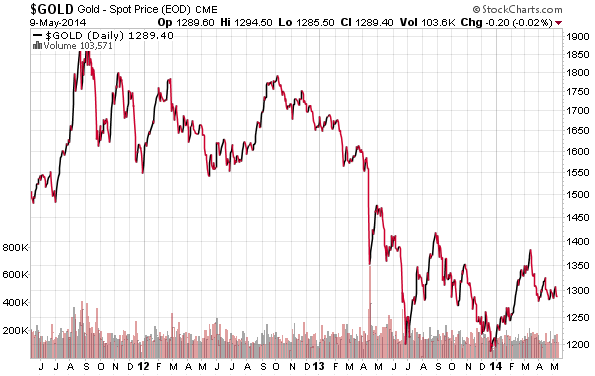 Renewed demand in Asia and all-in mining costs of around $1,200 an ounce should offer tremendous support at lower levels, however, a break below this support could see gold bears temporarily keeping prices suppressed.
If recently faltering equity markets have a bad time of it this fall as the Federal Reserve winds down its money printing effort, this could make a late-year rebound for precious metals even stronger as stocks and gold sometimes move in opposite directions.
China and India have been offering little in the way of bullish news for precious metals lately. Reuters reported that premiums at the Shanghai Gold Exchange rose to $3-$5 over spot early last week, but then faded, and the Wall Street Journal said first quarter gold demand in China rose less than one percent from a year ago to 323 tonnes. After shattering all records for gold demand last year, it will take more than a modest increase this year in China's gold demand to get Western investors excited, particularly after all the negative press this subject has attracted in recent weeks as noted in recent commentaries here, here, and here.
The Indian government continues to take no substantive action on reducing gold import curbs that caused the nation to drop to second place last year behind China in global gold demand. Moreover, there are about to be many unfavorable year-over-year comparisons on demand from Asia due to record buying last May and June after prices tumbled. This too will likely generate a good deal of negative press from the mainstream financial media.
Here in the U.S., investors saw little reason to buy or sell precious metals in recent days, that is, if the holdings at popular metal ETFs are any indication. The SPDR Gold Shares ETF (NYSEARCA:GLD) holdings were steady at 782.85 tonnes, unchanged for only the second week in the last year, and they remain down 15 tonnes so far in 2014 after record outflows last year. The "tonnes in the trust" for the popular iShares Silver Trust ETF (NYSEARCA:SLV) were also unchanged and they remain up 351 tonnes year-to-date as the silver price clings to the $19 an ounce level.
It's possible that the latest U.S. inflation data, set to be released on Tuesday, could offer a bullish surprise for gold investors, but aside from the situation in Ukraine heating up again, there seems to be little else on the horizon to reverse last week's decline. Higher inflation was the subject of Federal Reserve historian Allan Meltzer's Wall Street Journal op-ed How the Fed Fuels the Coming Inflation last Wednesday and it bears repeating that higher inflation comes suddenly. The bad news for gold bulls is that higher inflation probably won't come suddenly this week.
Disclosure: I own gold and silver coins and bars along with precious metal ETFs other than GLD and SLV. I have no positions in any other stocks mentioned, and no plans to initiate any positions within the next 72 hours. I wrote this article myself, and it expresses my own opinions. I am not receiving compensation for it (other than from Seeking Alpha). I have no business relationship with any company whose stock is mentioned in this article.