The Atlantic hurricane season, which spans from June 1 to November 30, is fast approaching. The good news is that this season isn't expected to be as active as some seasons past. That is being attributed in part to cooler-than-average water temperatures and the potential for an El Nino event in the Pacific waters.
The forecast from The Weather Channel calls for 11 named storms (long-term average is 12), including five hurricanes, two of which are expected to achieve Category 3 status or stronger.
In the grand scheme of things, hurricane season is indeed like a box of chocolates. You just never know what you're going to get sometimes.
The same can be said about the economic data. The growth forecasts from economists at the end of 2013 for the first quarter were pretty encouraging. That was before Old Man Winter and Mother Nature got together and spawned a mutant polar vortex baby. Everyone knows of course that you can't throw the baby out with the frozen bath water, yet a lot of economists sure are trying as they look ahead to the rest of the year.
It has been said that there is a whole lot of pent-up demand on account of the severe winter weather (more on that in just a bit) and that, because of it, we are likely to see second quarter GDP have a 3-handle on it, if not a 4-handle. Similar expectations abound as well for the back half of the year.
The question is: will the reality live up to the hope? The answer will avail itself in time, and it will have significant implications when it does.
Et Two?
The winter weather excuse that was trotted out to discount any piece of disappointing economic data for the months of January, February, and March no longer flies. Frankly, we think it was oversold anyway in explaining the torpid 0.1% annualized growth rate for the first quarter. We'll draw your attention to two factors in particular for that assessment:
The personal savings rate slipped to 4.1% from 4.3% in the fourth quarter. If there was so much pent-up demand because consumers held off on spending due to inclement conditions, we would have expected the personal savings rate to go up, not down (unless consumers spent so much more on heat, which in any case, would still leave them with less to spend out of savings in Q2).
Nonresidential equipment spending saw its biggest decline (5.5%) since the second quarter of 2009. Businesses don't base long-term investment decisions on short-term weather disruptions.
Briefing.com Chief Economist, Jeffrey Rosen, who forecast a 0.7% decline in first quarter GDP, concedes the point that the economy is not as weak as the poor showing in the first quarter suggests. However, with the drop in the personal savings rate, weak income gains, a weakening housing market, and reserved capital spending activity, he does not see a strong basis as of yet for the economy to grow well above its 2.0% trend. His starting forecast for Q2 GDP is 2.4%.
His forecast, and that of other economists, is subject to change. In fact, it is certain to change with the arrival of incoming data that differ from the inputs used in economic forecasting models.
Some of the hard data for March, like retail sales and durable orders, were better-than-expected. That has set a good tone for the second quarter bounce-back argument, yet it hasn't been convincing in light of the disappointing housing data seen for March.
The economic reports for April, May, and June (the bulk of which will be reported in May, June and July) are going to provide more telltale information because they will be devoid of any weather-related excuses (barring a major hurricane disruption). Accordingly, the next three months will be pivotal for the stock market, which is still sitting on gains from last year that were bolstered by the growth optimism for 2014.
Yellen Not Screaming Above-Potential Growth
In her recent testimony before the Joint Economic Committee, Fed Chair Janet Yellen said she expects economic activity will expand at a "somewhat faster pace" this year than it did last year when it increased 2.6% (Q4 2013 qtr/qtr). She said that with the caveat that the recent flattening out in housing activity is a risk to the growth forecast.
Something else that stood out to us is what she didn't say. Ms. Yellen didn't say she expected the economy to grow above potential this year. Potential growth is 3.0%.
To be fair, the Fed hasn't touted the likelihood of above-potential growth. The economic projections it shared after the March FOMC meeting showed the central tendency for the change in real GDP to be 2.8% to 3.0%. That is better than what GDP growth has been, but it is just scraping the underbelly of potential growth.
Fed Economic Projections (central tendencies as of March 2014)

2014

2015

2016

Long Run

Change in real GDP

2.8 to 3.0

3.0 to 3.2

2.5 to 3.0

2.2 to 2.3

December projection

2.8 to 3.2

3.0 to 3.4

2.5 to 3.2

2.2 to 2.4

Unemployment rate

6.1 to 6.3

5.6 to 5.9

5.2 to 5.6

5.2 to 5.6

December projection

6.3 to 6.6

5.8 to 6.1

5.3 to 5.8

5.2 to 5.8

PCE inflation

1.5 to 1.6

1.5 to 2.0

1.7 to 2.0

2.0

December projection

1.4 to 1.6

1.5 to 2.0

1.7 to 2.0

2.0

Core PCE inflation

1.4 to 1.6

1.7 to 2.0

1.8 to 2.0

--

December projection

1.4 to 1.6

1.6 to 2.0

1.8 to 2.0

--
Source: Federal Reserve
The Fed hasn't exactly impressed with its forecasting ability. It should be noted, though, that The Wall Street Journal conducted a study of Fed predictions made between 2009 and 2012, and found that Ms. Yellen scored the highest of Fed officials overall (looking at inflation, labor, and growth) in forecasting ability.
We hate to say it, because it's a tired phrase, but Ms. Yellen's view can be described as "cautiously optimistic," whereas the view held by the majority of economists is simply optimistic. A failure by the economy to live up to Ms. Yellen's view of things, therefore, would be even more disappointing.
A Pause That Won't Refresh
As noted in previous articles, tacit concerns about U.S. economic prospects are being reflected in the behavior of the capital markets, namely in the strength of longer-dated Treasury securities, the dip in the U.S. Dollar Index, the sizable pullback in small-cap stocks, and the 5% year-to-date decline in lumber futures.
It has been a baffling disposition in light of all of the talk about how the U.S. economy should be hitting escape velocity soon. We surmise it might have something to do with a sense of anxiousness that the Fed has set out on its tapering course too fast, too soon.
The Fed has cut its monthly asset purchases from $85 bln to $45 bln. Since making the first tapering announcement last December, real GDP growth has been anemic (with or without any allowance for the severe winter weather), and the quarterly average for PCE price inflation has nudged up to 1.1% from 1.0%. When the Fed stepped up to the plate with QE3 in September 2012, real GDP was up 1.2%, and the quarterly average for PCE price inflation was 1.6%.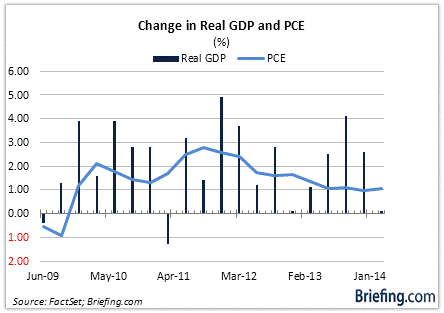 It is enough to make one think that concern about the size of its balance sheet has been a motivating factor for the tapering plan as much as the Fed's growing confidence in the labor market and inflation outlook.
Fed Chair Yellen reiterated that the Fed anticipates continuing the measured reduction of its asset purchases:
as long as we continue to see improvement in the labor market and we believe the outlook is for continued progress, and as long as we continue to believe and see evidence that inflation will move back up over time to our 2 percent longer-run objective.
The implication is that the Fed will pause its tapering journey, or even perhaps boost its monthly asset purchases, if any of those trends falter.
If we get to that point, it's not something the stock market should be cheering, in the sense that it means more policy support from the Fed. It would be another blemish on the Fed's forecasting ability and it would be a reminder that the stock market got ahead of itself in pricing in the growth optimism for 2014.
We touched on this important point in a piece from earlier this year: The Fed Can't Go Home Again.
What It All Means
The perception about the pace of economic activity in the coming months will be a dictating factor for the capital markets. With the severe winter weather excuse no longer applicable, it is put up or shut up time with respect to incoming data and what it conveys about the path to escape velocity for the U.S. economy, earnings growth potential, and the Fed's credibility.
Similar to the arrival of a hurricane, a lot of destruction can be done if the data validate the Treasury market's less optimistic view of things. Conversely, there could be a real sigh of relief, just as there is when a hurricane fails to make landfall, if the data verify what many economists are expecting. The paradox there is that the stock market might struggle with really strong data if it boosts the potential for an earlier-than-expected rate hike from the Fed.
You just never know, though, what you are going to get sometimes.
A storm of important information is coming the market's way. Like a hurricane season, you hope for the best and prepare for the worst.
Disclosure: I have no positions in any stocks mentioned, and no plans to initiate any positions within the next 72 hours. I wrote this article myself, and it expresses my own opinions. I am not receiving compensation for it. I have no business relationship with any company whose stock is mentioned in this article.