The social networking giant Facebook (NASDAQ:FB) is doing everything right. The company is adding millions of users each month, is eyeing one-fifth of the global mobile ad market, has a good track record of consistent revenue and earnings growth and is investing heavily in its future. Yet the company's stock has fallen by 11% in the last three months due to the ongoing concerns regarding the technology bubble.
User base
Facebook's user base continues to grow at a robust pace due to the strong growth in mobile.
In the first quarter of 2014, Facebook reported a 21% increase in daily active users (DAUs) from last year to 802 million while mobile DAUs increase by 43% to 609 million.
The mobile monthly active users (MAUs) have crossed a 1 billion mark through a 34% year-over-year growth. The number of total MAUs has increased by 15% to 1.28 billion, and this does not include more than 200 million MAUs at Instagram.
More Mobile
The company's quarterly revenues increased by 72% from last year to $2.50 billion, driven by 82% growth in advertising revenues to $2.27 billion. Most of these advertising revenues, 59%, came from mobile. This shows that Facebook has become significantly more pro-mobile, as in the same quarter last year, just 30% of the advertising revenues came from mobile. In fact, this is the first time ever that the company generated more advertising revenues from mobile as compared to desktop.
Facebook is capitalizing on the strong growth of the mobile ads market. According to the research firm eMarketer, last year, the worldwide mobile ad expenditure surged by 105% to record levels of $18 billion. In the current year, the mobile ad spending would increase by 75% to $31.5 billion.
The increase in mobile ad expenditure will provide ample growth opportunities to Facebook. The company, and the tech giant Google (NASDAQ:GOOG), (GOOGl) are the biggest players in the mobile ad market.
Facebook, however, is growing at a brisk pace, which could create problems for Google. The company captured 5.4% of the global mobile ad market share in 2012, which increased to 17.5% in 2013 and could increase to 21.7% in 2014. Google could be the casualty of Facebook's rise, as the former's market share could shrink to 46.8% in 2014, from 50% in 2013.

Click to enlarge
The company has recently launched its mobile ad network which will give the app developer additional tools to create ads based on data provided by Facebook. The company has also launched a new tool called Facebook Audience Insights that would help advertisers create better targeted ads.
A history of solid growth
Over the last two years, Facebook has grown its advertising revenues significantly, which is shown in the picture below. The company usually reports a sequential drop in revenues in the first quarter, which is followed by growth in the following three quarters.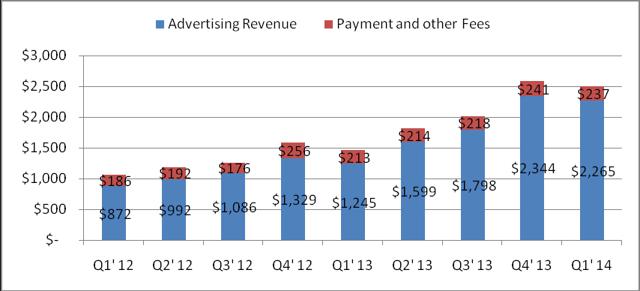 Click to enlarge
During the quarter, Facebook's net income increased by 193% to $642 million. Excluding the impact of one-off items, adjusted net income also climbed by 184% to $885 million.
The company's revenue and EPS (adjusted) growth over the last two years is shown in the picture below. On a trailing 12 months basis, Facebook's EPS has grown by 105.7%.
The company's earnings growth rate is approximately 1.5 times greater than its price-to-earnings ratio of 72.36, which makes Facebook a reasonable investment in terms of these metrics (The earnings growth rate - P/E metric has been defined by Peter Lynch).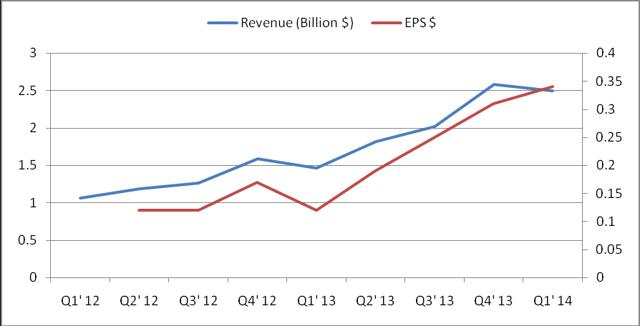 Click to enlarge
Chart data source: StreetInsider
Improving Profitability
The triple-digit income growth has clearly outperformed the revenue growth. As a result, the company's operating margin has increased to 43% as compared to 26% in the year-ago quarter. The year-over-year increase is partly due to some one-off items that caused an increase in cost in Q1FY2013. This improvement was, however, mainly due to the relatively smaller growth in cost of revenues and general and administrative (G&A) expenses, as compared to the revenue growth.
During the previous quarter, Facebook's cost of revenues increased by 11.86% to $462 million, while its G&A expenses increased by just 6.25% to $187 million amid a 72% increase in revenues.
Facebook is becoming more profitable due to the management's effective control over its costs.
Shopping Spree and the strategic shift
Facebook has been spending heavily in its future, which it sees on mobile and wearable devices. The company has spent more than $21.2 billion on some major acquisitions this year, mainly to purchase WhatsApp and Oculus.
Although the WhatsApp and Oculus deals were expensive, a large part of the payment was made in terms of Facebook's shares. At that time, the company's shares were priced considerably higher than they are today, which inflated the value of the deals.
For instance, for Oculus, Facebook paid $400 million in cash, while the rest ($1.6 billion) was paid in Facebook's stock priced at $69.35 per share, which is 21% greater than the company's recent closing price.
Similarly for WhatsApp, Facebook paid just 21% (or $4 billion) of the amount in cash while the rest was mainly Facebook's shares.
Through these acquisitions, Facebook will be able to diversify its revenue base in the future. Moreover, CEO Mark Zuckerberg pointed out during the conference call that the WhatsApp acquisition, as well as Facebook's Messenger, would mark a strategic shift for the company from managing the "friends and public content" to "private content" as well.
Timeline of major acquisitions in 2014
January: Facebook acquired Little Eye Labs, a performance analysis and monitoring tool that helps Android App developers to evaluate and improve the efficiency of their mobile apps. This acquisition, valued at between $10 million and $15 million by Tech Crunch, could support the company's mobile expansion strategy.
January: Facebook acquired Branch Media, the creator of Branch, a web conversation platform, in a deal which is valued at $15 million by The Verge. Recently Branch Media has also introduced Potluck, a web-based news clip sharing service that focuses on material being shared and discussed.
February: Facebook made headlines when it decided to purchase the messaging giant WhatsApp for a staggering $19 billion.
The company has said that WhatsApp will be a separate service and will continue to operate independently. Much like Instagram, the mobile photo sharing app which the social network acquired for $1 billion in FY2012.
The expensive WhatsApp acquisition could fuel Facebook's growth. WhatsApp has more than 450 million monthly active users, of which 70% use the service daily. Moreover, Facebook has also pointed out that WhatsApp is growing at a rapid pace. WhatsApp is getting an additional 1 million users daily. Moreover, its messaging volume is on track to exceed the global SMS volume of the telcos in the future.
March: In March, Facebook again made headlines by acquiring Oculus, the maker of the popular virtual reality headset for 3D printing called Oculus Rift, for $2 billion. In the last few years, users have shifted from desktop computing platforms towards mobile devices. This shift includes the rise of wearable technology, such as the Samsung Gear and Google Glass. Mark Zuckerberg said that he believed that "virtual reality and vision will be the computing systems for future," and he is willing to bet $2 billion on it.
April: Last month, Facebook acquired ProtoGeo Oy, the maker of the fitness tracking app 'Moves' for an undisclosed price. This is a popular mobile app, with approximately 4 million mobile users. Like WhatsApp and Instagram, this app will also operate independently.
Conclusion
Facebook has been able to consistently grow its revenues and earnings over the last two years. The company is already a dominant player in the mobile ad market. The expected expansion in the size of the mobile ad market and Facebook's ability to attract millions of additional users each month, particularly on mobile, will fuel the company's revenue and income growth.
Moreover, in the coming years, the company could diversify its revenue base by monetizing WhatsApp's hundreds of millions of users. The app's founders have been against using mobile ads therefore this acquisition could give the company an opportunity to increase its non-advertising revenues.
The company's shares, on the other hand, are trading just 72.36 times its trailing earnings. In these terms, Facebook is trading near its cheapest levels ever. Following the IPO, most of the investors who bought the company's shares paid a much higher price, in terms of trailing earnings. Moreover, the company's earnings growth rate is 1.5 times greater than its P/E ratio.
Disclosure: This article was written by Sarfaraz A. Khan, with valuable contribution from Raza B., research assistant at Half Bridge Business Review. Neither Sarfaraz A. Khan, nor Raza B. have any positions in the stock(s) mentioned in this article.
Disclosure: I have no positions in any stocks mentioned, and no plans to initiate any positions within the next 72 hours. I wrote this article myself, and it expresses my own opinions. I am not receiving compensation for it (other than from Seeking Alpha). I have no business relationship with any company whose stock is mentioned in this article.