Background
Linn Energy, LLC (LINE) is a master limited partnership (MLP) headquartered in Houston, Texas. The company is engaged in the business of acquiring, developing, and producing long-life oil, natural gas, and NGL assets with the intent of increasing the distributions it pays to unitholders. Its current production portfolio is located primarily in the Mid-Continent, California, Michigan, and the Permian Basin. Following recent acquisitions, Linn boasts roughly 2.2 Tcfe of proved reserves, 72% of which are developed producing, and a reserve-to-production life of nearly 22 years.
Operational Review
Production for the second quarter averaged approximately 43,400 barrels of oil equivalent ("BOE") per day (weighted 28% to crude oil, 51% to natural gas and 21% to NGLs), which is an increase of 19.2% compared to production of 36,400 BOE per day in the same period last year.
Total operating expenses in the second quarter was $9.89 per BOE, which compares to $9.99 per BOE in the same period last year and $9.74 per BOE in the previous quarter (i.e. essentially flat YoY). This was slightly below Linn's guidance midpoint of $10.00 per BOE. The relatively low level of operating expenses per BOE was largely due to cost control measures undertaken by the company in 2009 as well as relatively low workover activity in the quarter. During the first quarter, Linn Energy realized average prices of $60.92 per BOE, compared to $61.24 per BOE in the same period last year.
Update for 2Q10
LINE reported adjusted EBITDA of $172.4 million, compared to $140.8 million for 2Q09.
Management raised FY10 production guidance to 255 - 270 MMcfe/d from 245 - 255 MMcfe/d and provided a third quarter estimate of 270 - 290 MMcfe/d. Management is forecasting a distribution coverage ratio of 1.15x in the third quarter and 1.2x for the full year. Management has hinted that they will raise the distribution once the coverage ratio exceeds to 1.25x – 1.30x.

Click to enlarge
(Click to enlarge)
To reach this distribution coverage level, Linn Energy has been very actively working towards enhancing the sustainability of the distribution through:
Acquisitions

Hedging production volumes in 2012 and beyond

Internal development of the asset base
Acquisitions
YTD, Linn Energy has completed five acquisitions for $974.5m, which was double original guidance in half the time. In the past month, Linn Energy has announced two separate transactions for total consideration of $185 million. Pro forma for these acquisitions, we estimate a 3Q10E borrowing base percentage drawn of 25%. Combined with the ability to tap the capital markets for financing, this suggests that LINE has ample "dry powder" ­to continue pursuing acquisitions in the second half of 2010.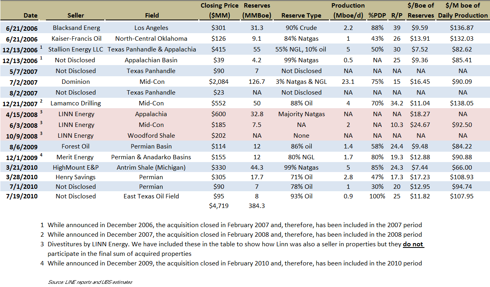 Click to enlarge
(Click to enlarge)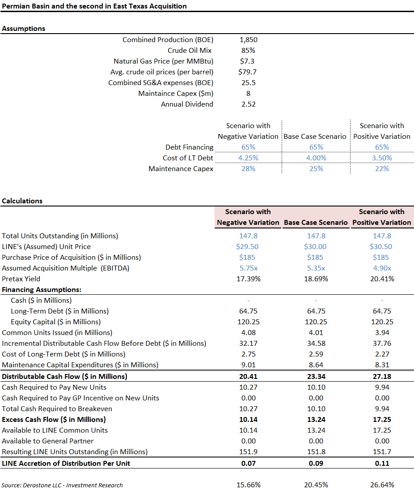 Hedging
In concurrence with the acquisition activity, Linn Energy has hedged approximately 90%, 91%, 51%, and 52% of 2012E, 2013E, 2014E, and 2015E natural gas volumes at prices of $6.25 per MMBtu (i.e. all years). This is almost a third less of what they hedged it for 2011E ($9.25). Moreover, since the beginning of 2010, Linn has also hedged approximately 60% and 61% of 2012E and 2013E crude oil volumes at prices of $89.51/bbl (i.e. for both years). However, the company's decision to enter into puts (mostly on natural gas) cost a cumulative $91 million in premiums (i.e. over March and April per the 10-Q filing).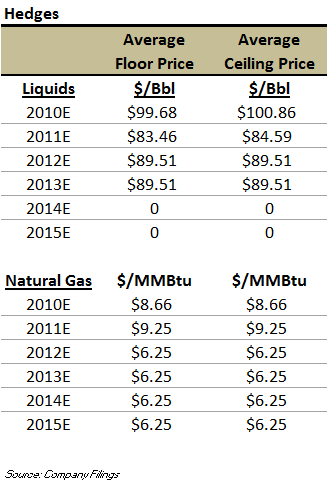 Internal Development
Management has maintained its capital budget of $200m, which includes $88m classified as maintenance expenditures. Pro forma for $185 million in pending Permian Basin and East Texas acquisitions, LINE had approximately $800 million of total liquidity from its credit facility and cash on hand as of June 30.
Granite Wash – LINE's second operated horizontal well was brought on production with an initial rate of 60 MMcfe/d (65% liquids). Three operated wells and three non-operated wells are scheduled to be brought on production by the end of the third quarter. The company plans to drill 12 operated wells and participate in 10 non-operated wells in 2010.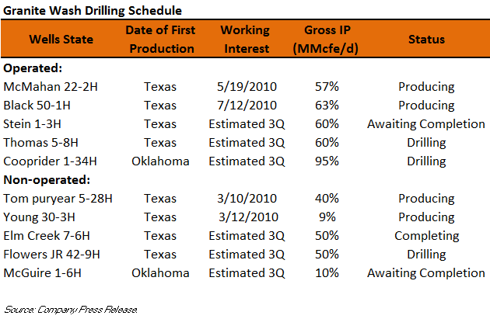 Click to enlarge
(Click to enlarge)
Risks
While there are inherent risks in MLPs such as distribution risk, Linn Energy's high risk is mainly due to the uncertainty in the future cash flows. Other forms of risk include:
Risks associated with the

ownership of oil and gas producing properties

Low share liquidity, and the unique risks related to a growth through acquisition strategy

A sharp decline in commodity prices that would force a partnership to cut its distributions

Additional regulatory requirements that increase the cost to produce oil and gas

Changes in the tax laws that make E&P MLPs less attractive

Demand destruction as a result of global consumption of alternative energy sources

The inability of counterparties to honor their hedging contracts
Investment Conclusion
LINE continues to make progress with through growing production and reserves through acquisitions and drilling. Year-to-date, the company has announced or closed approximately $1 billion of oil and natural gas property acquisitions in the Permian Basin, Atrim Shale (Ohio), and the East Texas Oil Field. All together, the deals will probably add between $10m and $17m in cash flows distributable to shareholders. LINE's drilling program has primarily focused on the horizontal development of the Granite Wash, where the company recently completed its second operated well with very strong results. Management expects to add a third rig to the play by the end of the year to accelerate activity. Three operated and three non-operated wells are scheduled to be brought on production in the third quarter.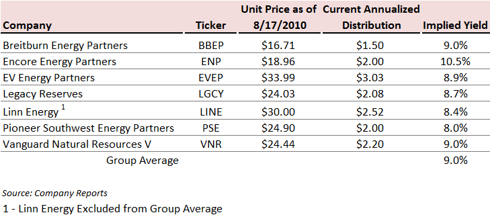 Click to enlarge
(Click to enlarge)
We believe continued success in the Granite Wash could add some upside to management's guidance. Our combined distributable cash flow estimates imply coverage ratios of 1.17x for FY10 and 1.21x for FY11 based on the current annual distribution of $2.52. With lower natural gas prices for FY12, we expect the coverage ratio for FY12 to be close to 1.0x, below the one of FY11 unless more acquisitions are made.
LINE currently trades at a yield of 8.4% compared with an E&P MLP peer average of 9.0%. We believe the premium is partially supported by the growth potential from the Granite Wash and acquisitions. However, we also believe that there is a significant risk of disappointment and devaluation of the stock. We would become nervous if the stock rises above $32.25.
Disclosure: Author long LINE