Business Overview
eBay (NASDAQ:EBAY) enables global commerce and payments. The company was founded in 1995. It operates in 3 segments:
Marketplaces

Consists of e-commerce platforms like eBay.com, StubHub, etc.
The original, core operations.
Stalwart performance.
Still makes up most of consolidated EBIT.

Payments

Consists of PayPal and integrated acquisitions like Braintree, which was acquired last December.
Fastest growing segment by far and also has the strongest competitive position in my opinion.
Despite the lower revenue, profit, etc. relative to Marketplaces, this is where much of eBay's consolidated value now lies. This seems to be the consensus among analysts and other SA writers, not to mention Carl Icahn.

Enterprise

Advertising and omnichannel enablement services for enterprise clients.
Inconsistent performance.
Capital intensive.
Makes up very little of EBIT.
Not too important to consolidated value.
Economics of the Business
According to eMarketer, Global e-commerce is expected to grow 17.2% annually through 2017.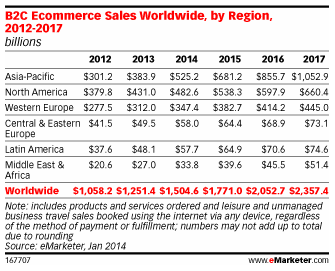 That's very good for all of eBay's operating divisions. By only maintaining market share, both the Payments and Marketplaces divisions should be able to grow at a fast pace. However, these two businesses have very different competitive positions in my opinion.
Marketplaces has been losing share to Amazon (NASDAQ:AMZN) and other global competitors as evidenced by its lower active buyer and GMV growth rates compared to the industry rate: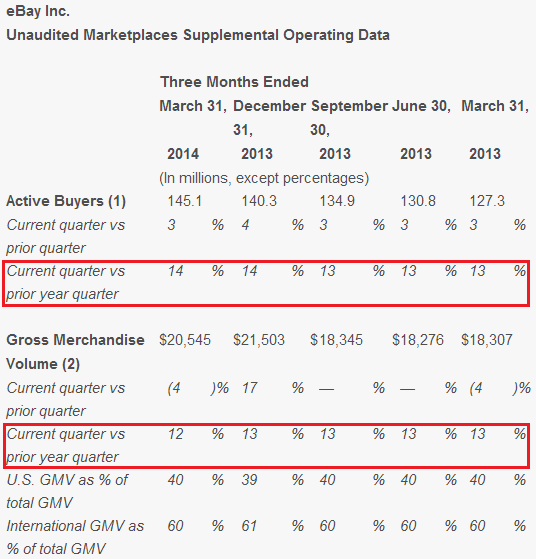 I expect this to continue as Amazon is here to stay and imminent fierce competition from new entrants is almost inevitable in an industry growing this fast and of this size, akin to smartphones a few years ago. Interestingly, eBay seems to be aiding competition through its Enterprise division by enabling brick and mortar retailers to go omnichannel, albeit profiting from doing so. I still think the business will do double digit growth going forward, however. In an excellent recent piece on Alibaba (ABABA), Aswath Damodaran emphasizes the importance of network effects in e-commerce. Most of the value an e-commerce platform offers to sellers is not in low transaction costs or value-added services, but in the number of buyers the platform brings to the table. eBay's Marketplaces division brings many (145M to be exact), and this number is still currently growing at a solid 14% pace.
Payments/PayPal has a leading competitive position in the payments industry. Heavyweights like Amazon and Apple (NASDAQ:AAPL) are developing payment systems. Amazon has both devices and a leading e-commerce platform to launch its payments service through and Apple has devices and ~600M iTunes accounts (most of which are linked to credit cards), but PayPal has a pretty large head start. I also like that the business has been reducing its dependence on eBay.com and other commerce platforms owned by eBay. Finally, the electronic/mobile payments industry is younger than e-commerce and should get all of the benefit of e-commerce growth and then some from mobile physical payment adoption. This is supported by PayPal's recent financial results: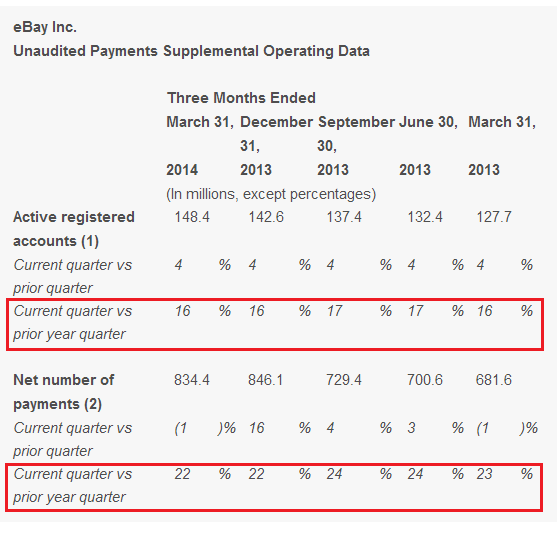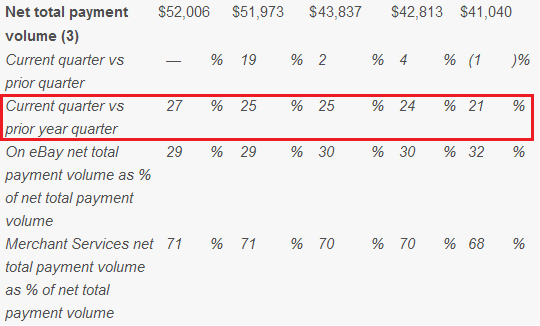 The most important number is Total Payment Value "TPV" and this has been growing mid 20s and accelerating, though some of the Q1 '14 acceleration is related to Braintree being included in Payments for the first time (acquired December last year).
I think cautious optimism is the best way to think about eBay's prospects right now. The businesses have and will likely continue to perform well, but there are real competitive threats and I don't feel that eBay has an impenetrable moat.
Governance Concerns
Repatriation of overseas cash
With the Q1 earnings release, management announced a strategic decision recently made to repatriate $9B of overseas cash to the US. In so doing the company will incur $3B in US taxes, so it will only be left with $6B in additional cash in the US when all is said and done. Many large US companies with global operations have kept cash generated overseas outside the US to avoid the large tax bill. Politics aside, investors have generally strongly supported this, but also urged companies to put the cash to work in some way (reinvestment, M&A, etc). eBay's decision was met with a great deal of anger from investors and rightfully so. The repatriation instantly destroys 4.7% ($3B cash/$64B market cap) of shareholder value. It's also unclear why the company needed to move the cash. From the conference call:
Just to be clear, we are not announcing any large U.S. based acquisition nor are we committing to finance our share buyback with offshore cash. What we are doing is ensuring we have the capital available for U.S. needs. In light of the sequence of events in the quarter and the opportunities in front of us, we now have greater financial flexibility to capitalize on them.
If the company is truly only moving the cash because it is short of funds within the US, then management should not have pulled the trigger on $1.8B in share repurchases in Q1 with US cash. I think most would agree that eBay stock is not trading for less than 37.5% of fair value ($1.8B / ($1.8B + $3B)), so the move makes no financial sense. Despite management's statement, there have been rumors floating around that the company is planning to purchase MercadoLibre (NASDAQ:MELI) (which it already has a stake in) or another company. I don't know if this is the case or not, but hope the company will be generating extremely high returns in some way with the cash. If not then the repatriation decision points to gravely inept financial management.
Spin off or sell Payments division?
Carl Icahn takes a lot of heat for his investment style but in his proxy fight with eBay management, he made some good points. He mainly pushed for the company to spin off PayPal. I have mixed feelings about the merits of such a course of action, but I think it's at least worth considering in detail. PayPal has better prospects than the rest of eBay, is growing faster now, and would likely fetch an additional premium in this market for being an interesting tech business. Only certain kinds of businesses are subject to mania and bubbly valuations in the current market environment and historically (think 1999). I think PayPal is that sort of business. PayPal Co-Founder (and, ironically, CEO of one of the bubble/'momo' companies today, Tesla (NASDAQ:TSLA)) Elon Musk thinks a PayPal spinoff makes sense:
It doesn't make sense that a global payment system is a subsidiary of an auction website. It's as if Target owned Visa or something.
So add that to the list of reasons for a spinoff - there are no synergies between the rest of eBay and PayPal.
Or are there? The company's main argument for keeping eBay and PayPal together is claimed synergies. Apparently the businesses exchange data, PayPal leverages the eBay.com platform to acquire users, there is overlap in transaction security, etc. I think that makes sense as well, and while the Icahn/Musk view drew support from much of the investment community, if the businesses were separate I could just as easily see whimsical analysts arguing for synergies between the two again.
What I'm getting at is that I honestly don't know whether eBay and PayPal are more valuable together or apart. What bothers me though is the hostility that the proposal was met with. CEO John Donahue seemed defensive from the very beginning. I understand that Icahn's reputation precedes him, but being reluctant to even consider options that could potentially create shareholder value does not make me confident that executive management at eBay are the stewards of value that I am looking for. Many informal and nasty letters were sent on both sides and the press releases from eBay later on in the proxy fight seemed more concerned with the job security of management than creating value. I think the situation could have been handled much better, a la Apple-Icahn.
Performance & Valuation
Because of the varying performance and prospects across eBay's 3 divisions, I think a sum of parts valuation method is appropriate. I will assign an appropriate multiple to each division and then calculate a weighted multiple for the entire firm based on the % of the firm's total value of each division. I will then apply this weighted multiple to both 2013 after tax EBIT and LTM free cash flow and blend the two results together.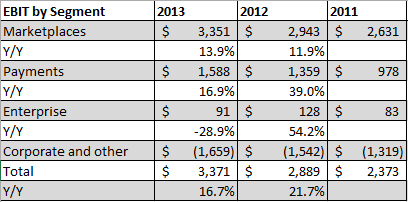 Marketplaces
GMV and revenue have been growing at 12-13% with stable margins. As mentioned earlier, this segment has good prospects with 17% projected annual global e-commerce growth over the next 4 years, but competition is already intense and should heat up a great deal more. I am assigning a multiple of 16 to the segment.
Payments
Payments EBIT has grown an average of 27% in the past 2 years but was only 17% in 2013. TPV has been growing 25-27% and accelerating in recent quarters, but this has been partially offset by intentional reductions in take rate to keep PayPal ubiquitous:
(sequential quarters from right to left)

As a result, revenue growth has averaged 23% in the past two years and was 19% in 2013. Margins have been stable. I think 18-22% is a reasonable range for profit growth in the next few years and also think a premium valuation is appropriate because of the business' leading competitive position and excellent industry prospects. I am assigning a multiple of 25.
Enterprise
Performance has been entirely inconsistent and it is not clear what competitive advantages Enterprise has. The division has been adding value for its clients as shown by solid GMS, but that is not trickling down to the division's own financial results.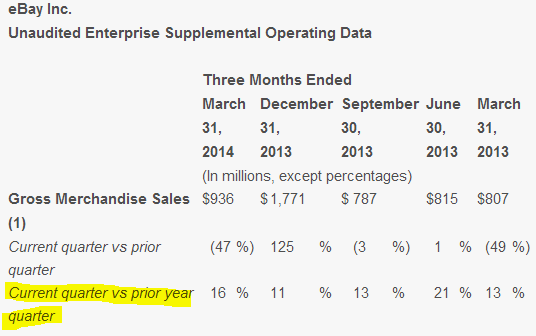 Keep in mind that this is not too important to the overall valuation. I am assigning a multiple of 9.
Valuation Summary: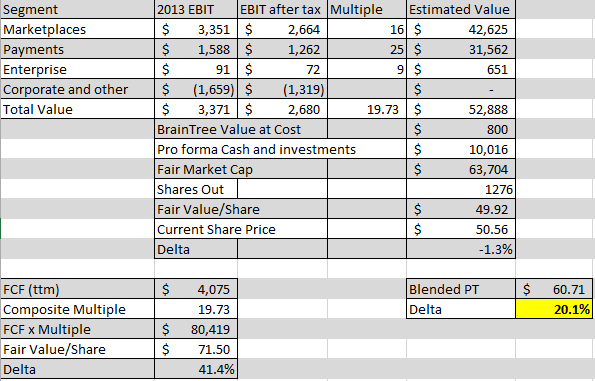 The composite multiple comes out to just under 20x, reasonable if not somewhat conservative for the 19.2% average EBIT growth the consolidated company has posted over the past 2 years. The company's trailing FCF was substantially larger than 2013 EBIT after tax due to favorable changes in working capital, depreciation > capex, and substantial stock-based compensation which resulted in a large discrepancy between the two methods. Also note that I added cash but excluded the $3B that will be paid to the IRS at some point related to repatriation. I also added the $800M the company paid to acquire Braintree in December as the cash is gone but Braintree is not included in any of 2013 financials and only 1 quarter of the LTM FCF figure.
My calculations resulted in a fair value price target of $60.71, just over 20% above where eBay stock is trading currently. That is pretty substantial for a $64B US company in this expensive market.
Conclusion
I believe there is worthwhile upside on eBay shares right now, but am still reluctant to invest due to governance and competition concerns. If I were to invest in eBay it would be a concentrated position because that is my strategy. For me to pull the trigger I would need to believe my thesis to be bullet-proof, but unfortunately it is not. In thinking through all aspects of the story, I keep coming back to the threat of Apple and Amazon. Those may just be the worst two companies to have to compete against and for that, I probably would not sleep well at night owning eBay shares. I think eBay is far from the worst US large cap available right now though. If it continues to decline, say another 10%, I would reconsider it. Despite this article coming to mixed conclusions, I hope it will offer value to readers.
Disclosure: I have no positions in any stocks mentioned, and no plans to initiate any positions within the next 72 hours. I wrote this article myself, and it expresses my own opinions. I am not receiving compensation for it (other than from Seeking Alpha). I have no business relationship with any company whose stock is mentioned in this article.