Since Tesla (NASDAQ:TSLA) released earnings last Wednesday, shares have taken a 12.07% hit. After reaching the $180 benchmark, the stock is now predicted by the self-learning algorithm to increase in value again, making this a good opportunity to get into TSLA.
The electric car manufacturer delivered decent earnings, however actual delivery numbers were below expectations of 6,457, yet still higher than guidance of 6,400. The company's production numbers were also higher than guidance at 7,535, with revenues and earnings surpassing analyst expectations as well. Refuting the frequent bear argument that demand in North America is slowing, demand has actually grown 10%. Sales in China didn't start until last month, so they were not included in the Q1 2014 results. Major variables affecting Tesla's long-term value are contingent upon progress in China, Tesla's response to state bans and the implementation of its Gigafactory.
Tesla In China
Tesla and the Model S have been prevalent in the Chinese media since its delivery of its first Model S in the country on April 22nd. Coverage has been favorable, except for some customer complaints for vehicle delivery not being timely. The city of Shanghai announced incentives for the car almost as soon as the car was made available. Shanghai is waiving the cost of license plates, a price tag that costs as much some cars do. Shanghai consumers can bypass the $15,000 license plate fee by purchasing a Model S, but they need to act now, as the exemption is only available for 3,000 vehicles per automaker. Shanghai is one of four cities in China now imposing quotas limiting car purchases in order to curtail traffic and pollution.
While China is the worlds largest auto market, Tesla's management does recognize the challenges of creating a charging infrastructure in cities where there are only one fifth as many millionaire families as in the states. Tesla expects to invest "hundreds of millions of dollars" building charging infrastructure in China. Tesla is competing with Daimler AG's (DAIGn.DE) Mercedes Benz and BMW (BMWG.DE) for a share of China's emerging green vehicle market, something the Chinese government wants to develop quickly. The company intends to cooperate with China's two major power network operators, State Grid Corporation of China and China Southern Power Grid, in order to build an infrastructure that is sufficient for Tesla drivers. Tesla also will work with China United Network Communications Group Co., Ltd., which will provide communications solutions such as navigation, remote monitoring and other services.
While electric cars are making headway in Europe, with 52,729 electric vehicles sold on the continent in 2013, China, on the other hand, has catching up to do. In 2012, Chinese consumers purchased only 11,375 electric vehicles out of 19.3 million sold. However, having environmentally-friendly vehicles is important for the far-east nation and growth will catch up. As a part of its efforts to put 5 million alternative energy-powered vehicles on the country's roads by 2020, Beijing is providing purchase subsidies for electric car buyers. CEO Elon Musk stated that a large part of support from the Chinese government will enable the company to more competitively price its cars would dictate whether the country could become Tesla's biggest market share.
The Model S is available for 734,000 Yuan ($118,000) in China, which is much lower than expectations, but still 50% more expensive than in United States. Musk stated:
I think there are some contingencies there, because right now there are pretty significant import duties on the car, and our car is not eligible for (China's) electric vehicle incentives, so that makes the car really almost twice as expensive as it would otherwise be.
Local production in China would qualify Tesla to avoid import duties and become eligible for the government's green vehicle subsidies. There is a catch though, as Tesla would be required to form a joint venture with a Chinese partner.
Competition will be increasing, as BMW plans to deliver its i3 this year, Volkswagen aims to sell more than 15 green vehicle models in China by 2018 and Daimler AG has already formed a joint venture with Chinese Carmaker BYD Co LTD. General manager of Tesla Motors for the China region, Veronica Wu, said in January that the company aims to open stores in 10 to 12 Chinese cities by the end of 2014 in addition to its flagship store in Beijing that opened late last year. The company expects China to support one third of its global sales growth in 2014.
Tesla Motors vs. The National Automobile Dealers Association
While the company has gained tremendous support and popularity, including extremely enthusiastic customers, there are also plenty of people who want the electric car company to fail. In particular, the National Automobile Dealers Association feels threatened by the electric car company.
Even the Federal Trade Commission has recently argued that state bans on direct sales are "protectionist," buttressing the traditional dealership business model. The FTC continued by stating that it's not the law but the "competitive process" that ought to decide the better sales model. Instead, the regulator believes what is really at risk is the old way of buying cars. Now that consumers have research tools on the internet, they can skip the sales pitch. Criticism by the FTC has stopped short of any action.
The National Automobile Dealers Association disputes that those customers lose bargaining power. Tesla argues that auto dealerships have a fundamental conflict of interest between promoting gasoline cars, which constitute virtually all of their revenue, and electric cars, which constitute virtually none, as dealerships make most of their money from servicing vehicles. Electric cars such as Tesla's Model S require much less service, and most "repairs" consist of software upgrades similar to a smartphone. Elon Musk explains why Tesla is taking the difficult route on the company blog.
Tesla's direct sales model has already has been banned in five states, including New Jersey, Virginia, Texas, Arizona, and Maryland. In these states, the stores act more as galleries, since representatives are not salespeople, as they are not even allowed to tell you the price of the car, nor can they facilitate the purchase of one. In Maryland, potential customers are at least allowed to take a test drive of the electric vehicles. Two other states have imposed some level of restrictions, and two more have pending legislation. Musk stated that he is "evaluating judicial remedies to correct the situation."
Missouri is the next state to block Tesla's direct sales method by recently inserting language into a bill that had previously been focused on off-road vehicles. The new bill's language was already passed in the Senate last week, after zero public consultation and could soon move to the House floor for a final vote, essentially without debate, stated the company on its blog.

They continue by explaining that the current statute only bars franchisors from competing against their franchisees (for example, Ford cannot compete against Ford dealerships). Tesla, which has one store in Missouri, currently complies with the statute, because the company does not compete with any franchise. The problem, Tesla claims, is that they are redefining the word "franchisor" to mean "manufacturer." Tesla has already invested $2 million in the state, employing 15 people, and the company plans to open a larger service center in Kansas City, MO, employing an additional 15 people and investing another million dollars. The map below illustrates which states have placed restrictions on Tesla's sales model.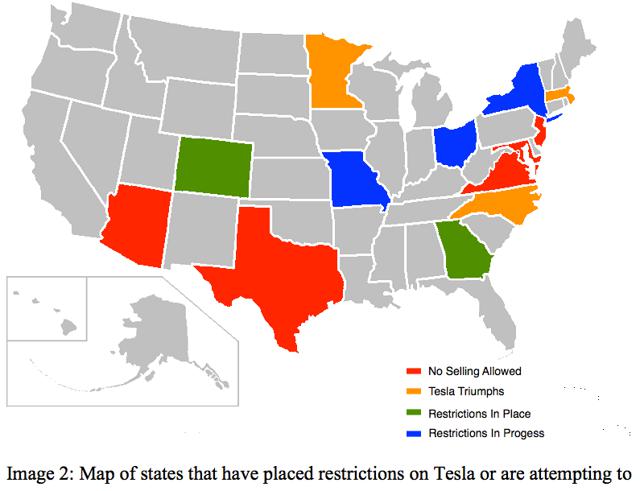 The Gigafactory
In February, Musk announced plans for the world's largest lithium-ion battery factory that he proclaims can reduce Tesla's pack cost by 30% and produce cells for stationary power-storage devices. The investment in the Gigafactory is expected to be an opportunity for reducing expenses and encouraging innovation, as Tesla is talking with mining companies, especially nickel mines, as they constitute the biggest expense.
States being considered for the location of the plant are Arizona, Nevada, New Mexico, Texas, and now California is back in the running. While Musk admits that locating the Gigafactory is improbable, it is possible again. The governor and his staff are doing everything they can to make the state as appealing as possible, however, California has quite a complex and lengthy process for approval of Greenfield sites compared to some other states that have a more streamlined approach.
Panasonic has also signed a letter of intent to be a partner in the Gigafactory. Chief Technology Officer Jeffrey B. Straubel expressed in the conference call that they are "progressing smoothly… and we feel confident" that its heading toward final agreements in the later part of 2014.
Algorithmic Prediction
Tesla fell 15.86% in accordance with an algorithmic forecast on May 6th 2014, for the 1-3 day time horizon. The market prediction system is based on artificial intelligence, machine learning and incorporates elements of artificial neural networks as well as genetic algorithms in order to model and predict the flow of money between markets from 3-days to a year. It separates the predictable part from stochastic (random) noise and then creates a model that projects the future trajectory of the given market in the multi-dimensional space of other markets. The algorithm outputs the predicted trend as a number, which in turn, is used by traders to identify when to enter and exit the market. While the algorithm can be used for intra-day trading, the predictability tends to become stronger over longer time-horizons such as the 1-month, 3-month and 1-year forecasts. Chart 1 shows the I Know First algorithmic forecast that was shared in an exclusive report the day before earnings were released.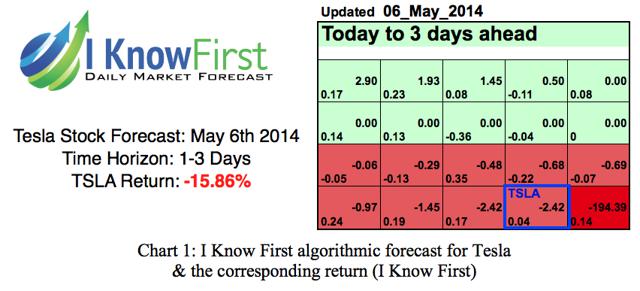 The forecast is color-coded, where green indicates a bullish signal and red indicates a bearish signal. Deeper greens signify that the algorithm is very bullish as it does at the top of this forecast. Tesla had a signal of -2.42 and a predictability of 0.04. The signal is the number flush right in the middle of the box and the predicted direction (not a specific number or target price) for that asset, while the predictability is the historical correlation between the prediction and the actual market movements. In other words, the signal represents the forecasted strength of the prediction, while the predictability represents the level of confidence. Further explanations are available here.
In the most contemporary forecasts since the earnings release, the algorithm indicates that shares will increase in value over the 1-month and 3-month time horizon. Chart 2 displays the latest algorithmic forecasts for Tesla.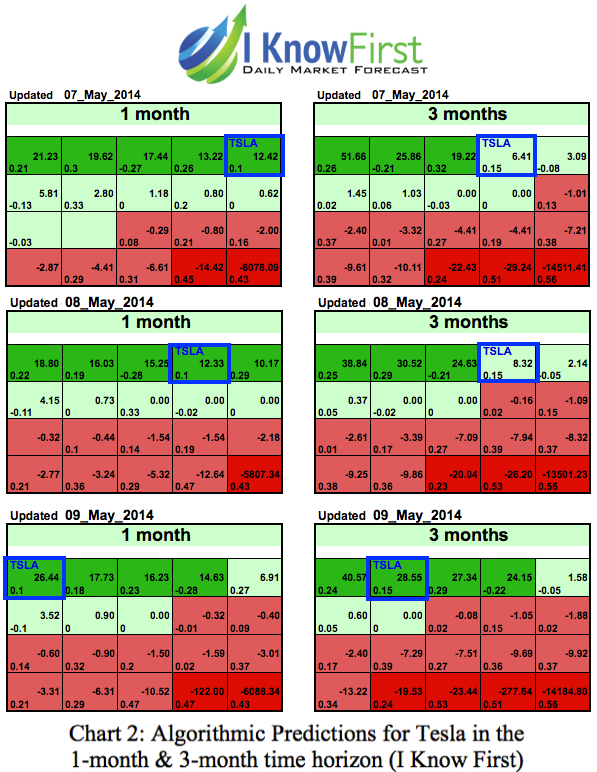 These forecasts display an increasingly bullish forecast for Tesla. In the 3-month time horizon, Tesla has 6.41, 8.32 & 28.55 signals for May 7th, 8th and 9th, respectively. The algorithm indicates increased strength of the predicted movement in the most up-to-date forecast with a deeper green. However the predictability is not very strong in either the 1-month or the 3-month time horizon. Algorithmic forecasts are intended to be utilized in conjunction with traditional forms of analysis in order to reduce risk and optimize returns.
The market prediction system has been noticeably accurate with predictions made for Tesla. The chart below displays TSLA's actual market movement against the algorithmic predictions performance so far in 2014.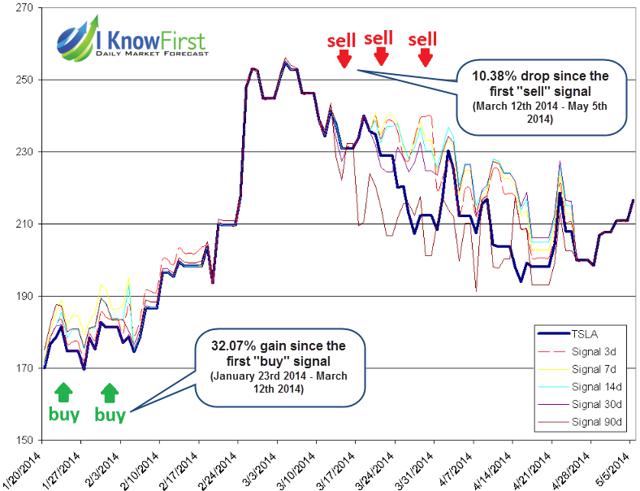 The thick blue line shows the actual historical prices versus the signal forecasted in each of the six time horizons from three days to one year ahead, as thin broken color lines. The positive or negative (up or down) signals of the forecast were added to the actual last known price at the time of the forecast. Thus, when the signal line is above the actual line, it indicates a "buy" signal, and if below, then a "sell" signal. Each point on this chart was taken from the actual daily forecast published in the morning before the next market open.
Conclusion
These three factors play a crucial role in evaluating Tesla's future value. While it should be expected that Tesla will have hiccups and run into walls, this is not as important as how effectively the company deals with these problems. Growth in China is an extremely important market for Tesla to gain market share. The company needs to stop more states from banning sales and even work to reverse this trend.
Finally, the success of the Gigafactory has tremendous weight on the company's ability to deal with demand. Not only do these factors impact the more or less short-term issues, such as meeting demand this year or even the release of the Model X, but it also gives a strong indication of how well Tesla's leadership can handle setbacks in the future that the company will inevitably face. Currently, the algorithm has a bullish signal of TSLA, indicating a buying opportunity.
Business disclosure: I Know First Research is the analytic branch of I Know First, a financial startup company that specializes in quantitatively predicting the stock market. Joshua Martin, an I Know First Research analyst wrote this article. We did not receive compensation for this article (other than from Seeking Alpha), and we have no business relationship with any company whose stock is mentioned in this article.
Disclosure: I have no positions in any stocks mentioned, and no plans to initiate any positions within the next 72 hours. I wrote this article myself, and it expresses my own opinions. I am not receiving compensation for it (other than from Seeking Alpha). I have no business relationship with any company whose stock is mentioned in this article.