Plug Power's (NASDAQ:PLUG) share price has lost 70% of its value from its early March high, and the story surrounding the company is full of hype and elevated expectations on the bull side, and utter pessimism on the bear side, with expectations for further price drops (Citron Research has a $0.50 price target). The company is yet to deliver sustainable revenue and earnings growth, although the recent trends are quite encouraging. The stock has yet to find a bottom, and I am looking at $3.50 and $3.00 levels for a possible bottom, but the company needs to deliver on its promises in order to stop the collapse of its share price.
The negative side
There has been a lot of negativity surrounding Plug Power in the last two months, and the consequence is a 70% price decline from early March. The year-long price ascent was disrupted by Citron's report, which valued the stock at $0.50. Citron stated that the company has "a history of broken promises and failure to deliver." While that may be true, I believe that Citron is merely extrapolating past results into the future. Although I am certain that Plug's shareholders are not happy with the massive dilution, it seems necessary, given the company's weak balance sheet and the threat of bankruptcy, so dilution is certainly better than the alternative. On the other hand, the future appears to be changing for the better. The company has made several deals which have significantly increased its bookings, but more on that later.
Another negative catalyst for Plug Power was the statement of Global Equities Research analyst Trip Chowdhry. He said that:
fuel cell cars are a complete failure and a nonevent. A fuel cell-powered car lacks in power density, hence, a typical fuel cell-powered car will go 0-60 miles per hour in 11 seconds, which is much slower than Tesla Model S, which goes 0-60 in 5.4 seconds.
But after all, Plug Power does not make fuel cell cars. The company is involved with trucks and forklifts and plans to expand fuel cell usage into different areas, such as airport support vehicles and refrigerated trucks. I doubt that 0-60 MPH is an issue for forklifts and other areas of Plug Power's potential markets.
The valuation seems on the negative side too. Kerrisdale Capital Management's "best case DCF value" is $2.50, but the estimates from the article may be far too conservative, and around half of the current consensus for 2017 (Kerrisdale's 2017 revenue estimate is $140 million, while the Wall Street consensus is $280 million). If Plug Power delivers what it is expected from it, the value of the company should be much higher than $2.50 in the next couple of years. Cash burn and further dilution should not be issues down the road (perhaps from 2015 or 2016, and the company should have enough cash until then). But this is still a big "if." I would ask Plug Power to "show me the money" in the next couple of quarters in order to get a better picture of the promised execution.
The positive side
The focus of the bulls was on the growing bookings and new orders from big companies. The most notable milestone was Wal-Mart's (NYSE:WMT) order for 1,738 GenDrive units over the period of two years. The most recent order from Central Grocers is further evidence of the strong momentum in the company's business. The deal with Central Grocers is essentially a replacement of the 2009 fleet, which has operated more than 2 million hours. This is great news for Plug Power, as it shows that the customers are pleased with high levels of productivity (at least Central Grocers is). Central Grocers and Wal-Mart are a part of a growing list of large customers, such as BMW, Kroger (NYSE:KR), Wegmans and Bridgestone. Other customers might follow suit, and Plug Power's bookings and future revenue expectations might rise further.
On April 21, Plug Power announced an agreement with Hyundai Hysco to create a joint venture to develop and sell hydrogen fuel cells in Asia using Hysco's advanced stack and plate technology. This is part of Plug Power's plans for international expansion. Although the effects from the joint venture are expected in 2015 and beyond, it presents an important step for Plug Power, as Asia is a large and important growth market.
Future expectations are the most interesting part of the story here. The expected revenue growth rates of 144% and 79% in 2014 and 2015 are quite encouraging, and the next test for the company is the Q1 earnings on May 14, although expectations are for a 17% decline in revenue. A serious ramp-up is expected from Q2, which might be a more important milestone for Plug Power, as it will show the first real quarter of growth (notwithstanding a few quarters of strong growth in the past, which were followed by declines in the subsequent quarters).
Ballard Power - a potential beneficiary of Plug Power's growth
Ballard Power (NASDAQ:BLDP) might be a beneficiary of Plug Power's growth trends. It supplies Plug Power with fuel cells. As Plug Power ramps up deliveries in subsequent quarters, and if its share price turns higher, Ballard Power will certainly follow suit, but Plug Power's growth prospects are higher, as Ballard's expected revenue growth in 2014 and 2015 is 30% and 31% respectively. Ballard's share price was highly-correlated with Plug Power in the past, and I expect these trends to continue in the future, and they might push each other higher, or drag each other lower.
A possible bottom between $3.00 and $3.50?
A look at a weekly chart reveals two lines of possible support for Plug Power. The stock has actually rebounded from the 30-week moving average line around $3.50 last week. The 30-week moving average line was the line of support in early November 2013. The other line is the 40-week moving average line (which roughly corresponds to the 200-day moving average line on the daily chart). It now stands at $2.80, but a share price around $3.00 might serve as an important psychological level of support. But the fundamentals are more important now, and the first quarter earnings announcement should determine the short and intermediate trends of the share price.
Ballard Power is in a similar situation, as it is moving closer to its long-term moving average lines. Ballard might bottom around $2.50.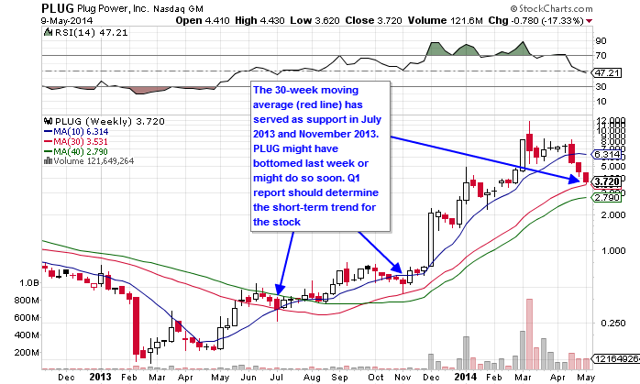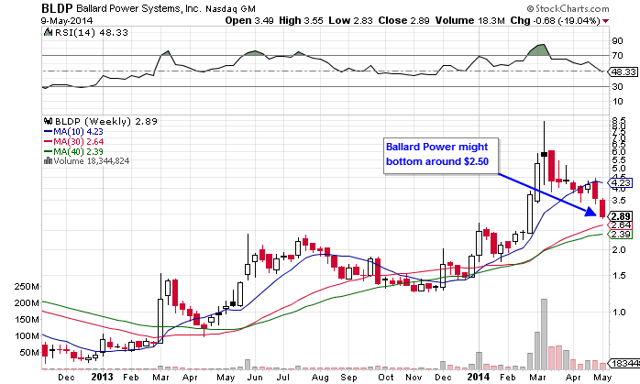 Source: stockcharts.com
Short interest may be another price-stabilizing factor for both stocks. Short interest has ballooned in the last three months, and most of those short positions are profitable now. Many of them might consider taking profits, which should translate into solid buying demand. The other part of the equation is the situation in the general market, which was very unfavorable for momentum stocks. If the situation persists, it could negatively affect both stocks.
Conclusion
Investors might be willing to give Plug Power a benefit of the doubt, but the company needs to prove that it can deliver sustainable growth. Q2 and Q3 might be crucial for the company, as these are the quarters where growth acceleration is expected. Short interest and long-term support levels suggest that a short-term bottom might be near for both Plug Power and Ballard Power. I am cautiously optimistic about the future prospects, but Plug Power needs to "show me the money" before I get interested in buying.
Disclosure: I have no positions in any stocks mentioned, and no plans to initiate any positions within the next 72 hours. I wrote this article myself, and it expresses my own opinions. I am not receiving compensation for it (other than from Seeking Alpha). I have no business relationship with any company whose stock is mentioned in this article.