There was a lot of investor hype surrounding Weibo (NASDAQ:WB) when it announced its intention to file for an IPO on the NASDAQ. The vast majority of western media outlets were describing Weibo as "The Chinese Twitter", as a way of making western investors understand the company better. However, Weibo was always seen as the precursor to an even bigger Chinese IPO, Alibaba. So as we approach the Alibaba IPO, western media outlets are, again, describing this Chinese firm in terms that western investors understand, "The Chinese Amazon & EBay". Naturally, being compared to just one of these American blue chip firms generates a lot of investor interest, as Weibo found, but being compared to two is unprecedented. Whether or not it's correct is debatable, but what is for certain is that it will be one of the biggest tech IPOs of all time.
Alibaba - A Buyers Guide
For those of you who aren't familiar with Alibaba, allow me to give an introduction. Simply put, Alibaba is a behemoth of a firm. Its primary operation is to provide an online platform where vendors can sell their products to consumers. Its revenue comes from fees, commissions and marketing services, such as featured vendors and advertisements. This is similar to most e-commerce websites that western investors are familiar with, except that the scale of Alibaba's operations is phenomenal. Alibaba has a market share of about 80% of China's e-commerce market, serving the world's biggest online customer base of 618m people, twice the size of the whole US population, and 25% more than the whole population of the EU, and serving the country's 302m online shoppers.
It operates the following businesses:
Taobao - China's largest online shopping destination and China's most popular mobile commerce app. Taobao is a huge online marketplace with over 8 million vendors, and according to the IPO prospectus, receives 100m visits a day.
Tmall - China's largest brands and retail platform, with both local and international brands. Tmall is a retail site for larger, more established brands like Samsung
1688 - A leading online wholesale marketplace for domestic Chinese trade amongst small businesses
Alibaba - China's largest global online wholesale marketplace
Ali Express - An online retail marketplace enabling international consumers to buy direct from Chinese exporters
Juhuasuan - China's most popular online group buying marketplace
Aliyun - Proprietary cloud computing platform
The Chinese Amazon & EBay
Whilst the comparisons to these two American blue chips are obvious, Alibaba is so much more than an amalgamation of the two. In fact, just two of Alibaba's web portals handle more sales annually than eBay and Amazon combined. Alibaba is the largest online and mobile commerce company in the world in terms of gross merchandise volume (GMV). According to the firm's IPO filing, its three Chinese marketplace platforms, Taobao, Tmall and Juhuasuan generated a total GMV of $248m, from 231 million active buyers and 8 million active sellers in 2013. As customers are migrating to mobile applications, Alibaba has begun to capture this opportunity. In the final 3 months of 2013, mobile GMV accounted for 19.7% of the firm's total GMV, compared to 7.4% for the same period in 2012.
These three marketplace platforms accounted for 82.7% of Alibaba's revenue in the nine months ending December 31st 2013.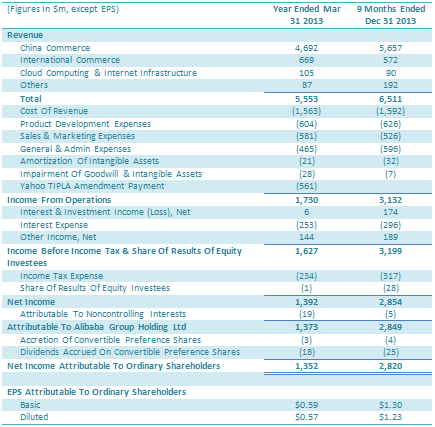 (Source: Alibaba IPO Filing)
Alibaba's phenomenal growth has been seen in the 9 months ending on the 31st December 2013. In just nine months, gross profit is 17.25% higher than the prior full fiscal year, and net income has doubled.
Opportunities In China
There has been a lot of concern about the Chinese economy over the past few years, with growing fears about credit and housing bubbles that are ready to pop. However, the Chinese e-commerce industry is booming. There are 618m internet users in China, representing a 45.8% penetration rate. Given that the penetration rate of developed countries is much higher, with the US being above 80%, there is still a lot of room for Alibaba to grow domestically.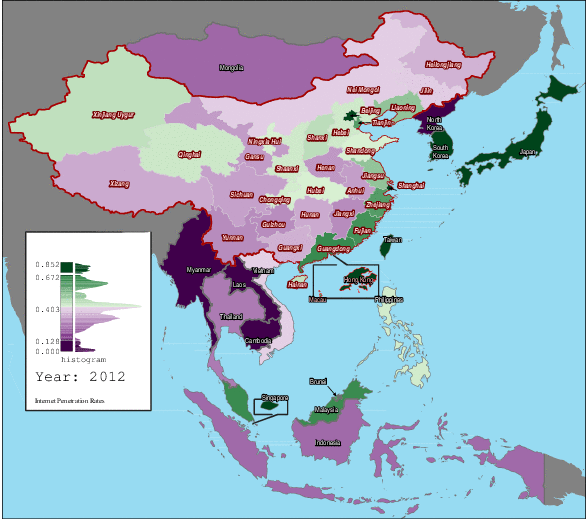 (Source: China Internet NetworkInformation Center)
The rapid growth of online retailing has quickly made China the world's second largest online retail market, with 2012 industry revenue estimates as high as $210 billion. In fact it already has the highest percentage of online trade anywhere in the world with between 5-6% of the retail market, compared to 5% in the US. But whereas one would expect the online sales to replace offline sales, it is in fact encouraging incremental purchases online, particularly in less developed cities. In fact, recent McKinsey analysis shows that for every dollar spent online, only 60 cents replaces consumption in offline stores, and 40 cents is new spending. The effect is more profound when only less developed cities are analyzed, with less than 50 cents of each dollar spent replacing consumption in offline stores. But because internet penetration away from the wealthy eastern coast is low, and because the logistics networks in these areas are also poorer, Alibaba can continue to develop its domestic strategy, whilst expanding overseas.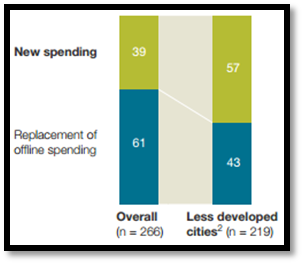 (Source: McKinsey China - China's Next Chapter)
In China's twelve five year plan, the government targeted domestic consumption as the main driver of economic growth, replacing investment. Yet despite China's rising consumption power, real consumption only represented 36.5% of 2013 GDP, which is significantly lower than that of developed countries, such as the US, where real consumption was 66.8% of 2013 GDP. Given that domestic consumption is forecast to continue growing, it can be expected that Alibaba will continue to see revenue growth from its domestic e-commerce platforms. In fact, online shopping, which represents 7.9% of Chinese consumption, is projected to grow at a CAGR of 27.2% between 2013 and 2016, as reported in the IPO filing.
Another driver is the adoption of mobile online shopping. China has the world's largest mobile internet user population, with 500m users. As smartphones in China become cheaper and more available to the less affluent, it can be expected to increase mobile e-commerce.
Finally, the logistics infrastructure in China is underdeveloped, particularly away from the more affluent eastern coast. But as the internet retail boom continues to grow, there will be more demand for efficient logistical infrastructure. In fact, in the most recent government five year plan, the most ambitious transport infrastructure development project the world has ever seen. As this is realised, e-commerce firms like Alibaba stand to benefit.
Opportunities Overseas
Whilst Alibaba's finances are huge, it's worth considering the vast majority of its revenues comes from China. International commerce only accounts for 8.8% of Alibaba's total revenue. However, the Taobao platform can be implemented overseas to take advantage of the low cost of production for Chinese vendors.
Risk Factors
Alipay is actually not part of the Alibaba IPO. In 2011, Alibaba settled a dispute with Yahoo and Softbank, which resulted in the Alibaba group owning 37.5% of the total equity of Alipay. The dispute arose when Yahoo accused Alibaba's founder Jack Ma of transferring ownership of Alipay from Alibaba to an entity controlled by himself without informing other shareholders. As part of the settlement, Alipay has to pay Alibaba royalties and software services, and 49.9% of its pre-tax income and continue to service other Alibaba business units under preferential terms.
Alipay has recently faced stricter regulation after China's biggest banks felt that it was unfair that Alipay was able to perform banking operations whilst not under the same regulatory constraints as traditional banks. ICBC recently restricted Alipay's ability to negotiate corporate deposits with different branches to just one branch, meaning that different branches won't be competing to offer the highest yield to Alipay. Also, given the stricter credit controls faced by banks in China, several banks, including 3 of the big 4, have restricted how much customers can spend on both Alibaba's and Tencent's online payment services, in order to curb money laundering and minimize security risks. Finally, the PBOC is discussing how to regulate internet banking, including how much money can be spent on individual transactions.
Away from Alipay, the high investor interest in Alibaba, especially given the phenomenal growth that it has experienced, will only fuel expectations for similar growth in the future. Whilst the opportunities for Alibaba to grow are large and numerous, there is the risk that investors will be hoping for too much from Alibaba, particularly given that most investors don't understand domestic Chinese culture and the political environment.
Chinese IPOs
The US has seen a flurry of Chinese companies going public within the past decade, but by 2011, this had slowed down to a trickle due to several high profile accounting scandals. By the end of 2013, there was a pickup in Chinese IPO listings in the US, with the online car services website Autohome successfully listing, following on from Qunar, 500.com, 58.com and Sungy Mobile. However, the most spoken about recent IPO was April's listing of Sina Weibo, widely dubbed as the Chinese Twitter. Despite raising $285m and rallying 20% in its first day, it has since weakened to its IPO price range. Even with Alibaba being touted as one of the biggest ever IPOs, the pick-up in activity will continue into 2014, with internet retailer JD.com and video streamer iQiyi.com both planning on listing later in the year.
US appetite for Chinese IPOs is seemingly back. However, given that the vast majority of these Chinese IPOs are tech related, it has certain similarities to the start of the century. Tech stocks outperformed the S&P last year, and with investor interest in such companies at a high, it's a great time for Chinese internet firms to list in the US. In fact, according to IPO research firm Renaissance Capital, 64 companies went public in the first quarter of 2014, which was the most active quarter since 2000. The problem is that investors are perhaps seeing the IPO market becoming overheated. This can be seen by comparing the Renaissance IPO ETF to the S&P 500.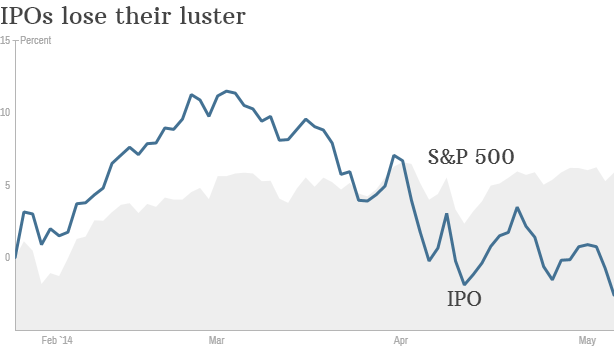 (Source: Renaissance Capital)
Can It Live Up To The Hype?
The Alibaba IPO is a rare event, because companies of this size tend to be already publicly listed. Whilst the specific details of the IPO aren't yet available, we should be looking at a market capitalisation of $140bn. The understandable comparisons to the Facebook IPO have been made, but Alibaba offers so much more. It has a monopolistic-like domination over the booming Chinese online retail market, and will soon be the market leader in South East Asia.
There is no doubting the opportunities that are still available for Alibaba in China, and it could probably just remain in China and still maintain its huge size. However, the real test of Alibaba will be how it can migrate its services outside of China, and take on the western e-commerce giants.
Disclosure: I have no positions in any stocks mentioned, and no plans to initiate any positions within the next 72 hours. I wrote this article myself, and it expresses my own opinions. I am not receiving compensation for it. I have no business relationship with any company whose stock is mentioned in this article.