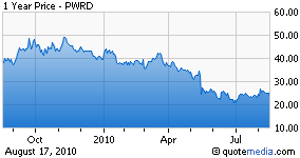 There are times in life when you get into a situation and come to the realization "it's going to be a long night." I had that feeling as I listened to Perfect World's (NASDAQ:PWRD) second quarter earnings conference call. When a conference call ends up running 100 minutes, you know it's going to be a tough session ahead (see transcript here).
The Good:
Perfect World grew revenues by slightly over 14% year over year, and they are still making a fair amount of money as a result. The all important metric people look at regarding PWRD's sector, revenues, is guided to be stable to slightly up moving forward. That may not sound like good, but in this case, that which is not bad is good. Revenue declines in this industry can often lead to death spirals in both revenues and earnings. That's why when any company in China's online game industry warns of revenue declines, investors often take the sell first approach. But in PWRD's case, it's more of a hiccup related in large part to an over hyped new release which quickly flopped. It's also interesting that management who have often taken "we don't comment on our stock price" approach starts to bring up a possible stock buy back initiative. This might help buffer some of the shock as the not-so-good factors are detailed next.
The Bad:
While PWRD's revenues only missed consensus estimates by less than one million at 87.6m, their bottom line missed estimates by a shocking .14 eps. I've often written in the past about how PWRD is not shy about spending money, and they certainly weren't shy in the latest quarter as operating costs ballooned to 40.5m. That's up roughly 28% sequentially as revenues ticked down slightly. Without going into great detail, PWRD is in heavy investment mode. The company is heavily investing in themselves both domestically as well as internationally, both internal as well as through acquisitions, and throughout multiple verticals of their business. While long term investor types might consider this strategic decision as good news, it's a death nail for shorter term oriented traders who want to see good momentum in their company's news flow. As a result, PWRD might not be able to grow net income this year for the first time in the company's history. In fact, if revenues do not scale quickly to their increased operating costs, PWRD could even see an annual earnings drop.
The Ugly:
At this point, there is no short term fix nor high degrees of certainty on PWRD's business looking forward. In the past, PWRD has gone through similar heavy investment periods which hit margins, but those investments proved successful in generating new revenues. The past is no guarantee of the future. The company has two major new game releases toward the end of the year. No one can know now how much incremental revenues those games can generate. The company is also investing heavily in international expansion. No one can know how well their games catch on overseas. The company is actively acquiring smaller companies and development teams. No one can know if these investments can make up for their higher overhead costs. The company is also investing heavily in non-core gaming businesses, such as literature, television, and film. Again, we can't be sure how successful they will be at integrating synergies across various entertainment mediums.
In other words, PWRD is currently operating at a higher cost structure but there are no guarantees incremental revenues can be generated to bring operating margins back to more historical levels. This will surely put a ceiling on the company's stock until more clarity which of these investments start to pay dividends. Like many peers have done in the past as they fell into similar business cycles, PWRD is likely to trend sideways indefinitely until they can reaccelerate revenue growth. It may not be for the rest of this year because the market will probably take the "show me first" attitude before the share price gets rewarded.
At this point, the only saving grace is PWRD's already low valuations as it is trading anywhere from a best case 8x to 12x 2010 earnings in a worse case scenario. The company also has over 250m in cash without debt, and still generates a 30-40m in operating cash flow per quarter. In the past couple of years, management has been rather aggressive in buying back their own shares on weakness. The last major repurchase occurred last year at levels slightly above PWRD's current 52 week low of 20.75. All in all, the company bought back roughly 15% of their outstanding shares in the past couple of years. If one believes in the company's strategy ultimately being successful in the longer term, then the shares still currently represent a good long term value based on historical valuation metrics.
Disclosure: Author long PWRD