Introduction
Many investors have been concerned with Advanced Micro Devices' (NYSE:AMD) future in the Intel (NASDAQ:INTC) dominated PC market. Through several quarters of the last several years, AMD has suffered from freefalling PC chip sales at a rate far worse than the declining PC trend. If it wasn't for their graphics department, AMD would never have the chance it has to make the comeback it intends on doing. Last quarter AMD returned to seasonality with a slight decline and onward projected that there will be a reversal with AMD now seeing increases in its computing solutions revenue. Later this quarter, we will see the first launches of AMD's mobile Kaveri APUs and some benchmarks introduced by WCCF Tech suggest that the new lineup dominates Intel's Ultra Low Voltage Haswell line-up. For this article, I will briefly discuss the performance and possibilities of this new APU lineup.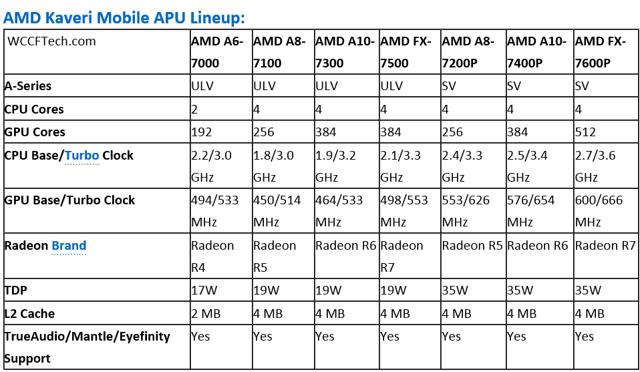 Graphics
The idea of integrated graphics for gaming was always an ill one for many but with AMD's latest APUs we are at a stage where an integrated GPU is acceptable, even in mobile. Although users won't be finding the latest games at the highest settings for the mobile Kaveri version, they will be with the best non-dedicated graphics on the market. Pictured below are the 3DMark benchmarks by AMD featuring the FX-7500 (19W) and A10-7300 (19W) mobile Kaveri APUs that show substantial improvements over Intel's 15W lineup. This benchmark shows these chips performing at roughly 33% and 47% better than the competing i5-4200U. Unfortunately, there are no benchmarks for the 35W flagship FX-7600P, but with specs indicating an additional 128 GPU cores running at higher clock speeds, a significantly wider gap can be suggested. In addition, all of these APUs will be supporting AMD's Mantle API which, when supported, can offer substantial improvements in performance while also expanding the list of playable modern games.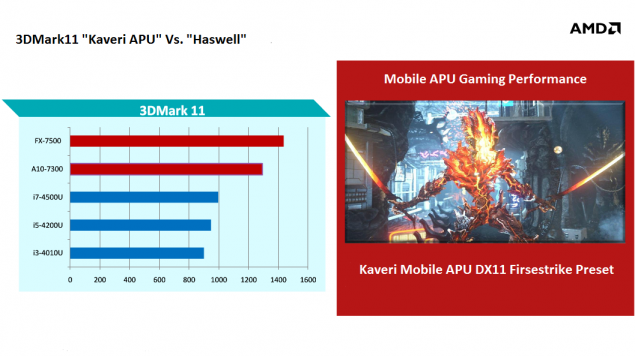 (Source: WCCF Tech)
Computing
AMD has built a rather poor reputation in computing over the years as they have consistently struggled against Intel's lineup. However, the days of AMD's new launches losing to Intel's older products are slowly coming to an end. With each succeeding generation the gap is shortening and now we are left with a lineup that actually offers superior results to Intel's competing chips. Although Syed Muhammad from WCCF Tech mentioned that the higher-end, much more expensive i7 posted better superior computing results, the benchmarks weren't included. However, as seen in the PCMark benchmark below, the FX-7500 and A10-7300 outperformed the i5 and i3 counterparts again which is not something we see from AMD, especially in a similar TDP range. Even the A-10 7300, the low end 19W chip, outperformed Intel's i3-4010U. These are results to be very excited about and are pointing AMD towards a brighter future.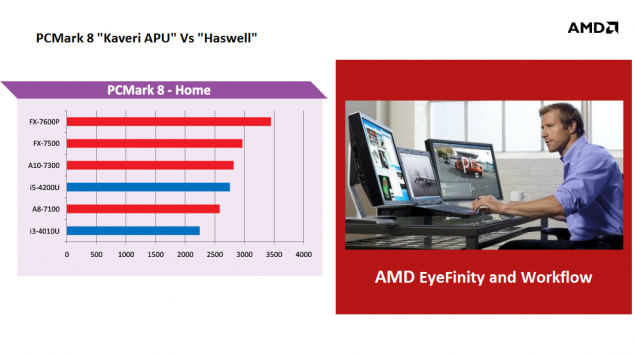 (Source: WCCF Tech)
Unfortunately, performance isn't everything anymore
Unfortunately, finding a way to produce superior performance isn't AMD's only problem. While we see leaps in graphics, computing and efficiency we still need to see these chips land in some good products. Products with premium designs, high-quality displays and a long battery life. While AMD's previous generation was highly uncompetitive, they arguably deserved a better market share than they had but Intel being fitted into superior products has consistently been a major issue for AMD. We know that in June, Lenovo will be releasing multiple series utilizing Kaveri and during the last conference call, Rory expressed that some OEMs were getting ready to introduce notebooks powered by Kaveri (and Beema). With these chips outperforming the i3 and i5 series in both computing and graphics with similar TDPs, the opportunity for major design wins is greater than before. A design win in something as good as a MacBook, where AMD's presence has been consistently absent, will be an important win to watch out for.
Conclusion
Until we see Kaveri in action we won't fully understand how it performs in the real world and with Lenovo and others currently getting ready, we will have a greater grasp on this by as soon as next month. I find that the large improvements in performance and efficiency will serve the chip designer well and it's great to see these products launched right before the back-to-school season. Revenue wise, AMD has suggested that their computing solutions revenue has bottomed out as they will be expecting an increase in next quarter as well as into the future. This is an important step for AMD and with the outstanding performance of Kaveri mobile in addition to Beema and Mullins, I believe that there's a good reason to believe it's true.
Disclosure: I am long AMD. I wrote this article myself, and it expresses my own opinions. I am not receiving compensation for it (other than from Seeking Alpha). I have no business relationship with any company whose stock is mentioned in this article.