First-quarter earnings reports are in the books and ConocoPhillips (NYSE:COP) and its former downstream operations spin-off, Phillips 66 (NYSE:PSX), continue to outperform rivals Exxon Mobil (NYSE:XOM) and Chevron (NYSE:CVX). Today we will take a look at why COP had such a strong Q1 and why the company is on track for another excellent year.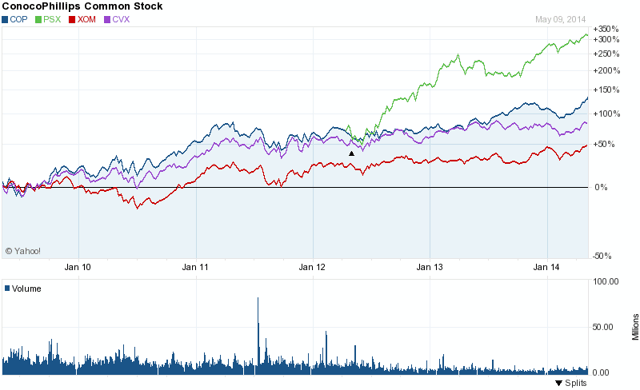 As the 5-year chart above shows, it's difficult not to notice the extreme outperformance of the COP+PSX duo as compared to Exxon and Chevron. Over the past 5 years, COP's stock has appreciated twice as much as Exxon and has significantly outpaced Chevron as well. Add in the rocket ship performance of Phillips 66 and the comparisons are not even in the same ballpark.
Q1 Earnings
COP released Q1 earnings on May 1st and the report was excellent. Excluding special items, Q1 adjusted earnings were $2.3 billion, or $1.81 per share, compared with Q1 2013 adjusted earnings of $1.8 billion, or $1.42 per share. Average price realizations, both YOY and sequentially, were nicely higher.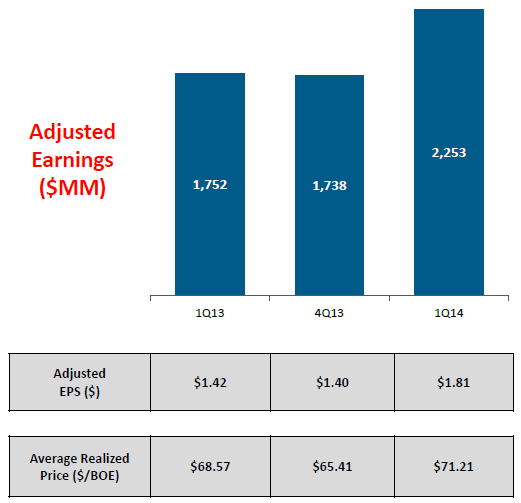 Excluding Libya, production from continuing operations was 1.53 million boe/day, an increase of 24,000 boe/day as compared with Q1 last year. Adjusted for dispositions and downtime, production increased by 41,000 boe/day or 3%. The results exceeded expectations as adjusted earnings were up 29% compared to last year's first quarter and up 30% sequentially. As a result the stock has jumped +3.5% in the 10 days since the earnings report. Let's take a look at why the earnings were so strong.
Natural Gas
A primary reason for the earnings beat was natural gas as COP benefited from an improved North American gas pricing environment. In particular, COP reaped ~$100 million from marketing third-party natural gas volumes. Conoco has a strong commercial gas marketing organization that markets third party gas in North America. About $0.10/share of earnings were due to these marketing efforts. Jeff Sheets, CFO and EVP-Finance, had this to say in the Seeking Alpha Q1 conference call transcript:
Given the high volatility in the first-quarter gas prices, our commercial team was able to capture some benefit by supplying both equity and third-party gas into premium markets.
While the performance may not be repeatable in coming quarters, I have been writing for some time now how NA natural gas has turned from a headwind into a tailwind for many domestic gas producers. Despite last week's natural gas selloff, it remains to be seen if natural gas storage levels can be adequately rebuilt before next winter. Currently we are in the shoulder season between winter heating and summer electrical generation demand for gas. Meantime, natural gas storage levels are still at decade lows for this time of year and significantly below the 5-year average range: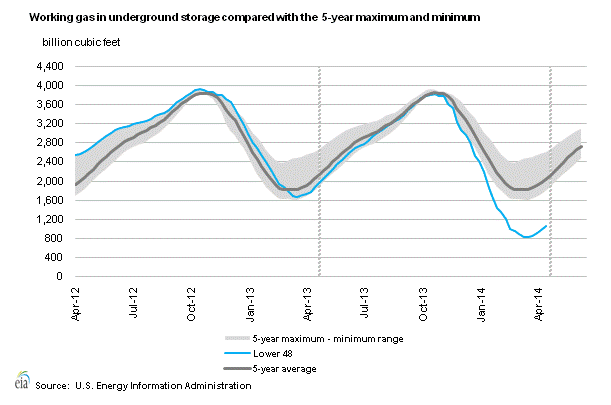 Perhaps even more bullish for natural gas in the long term is the adjustment major producers have made through the years of abnormally low prices. This can be seen by looking at a list of Top-40 domestic natural gas producers. In particular, during Q4 of 2013 note that year-over-year production dropped for 8 of the top-10 domestic natural gas producers: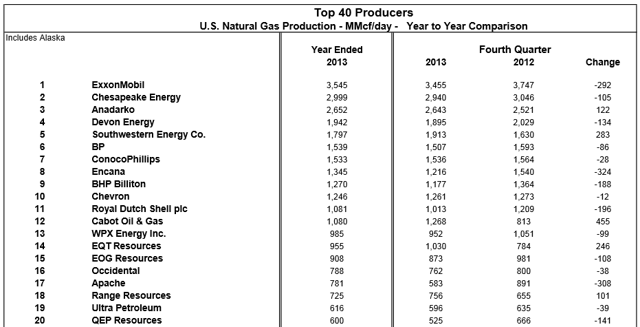 These results include a -292 MMcf/day drop in gas production by #1 producer ExxonMobil. That said, stronger domestic natural gas pricing helped Exxon increase its profit-per-barrel metric to exceed $20/boe for the first time since Q2 of 2012: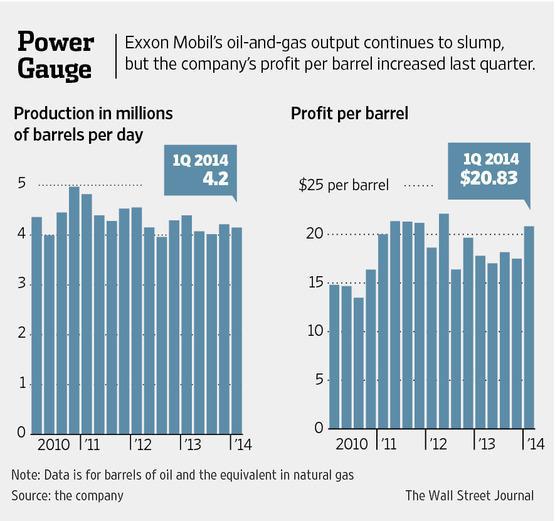 Lastly, despite all the talk about LNG exports, COP is the only company currently exporting LNG from the US as exports from COP's Kenai LNG Plant in Alaska have resumed. The company has signed contracts for 6 cargoes in 2014. In the conference call transcript, Matt Fox, EVP of Exploration and Production, said that each of those LNG tanker cargoes will contain 2.7 bcf of gas.
Unconventional Performance
Another catalyst for COP is the performance of its drilling programs in the Eagle Ford and Bakken shale plays. The Eagle Ford and Bakken collectively delivered 183,000 boe/day for the quarter, a 41% increase when compared to Q1 of 2013. The Eagle Ford and Bakken achieved new peak daily production rates of 163,000 boe/day and 54,000 boe/day, respectively.
Canada
While Canadian production was essentially flat year-over-year (280,000 boe/day), there were some Q1 highlights:
Christina Lake Phase E approached full production, contributing to ongoing growth from Canadian oil sands.
Cash flow from operations included a $1.3 billion distribution from Foster Creek/Christina Lake ("FCCL").
Higher bitumen realizations.
Global Diversification
Despite some analysts having the impression that COP has become a lower-48 centric "pure play", nothing could be further from the truth. The company continues to benefit from a broadly diversified global portfolio that is nicely exposed to higher international crude and natural gas prices. This fact is depicted from a chart taken from slide 5 of the company's Q1 presentation deck: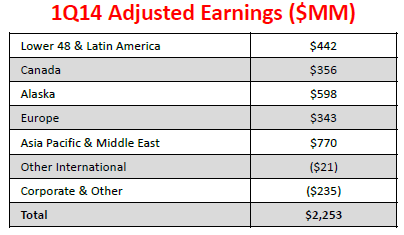 Many COP shareholders might be surprised to learn that the APME segment was the largest contributor to Q1 adjusted earnings. They might also be surprised to learn that Alaska (i.e. conventional Brent based production) contributes more to earnings than does the Lower-48 & Latin America segment. This proves that COP is nicely diversified and anything but a lower-48 "pure play".
Outlook
The Q1 results show that COP is on track to achieve management's goal of 3-5% growth in production and margins. In fact, Q1's cash margin per boe was up roughly 10% sequentially. The company reiterated full-year 2014 production guidance from continuing operations of 1.51-1.55 million boe/day. However, investors should be aware of the normal impact of planned seasonal turnarounds on Q2 and Q3 production as shown by this slide: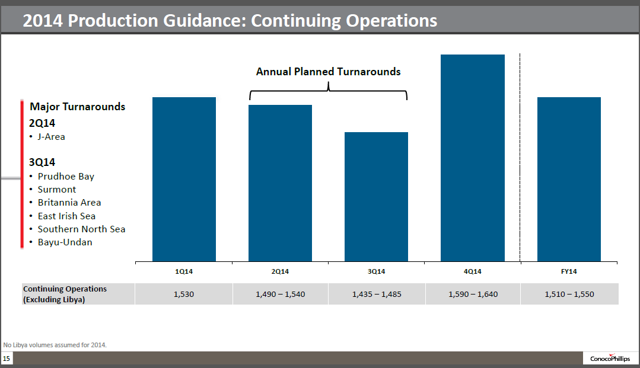 That said, any weakness in the stock as a result of these quarter-over-quarter production declines should be viewed by investors as buy-on-the-dip opportunities. As shown by the chart above, you want to own this stock come Q4.
Phillips 66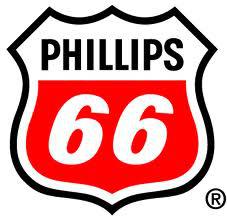 Before closing, I'd like to mention that PSX had yet another excellent quarterly earnings report. The company earned $1.6 billion or $2.67/share of net income. The report was highlighted by record earnings from the Chemicals segment as well as significant growth in Midstream operations. One week later PSX announced a quarterly dividend of 50 cents per share. This represents an increase of 28% from the prior quarter. As I said in November of last year, Phillips 66 could well be The Best Play On "Shale USA".
Summary & Conclusions
The COP+PSX duo continues to significantly outperform both Exxon Mobil and Chevron. The company has a globally diversified portfolio with excellent positions in domestic shale plays like the Eagle Ford and Bakken. Despite the run-up in COP's stock price, it is still trading at a significant discount to both Exxon and Chevron in terms of both P/E and dividend yield:
| | | |
| --- | --- | --- |
| | P/E | Dividend Yield |
| ConocoPhillips | 10.6 | 3.6% |
| Chevron | 12.2 | 3.4% |
| ExxonMobil | 13.9 | 2.7% |
Bottom line: at the end of 2013, I reported on COP's 12-month total return of 26% and suggested the company could deliver a total return of 20% in 2014. YTD the stock is up 11.3% yet is still a bargain when compared to both XOM and CVX. As a result, investors should consider taking advantage of any potential weakness in the stock to accumulate shares.
Disclosure: I am long COP, CVX, PSX, XOM. I wrote this article myself, and it expresses my own opinions. I am not receiving compensation for it (other than from Seeking Alpha). I have no business relationship with any company whose stock is mentioned in this article.
Additional disclosure: I am an engineer, not a CFA. The information and data presented in this article was obtained from company documents and/or sources believed to be reliable, but has not been independently verified. Therefore, the author cannot guarantee its accuracy. Please do your own research and contact a qualified investment advisor. I am not responsible for investment decisions you make. Thanks for reading and good luck!