2013 was a harsh year for Cliffs Natural Resources (NYSE:CLF). Its share price decreased more than 33% last year, from $38.81 per share to more than $26 per share. Besides this, the company also reported a significant decline in its top line.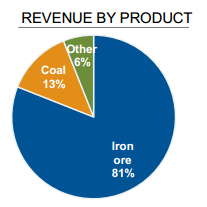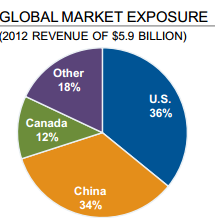 Source: Investor Presentation
The growth of Cliffs is largely dependent on the demand for iron ore. The company's main source of revenue is the production and sale of iron ore pellets to steel manufacturers in the United States and China. It generates more than 80% of its total revenue from iron ore sale. Both the U.S. and China are the two largest markets for the company. Due to increasing steel demand, iron ore demand is growing quickly in Asian countries like China and India. Cliffs is expanding its presence in China's steel markets to benefit from this growing market.
China has become the world leader in steel production and iron ore usage. Chinese iron ore consumption depends on its demand for steel. China's steel production is expected to grow by 3.8% to 809 million tons this year, while steel consumption is likely to rise 3.3% to 752 million tons. Due to increase in steel production, the country's iron ore imports are likely to rise 6% to a record 870 million metric tons in 2014. Cliffs will benefit from the growing Chinese iron ore imports because Chinese steel producers prefer to import iron ore from countries such as Australia, Brazil and Canada as they tend to have higher quality iron ore.
Cliffs generates the majority of its revenue (more than 60%) from its North American iron ore business, which sells primarily to U.S. customers. Its U.S. iron ore division is primarily involved in the sale of iron ore pellets which are used in blast furnaces as part of the steel making process. It is the most profitable division for the company. Cliffs expects to sell between 22-23 million tons from the U.S. iron ore business this year. Cash cost is expected to be in the range $65-$70 per ton.
The U.S. steel industry ranked third largest in the world in terms of production and is also one of the world's largest consumers. In the U.S., the auto industry is growing and that will drive the steel demand. Around 65% of every vehicle is made of steel. The U.S. auto industry's new vehicle sales are expected to reach 16.4 million in 2014. Steel is also one of the important and valuable materials in the U.S. construction industry. Total construction spending in the U.S. increased 4.8% to $900 billion last year. This spending is expected to further increase during the coming years. As the U.S. is the largest market for Cliffs, it is well-positioned to benefit from these robust macroeconomic drivers.
Although iron ore demand is increasing, Cliffs' profitability depends on the iron ore prices. One negative aspect of the company is that its iron ore cash cost per ton is much higher than other miners such as BHP Billiton (NYSE:BHP), Rio Tinto (NYSE:RIO) and Vale (NYSE:VALE). BHP, Rio and Vale are producing iron ore for less than $50 per tonne. In contrast, Cliffs' cash production cost is in the range of $65-$70 per tonne. Iron ore price is expected to average $110/tonne in 2014, $103/tonne in 2015, and could drop to $87/tonne in 2019. Reduction in iron ore price will impact significantly on Cliffs' profitability.
Cliffs is working hard to reduce its costs by decreasing capital spending. It is important for the company to reduce its costs in order to improve profitability and mitigate the future impact of lower iron ore prices. In 2014, Cliffs plans to reduce its capital expenditures by more than 50% to between $375 million and $425 million, as it cuts back its Bloom Lake Mine expansion and idles production at its Wabush Mine.
Bottom Line
Growing steel demand in China and the U.S. will increase Cliffs' iron ore sales volume. On the other side, iron ore prices are expected to decrease which will significantly impact on its bottom line. Although the company is planning to cut its capital spending and other expenses, it still needs to focus on its high production cost which is the main obstacle in generating profitability. In my opinion, Cliffs is not a buy at this point, but the stock is an excellent hold.
Disclosure: I have no positions in any stocks mentioned, and no plans to initiate any positions within the next 72 hours. I wrote this article myself, and it expresses my own opinions. I am not receiving compensation for it (other than from Seeking Alpha). I have no business relationship with any company whose stock is mentioned in this article.