Most of the newly trading stocks we've been following were down last week, but the new IPOs that just hit the market actually did very well despite the broad sell-off in stocks.
Some of the losses last week were modest - Tesla Motors (NASDAQ:TSLA) dropped 4 percent and QLIK Technologies (NASDAQ:QLIK) fell around 3 percent. It was not surprising that most returns were negative for the week, as the S&P 500 dropped 4.3 percent.
The table below shows the returns of stocks that went public in July (plus Tesla, which went public in the end of June) and their returns through August 9th and August 16th.
click to enlarge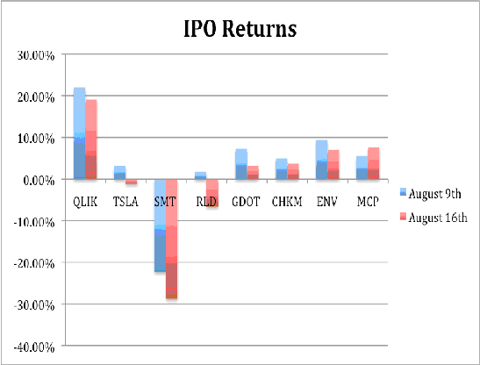 As you can see, all but one of these stocks fell last week. Molycorp (MCP) was the only winner in this group, gaining around 2 percent. The hardest hit stocks included RealD (NYSE:RLD) which dropped over 8 percent and Smart Technologies which gave back 5 percent.
Many of the companies to go public in August took an even bigger beating. The following table shows the returns of these companies through August 9th and August 16th.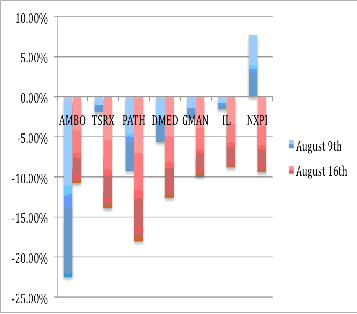 All of the stocks in this group fell almost 10 percent, or more. The one exception was Ambow Education Holding Ltd. (NYSE:AMBO) which outperformed the rest of the group, gaining nearly 12 percent.
However, while the returns of companies that hit the exchanges more than two weeks ago are faltering, those that went public last week saw shares move higher.
Taking a look at these returns it becomes clear that early investors in these IPOs crushed the market last week. To arrive at these returns I've used the respective stocks opening prices on their first day of trading, and yesterday's closing prices.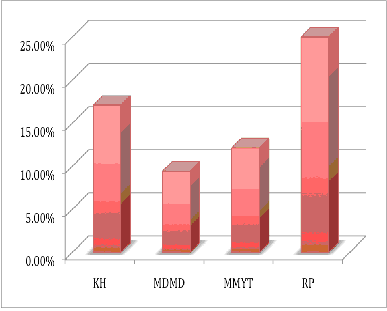 All four of these IPOs have performed well since going public. The takeaway message for investors is that, at least last week, it's best to get in on IPOs early.
Real Page Inc. (NASDAQ:RP) was the biggest winner, gaining 25 percent in its first week of trading. China Kanghui Holdings (KH) gained 17 percent while MakeMyTrip Limited (NASDAQ:MMYT) and MediaMind Technologies (NASDAQ:MDMD) gained 12 and 9 percent, respectively. We'll see if these gains hold up in coming weeks.
The only company scheduled to go public this week is Legacy Healthcare Properties Trust soon to trade on the NYSE under ticker symbol LRP. The company plans to raise $175 million, offering 8.75 million shares at $20 per share. Legacy Healthcare had $18 million in sales last year.
The company is a real estate investment trust (REIT) and will own six senior housing facilities. REITs are essentially stocks for companies in the commercial real estate market. These trusts buy properties such as office buildings, apartments, and shopping centers, collect the rent, and typically pay a nice dividend to investors.
The attraction for investors is a dual mix of capital appreciation, and a nice steady stream of income. Given that the yield on the 10-year US Treasury is at an all time low, well below 3 percent right now, REITs might be a good alternative offering a higher yield. Investing in REITs also provides a hedge against inflation because real state values tend to rise along with inflation.
Of course, the downside of these types of investments is that there can be periods of very little capital appreciation - especially in the current dismal real estate market. Plus, bankruptcy is a concern for commercial property owners so it's critical that investors understand exactly what property is owned by the REIT, and how dependable the cash flow from rent is.
However, if you are aware of the risks and what is owned by a particular REIT, buying a stock like Legacy Healthcare Properties Trust may be a good way to diversify your portfolio.
As always, remember to do your own homework before going out and purchasing shares in any of these recently public stocks. I'm here to get you started and I will continue following the IPO market. But don't mistake my research for a buy recommendation.
Disclosure: None