Bank of America (NYSE:BAC) has been a contentious stock since the beginning of the fiscal crises. Many investors hated the bank, then loved it when it was $5.00/share, and the fact that Warren Buffett holds warrants to purchase 700 million shares at $7.00 until 2021 leads current shareholders to continue to hang on to this besieged bank.
The issues are all too familiar by now, but there is a definite chill in the air coming from several analysts about the future potential of the bank. I have said repeatedly that the easy money has already been made, and when I suggested that it was dead money some months back, I became a lightning rod for the bulls and a poster child for "naysayer's anonymous".
Unfortunately for shareholders who have purchased shares at $16 or more, the near term, and probably much longer, looks very tenuous. It actually seems that I had been accurate in my assessment when I became bearish on the stock. My timing was off and investors will point to the share price high of about $19.00 and how I left $8.00/share profit on the table by selling "too soon". That's fine, I can handle the criticism that I only doubled my money.
In retrospect, the stock has done nothing but disappoint where it counts the most; dividends paid, and share price deterioration.
October 24th was when I first wrote that the stock was dead money. It is true that it shot up to over $18.00/share in the interim between then and now, but the share price for those who have held or bought between then and now, has been either dead money, or a loser.
One Analyst Cut BAC Earnings Nearly In Half After The Annual Meeting
While Mike Mayo of CLSA has had a sell rating on the stock, after the annual shareholder meeting he had some very unkind remarks about BAC and cut his earnings estimates for 2014 from $1.00 to $.55/share.
More strikingly, Mayo had this to say:
...based on the bank only having $2.4 billion on reserve for an estimated $8 billion mortgage-backed securities settlement with the Department of Justice. The bank's action reflects "poor governance, including a missing comp committee head, different time frames in financial charts and a meeting that ended before all questions were taken, not to mention a chairman who seems to us like a figurehead," said the analyst. Mayo criticized the bank for letting the CEO Brian Moynihan run the entire shareholder meeting, while chairman Chad Holliday only gave a few "mostly nonresponsive answers."
To be fair, Brian Moynihan fielded most of the questions in the earnings conference call as well, and apologized for the accounting error that should never have happened. On the other hand, the answers Moynihan gave were not direct responses, and most of the questions by Mayo were not addressed by Moynihan in the earnings conference call.
Here is just one of the 9 questions Mike Mayo asked:
Mike Mayo - CLSA

Okay and then lastly, the Bank of New York ruling was good. I did not expect that, but you still had a $6 billion charge this quarter and another $2.4 billion extra charge in the last 15 workdays since the FHFA amount was announced and I know you've had several questions in the call but what's left as far as potential legal charges, because the teams are so lumpy and if in just a few weeks you can have another $2.4 billion charge seemingly out of the blue for some of us, what's left?
Fair question, which Moynihan did not answer but Bruce Thompson, CFO, did with this response:
Bruce Thompson

I think when you look at it, as I commented that I think we give fairly wholesome disclosure in the 10-K as it relates to the matters that are out there and when you look at the matters and compare where we are now to what's out there, that obviously from the case that FHFA was resolved and that was the $3.6 billion number we mentioned. You've seen resolutions during the quarter from an Allstate RMBS perspective. You saw a resolution of force-placed lace insurance. You saw CFPB/OCC, and you saw the deal that we completed and announced with FGIC today. So as you work through and look at those matters it's largely with what's disclosed leaves you with respect to one monoline and then in addition to the monoline, the other remaining legacy mortgage related matters that we put out in our disclosure.(emphasis added by the author)
"Other remaining legacy mortgage related matters" is what I take from this but the question that Mayo really wanted to know was where is the money going to come from if the bank only has $2.4 billion left in reserve and has not settled with the Department of Justice yet. To that there has been no answer, and that chapter has yet to be written.
Those bullish on BAC will defend the stock with the valuation between share price and book value. While it is true that the stock is selling at a significant discount to bv, the question remains for me, why is it still selling for such a steep discount? I hear the talking heads always point to it and say it is a bargain stock, but why is that still the case? Why hasn't the share price moved higher with all of the bulls buying this cheap "gem" up?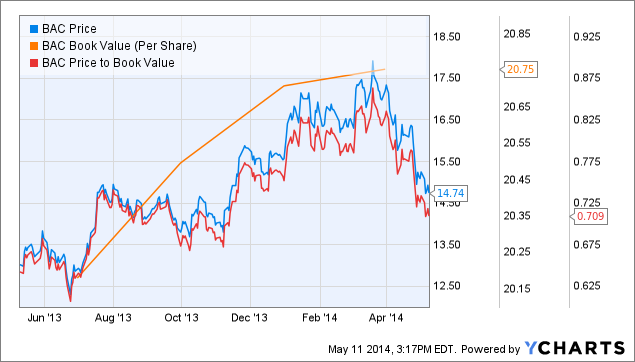 Why isn't the share price within striking distance of the book value of nearly $21.00/share? Actually the gap continues to widen, so shouldn't that be a catalyst for investors to buy more?
Here are my reasons that this stock is not selling close to book value:
The legacy issues have not been settled and there could be local civil suits lurking behind them for an extended period of time.
The shares are simply not worth the book value price as of now.
The bank pays virtually no dividends and seems to be a traders stock rather than an investors stock, so volatility is greater.
Investment banking, although strong last quarter, might not be as strong going forward.
Investment Banking Might Not Grow As Some Believe
This portion of the business has done quite well for BAC even though the Merrill name still carries a bit of a stigma for being purchased for so much money. That being said, it is interesting to note this article from just the other day.
Analysts at KBW warned investors that trading revenue at big U.S. banks probably peaked last year, and won't come back any time soon...KBW cut its EPS view on Bank of America (BAC) to $0.90 and $1.40 from $0.96 and $1.50 for 2014 and 2015, respectively. The No. 2 U.S. bank is now expected to see $6.8 billion in principal transaction revenues this year from a previous estimate of $8.4 billion.
It is my opinion that these reports should not be shrugged off by potential investors as well as current shareholders. When the total picture is put together, the future might not be as bright as the bulls believe.
The recent accounting error of $4 billion has placed a hold on the increased dividends, as well as the share buyback plan as well. Thus my opinion of BAC is that NOW is not the right time to buy, or add shares.
When Will The Time Be Right To Begin Buying?
Since we do not have warrants at $7.00 to buy 700 million shares, all we can do is look at the headwinds and try to determine when they might abate. At some point, they will, but I have no idea as to when. So, when will it be right for ME to buy BAC stock?
When all the legacy issues are over.
When the stock pays me to own shares at a decent dividend yield.
When the negative noise dies down to a level that does not continue to hammer the share price.
Until that time, I will sit on the sideline and watch the parade go by. If that means I miss out on a few bucks, so be it, but the risk issues for now are simply too many, too often.
Disclaimer: The opinions of the author are not recommendations to either buy or sell any security. Please remember to do your own research prior to making any investment decisions.
Disclosure: I have no positions in any stocks mentioned, and no plans to initiate any positions within the next 72 hours. I wrote this article myself, and it expresses my own opinions. I am not receiving compensation for it (other than from Seeking Alpha). I have no business relationship with any company whose stock is mentioned in this article.