Last Thursday morning, biotech Dendreon (NASDAQ:DNDN) reported its fiscal first-quarter results. Dendreon, the name that brings you the prostate cancer treatment Provenge, has been one of the most heavily-debated names in recent years. The stock has been on a roller coaster ride, and currently, shares are at multi-year lows.
The Q1 report was going to be an interesting one for Dendreon, and I recently discussed some key questions that needed to be answered. In the end, Q1 was not a great quarter for Dendreon, and the company did not answer any questions on the extremely important debt situation. Today, I'll explain why Dendreon shares fell and what investors should do now.
Q1 results:
Let me first discuss the headline results. Dendreon reported revenues of $68.78 million, up about 1.75% over the prior year period. CEO John Johnson had this remark in the press release about Q1 revenues:
This was the first quarter since the introduction of competition where we saw revenues grow as compared to the prior year, which confirms the progress we are making on a year-over-year basis.
Management has to be positive, but this statement is a bit funny. First, the company reported revenues up less than 2%. Second, competition is a huge issue, and I'll get to that more in a bit. The third thing is that Dendreon missed analyst estimates, which called for $69.19 million in revenues, or about 2.4% growth. Finally, one must consider that when Dendreon reported Q4 results a few months ago, analysts were looking for $74.86 million in Q1 revenues. So I hardly call Q1 revenues promising when analysts cut estimates by more than $5.5 million and Dendreon still missed.
On the flip side, the company did not lose as much as expected. Dendreon lost $0.24 per share on a GAAP basis and $0.15 per share on a non-GAAP basis. Analysts were looking for a $0.28 GAAP loss, so Dendreon beat. This goes to the company's cost cutting measures, which have been better as of late. However, Dendreon is still losing a lot of money.
Let me touch on some key bullet points from the quarter, as detailed in the press release. Keep in mind that Zytiga is a product from Johnson & Johnson (NYSE:JNJ) while Xtandi is from Medivation (NASDAQ:MDVN).
93 large accounts, up significantly from 54 in the first quarter of 2013.
Cost of goods sold was approximately $37 million, or 53% of revenue, down from approximately $43 million, or 64% of revenue in the first quarter of 2013.
Cash burn was $30 million, down significantly from the first quarter of 2013 and down slightly from the fourth quarter of 2013.
Zytiga and Xtandi increasing competitive share in post-chemo setting.
Increased competition in pre-chemo in oncology from Xtandi.
Addressing the Company's convertible debt remains a top priority, and the Company is exploring its options with advisors.
Continued progress to make Provenge commercially available in Europe.
Goal is to have the first commercial patient treated in the fourth quarter of 2014.
A couple of quick notes here. While the large accounts' year-over-year growth is impressive, there were 100 large accounts in Q4. Sequentially, things are down and that fits with the revenue decline. In terms of the cash burn, it was better than recent quarters, but the company still burned through roughly 15% of its cash on hand. The cost of goods sold percentage is coming down, and Dendreon believes this number can reach the 30s (percentage wise) with automation. Finally, Dendreon notes that competition is increasing its share. This is not a good sign for Dendreon. Dendreon was expected to increase 2014 revenues by 5% (after a fall in 2013) going into the Q1 report. On top of that, 18% revenue growth was expected in 2015, again, going into the Q1 report. However, Medivation is expected to basically double its revenues this year and grow them by another 30% plus in 2015. Medivation has also turned a profit and is expected to show more profitability throughout 2014 and 2015. Dendreon is expected to lose money this year and next, continuing massive losses from recent years. Johnson & Johnson is obviously an industry giant, so Dendreon is in a tough battle here.
Balance sheet gets worse:
The table below shows some key financial ratios for the company going back to Q1 of 2011 (dollar values in thousands). A couple of notes on the data provided below. First, the senior notes number includes those due in both 2014 and 2016. The second note is on those senior notes due 2016. In the March 2011 to September 2011 reported quarters, Dendreon reported those notes as current liabilities. Starting in the December 2011 quarter, they were shifted to long-term liabilities. For consistency and easy comparisons, I have included them as long-term liabilities for each of the quarters below to get a more accurate view of the financial picture. I've put last year's Q1 and this year's Q1 in yellow so you can get an idea of the year-over-year changes. To see all balance sheet data, please refer to the 10-Q filing.

Obviously, things continue to get worse for Dendreon when it comes to the balance sheet. Management refused to answer any questions in regards to the debt situation on the conference call, so let me detail some numbers that show how much trouble Dendreon is in financially. Let me quickly say that management did say it will receive up to $30 million in two installments this year as part of an insurance claim for bad antigen (inventory). This should help the company's cash position, as the recovered amount basically would cover the 2014 notes. Those notes are becoming more and more of a problem, as you can see from the chart below, which shows how much of the company's cash pile these notes takes up.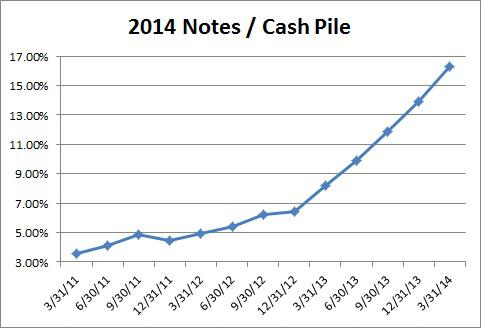 Three years ago, the roughly $28 million in 2014 notes represented just over 3.5% of what the company had in terms of cash and investments (both short- and long-term). A year ago, that percentage was up to 8.21%, and it has nearly doubled in the past year. These notes are due in mid-June. If the company does not get any insurance payouts by then, these notes could reduce the company's cash position by nearly 20% (or more if cash is burned even faster).
With the company burning through cash and other assets, the size of the company's balance sheet has been reduced in recent years. Three years ago, Dendreon had over $1.13 billion in assets on the balance sheet. At the end of March, that number stood at less than $400 million. Over that same time period, total liabilities have risen from $604 million to $686 million. That means that the liabilities to assets ratio, or debt ratio, has risen tremendously, as you can see in the chart below.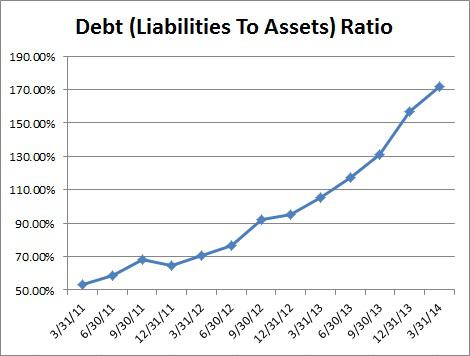 It was in Q1 2013 when this ratio topped 100%, meaning Dendreon had more liabilities than assets. In the past year, the ratio has risen from 105.62% to 171.60%. That meant that at the end of March, Dendreon had over $1.71 of liabilities for every dollar of assets. At the same time, that means that Dendreon's equity value has plunged, as seen below. Again, dollar values are in thousands.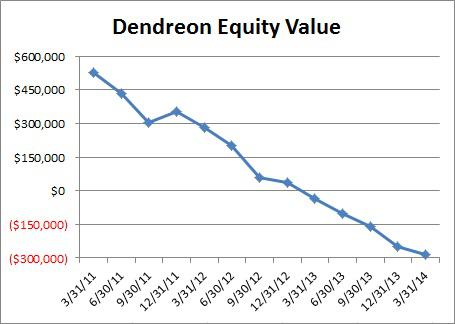 Three years ago, the book value of Dendreon's equity was over $526 million. At the end of March, the number was a negative $286 million, and we are probably closer to or above $300 million by now. Why is this important? Well, the further this number pushes into the negative, it makes it that much harder for Dendreon to raise funds. Right now, who would lend to Dendreon, a company that already has about $300 million more in liabilities than assets? I certainly wouldn't, and even if I did, I'd be asking for a ridiculous amount of interest. Another possible option is a secondary offering, which I will get to in a bit.
The biggest problem for Dendreon currently is the 2016 notes, which mature in January 2016. The carrying value of these notes at the end of March was $566 million, and that number rises by the quarter. These notes have always been an issue, but they are becoming more and more critical as each day passes. In the chart below, I've detailed the percentage of Dendreon's cash pile these notes represent.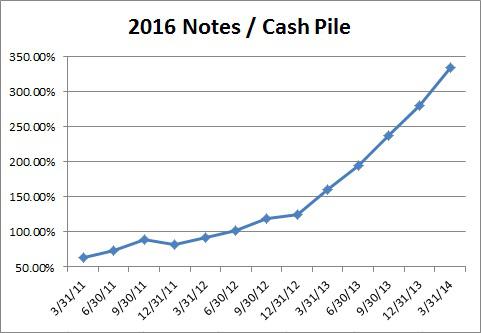 At the end of March, these notes represented more than 333% of the cash and investments balance of Dendreon. In fact, these notes now represent more than 140% of Dendreon's total asset base. Assuming Dendreon gets the insurance payouts, pays back the 2014 notes, and continues to burn through cash, these notes will represent an even higher percentage going forward.
If I were an investor in Dendreon, I'd really be getting annoyed with management here. At the Q3 2013 report, management said they were looking forward to discussing the debt situation at the Q4 report. That didn't happen, and the company refused to answer any questions on Thursday. To keep saying "we're making progress and are well advised" is not appeasing investors. Dendreon shares broke $2 on Friday, and this was a $40 plus stock less than three years ago. The market is really starting to price in bankruptcy as a real risk. Even if Provenge launches later this year in Europe, and Dendreon is able to reduce losses and cash burn a bit in the next year or two, it seems highly unlikely that Dendreon will have hundreds of millions in cash to pay back these 2016 notes. Investors really need to bank on a buyout or the ability of the company to refinance, neither of which seem very likely.
There is also the possibility of a massive secondary, something I've discussed a lot in the past year. If Dendreon was going to do a secondary, the company should have done so when prices were well above $3. Now with shares under $2, a secondary will be even more painful. Unless Dendreon is able to sell preferred shares, the company may need to increase its authorized common share count, as a secondary could put the company above its current limit. Of course, all of this assumes that a secondary is even possible, as the provisions for the 2016 notes may not allow it. For example, a massive secondary could trigger a "fundamental change" that could require the acceleration of part or all of the notes. For more details, please see the 10-Q and other filings.
Final thoughts:
Dendreon missed on the top line, but beat on the bottom line. Cash burn continued, and the balance sheet got much worse. On the conference call, management refused to answer any questions about debt, and bankruptcy is becoming a growing concern for investors. As you can see in the chart below, Dendreon shares plunged late last week to new yearly lows. Dendreon received two negative analyst notes on Thursday. Maxim downgraded shares to a Hold from Buy and cut its price target from $4 to $1. Cantor lowered its price target from $5 to $4. On Friday, a third analyst reiterated a Sell rating and $1 price target.
So what should investors do? Well, it is hard to recommend shorting a name outright that has fallen as much has Dendreon has recently. However, Dendreon has done nothing to prove that the business can last past January 2016, and for that reason, it has to remain on a list of short ideas. Remember, a 50% stock decline from $2 to $1 can be just as good for short sellers as a drop from $20 to $10. A drop is a drop, as long as the same total value of shares is shorted. I've continued to recommend that investors short on any pop, and I'm sure we'll get some sort of dead cat bounce here soon. That will be the next opportunity to short. As always, I still would find some sort of hedge just in case something unexpected happens that causes these shares to soar. I was never one to guarantee bankruptcy, but after Thursday's results and management's continued stance to not discuss the debt situation, I must say that bankruptcy is becoming more and more an option. From recent market action, investors seem to agree with this notion.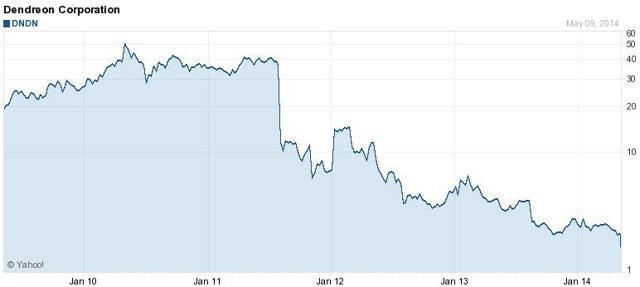 (Source: Yahoo! Finance)
Disclosure: I have no positions in any stocks mentioned, and no plans to initiate any positions within the next 72 hours. I wrote this article myself, and it expresses my own opinions. I am not receiving compensation for it (other than from Seeking Alpha). I have no business relationship with any company whose stock is mentioned in this article.
Disclaimer: Investors are always reminded that before making any investment, you should do your own proper due diligence on any name directly or indirectly mentioned in this article. Investors should also consider seeking advice from a broker or financial adviser before making any investment decisions. Any material in this article should be considered general information, and not relied on as a formal investment recommendation.