One of Cramer's commandments says "Thou shalt never turn trade into investment". Well, I just did. Not exactly to investment, but...
Some time ago, I bought Intel (NASDAQ:INTC) on a signal from my 3.5x2 trading system (more on this system here). Yesterday, Intel was in its second day up which is a a sell signal in the system. Rule number one: discipline trumps conviction. But I'm in tech buying mode. Just bought Cisco (NASDAQ:CSCO) last week. So I decided to take a closer look at Intel. The company has forward P/E of 9.3 and PEG of 0.72! This should be a screaming buy.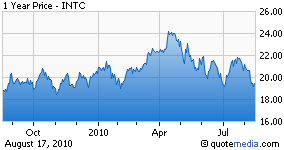 When you recalculate forward P/E after taking cash out of the price, it comes to 7.3! Can tech be so cheap? Why is tech, the best sector in the US for the last 40 years, cheaper than banks or railroads? Especially companies like Intel and Cisco, which have a lot of net cash.
So I broke a lot of rules and decided to hold INTC. Maybe I'm wrong.
Full Disclosure: At the time of publication the author had long positions in CSCO and INTC. Positions can change any time.