JP Morgan analyst Christopher Danely has suggested that Intel (NASDAQ:INTC) should quit its mobile efforts and concede defeat. Danely explained that Intel's contra revenue might help the company gain 25% market share of the smartphone and tablet processor market within three years, but it will still be a losing proposition.
Danely estimated that Intel might get $2.8 billion sales from mobile chips, but it will still result in a loss of $0.18 per share. This is because of the low profitability in tablets and mobile chips.
He also explained that Intel's efforts to make its x86 compete with ARM Holdings (NASDAQ:ARMH) for mobile is futile, because all advanced mobile computing designs are now largely ARM-based.
The JP Morgan analyst also pointed out that Qualcomm's (NASDAQ:QCOM) leadership in 4G LTE technology has made it the only consistent winner in mobile. Intel's laggard status in integrated LTE has contributed to its huge losses in mobile chips. Intel was forced into making subsidies or contra revenue to encourage OEM companies to use Intel SoCs.
Yes, Mobile Is A Drag On Earnings
I agree that Intel's mobile efforts are currently a drag on earnings. The latest quarterly earnings report showed Mobile & Communications Group suffered a $929 million operating loss. However, I strongly disagree with Mr. Danely's call for Intel to shut down its mobile chip business. I already explained that the substantial losses of Intel's mobile division are not permanent.
Yes, continuous contra revenue is painful, but it's hardly fatal to Intel's overall financial health. Intel's near-monopoly of server and desktop processors give the company enough money to finance its rabid pursuit of mobile chips victory. A check on INTC's recent EPS and dividend history shows that the company is still highly profitable.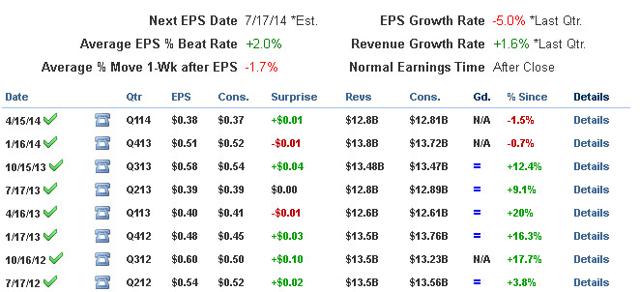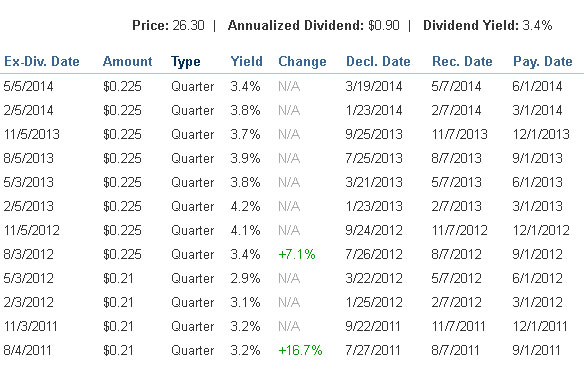 Source: Charts from Streetinsider.com
Looking at those two charts above should convince you that contra revenue will not kill Intel. Operating losses in mobile will likely continue for the next three years. However, the sacrifice is necessary because the future of consumer and commercial computing is in mobile.
I'm not a financial analyst, but common sense tells me that Danely's suggestion of quitting mobile will be suicidal for Intel. The company is playing catch up to Qualcomm, Samsung, and Apple, but the race for mobile processor leadership is not yet over.
Long-term survival means really looking long into the future, like decades into the future. Intel's sacrifice in mobile chips is necessary to insure its relevance 10 years from now.
Mobile Is The Future Of Computers
By 2017, tablets are predicted to outsell desktop and laptops.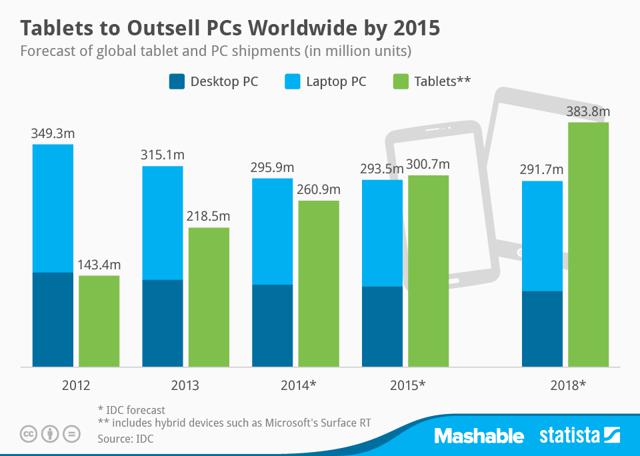 Selling processors is Intel's core business, and it is merely adapting to what the consumer needs. Portable computing devices (including tablets, smartphones, and notebooks) will ultimately outgrow the traditional desktop PC form factor.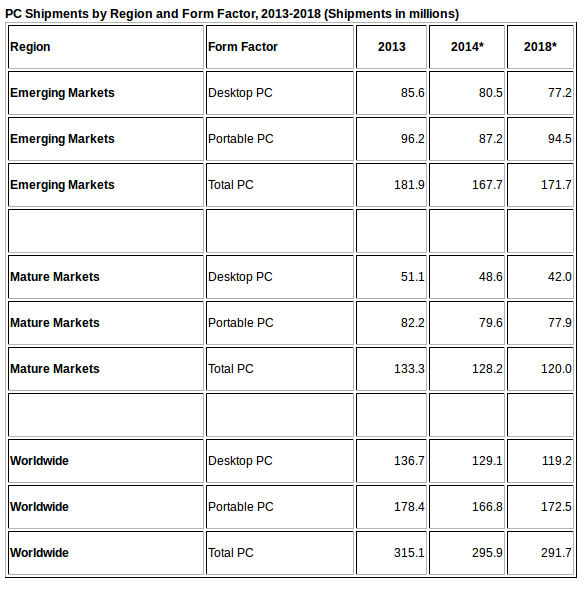 The personal computer is no longer restricted to either desktop or laptop form factors. More people are spending their time on mobile gadgets.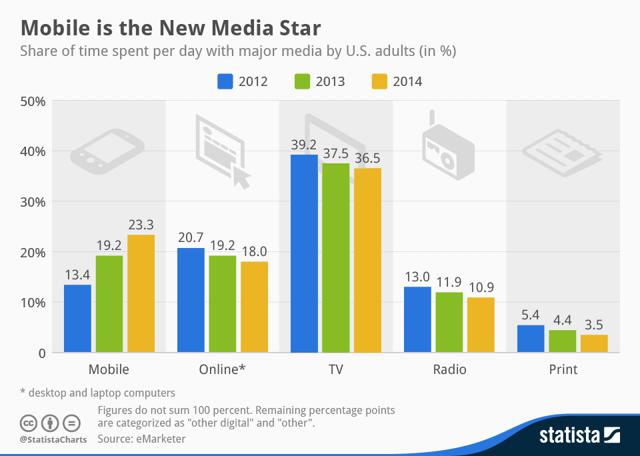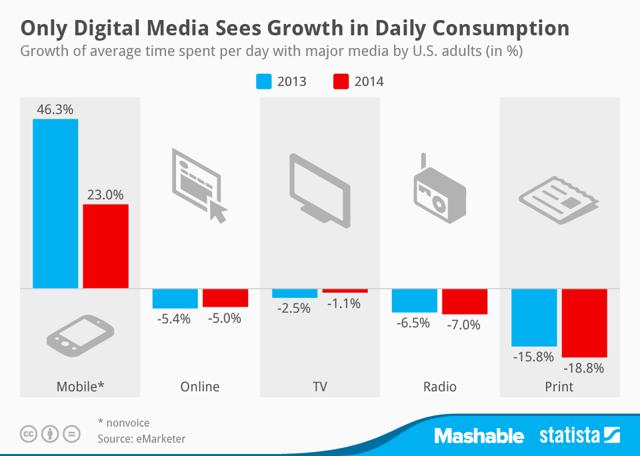 Apple (NASDAQ:AAPL) enjoyed tremendous success since 2007 because, unlike Intel, it made a successful reinvention as a mobile computing company. By volume, Apple is the world's biggest vendor of computing devices. Too bad, Intel's previous management refused Apple's requests for an iPhone and iPad processors.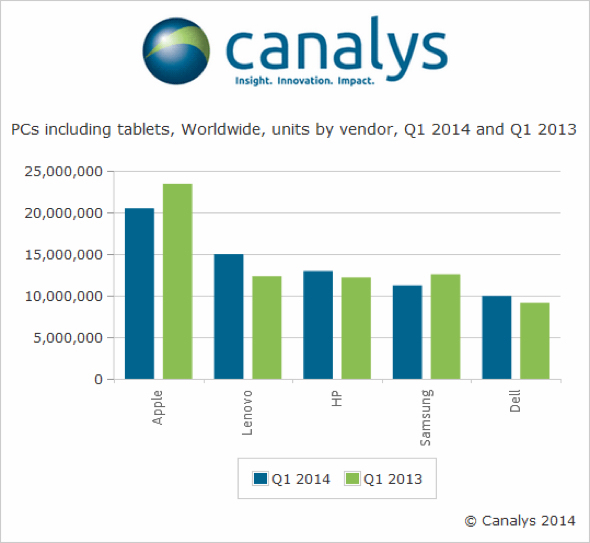 Apple's iPhone and iPad helped it become the world's most valuable brand in the world. Intel missed a big boatload of money when it refused to make low-power processors for Apple's biggest moneymakers.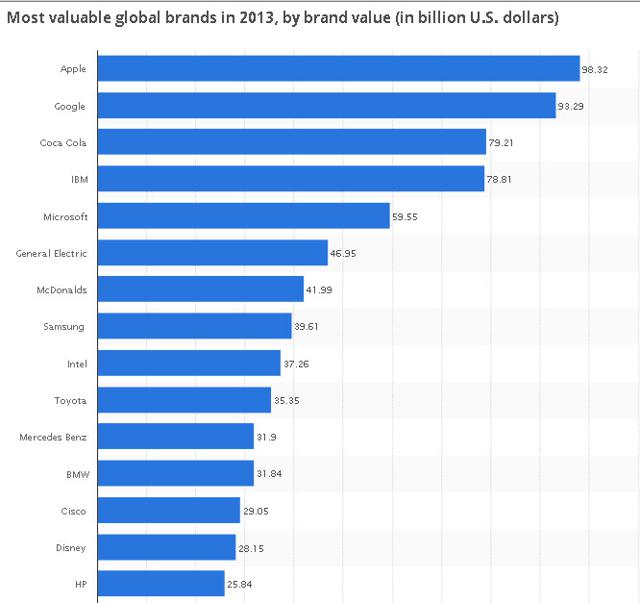 Source: Statista.com
Likewise, Qualcomm's laser-focus on mobile has helped it outperform Intel for the last 10 years. Intel spent too much time beating down Advanced Micro Devices (NYSE:AMD) AMD on desktop and server chips segment from 2001-2010 period. Intel was late in joining the mobile party, and it's paying the penalty (contra revenue).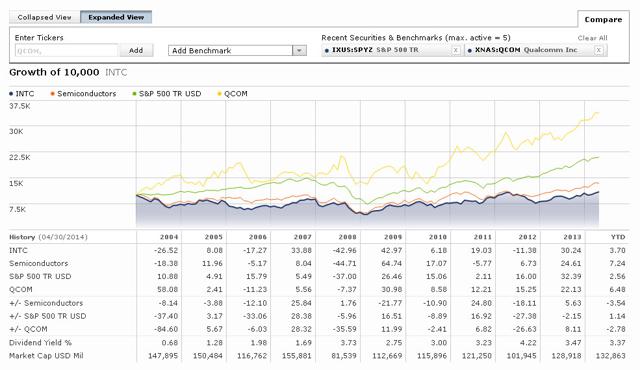 Source: Morningstar.com
Conclusion
Intel's moribund stock performance for the last 10 years is mainly due to its late-to-the-party mobile efforts. However, quitting now will only be suicidal. The $3 billion/year operating losses on mobile venture is a painful but necessary sacrifice on the part of Intel.
Mobile is the future of consumer and commercial computing. The domineering Intel we know now will die and be reduced to a niche player if it doesn't fight for its own pie in mobile SoCs. Krzanich will ignore Danely's advice, and he will continue waging the battle for tablets and smartphones.
Pacquiao got knocked out by Manuel Marquez but he did not quit boxing. He made a big comeback and proved his technical boxing superiority over Bradley in their rematch last April. Pacquiao also proved that you don't need to knockout opponents to make a lot of money.
Intel only needs to improve its technical superiority in mobile chips to generate enough money. Intel doesn't need to knock out Qualcomm or MediaTek to be a heavyweight contender in smartphones and tablets. Qualcomm, like Mayweather, is already too rich and too defensive to unseat as the smartphone processor champion.
Intel is a quality stock that's undervalued because the market perceives it as hopeless in mobile. The clumsy mobile efforts of Intel will ultimately help it progress as a heavyweight player in mobile chips. INTC is a big Buy now because it is still cheap.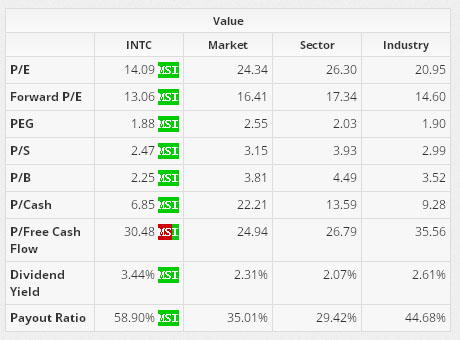 Source: getaom.com
Disclosure: I am long INTC, AMD, AAPL. I wrote this article myself, and it expresses my own opinions. I am not receiving compensation for it (other than from Seeking Alpha). I have no business relationship with any company whose stock is mentioned in this article.