Here is a list of the top 10 most and least volatile S&P 500 stocks over the last month. To create this list, we looked at dispersion of returns, as measured by the average daily high/low trading ranges.
Sector Overview: Volatility Over The Last Month

By averaging out the volatilities of the sector components, we can estimate the overall sector volatility. Based on our calculations, the Basic Materials sector has been the most volatile sector over the last month. Utilities have been the least volatile.
Basic Materials: 2.94% (based on 57 stocks)
Conglomerates: 2.23% (based on 6 stocks)
Consumer Goods: 2.31% (based on 60 stocks)
Financial: 2.76% (based on 80 stocks)
Healthcare: 2.51% (based on 43 stocks)
Industrial Goods: 2.56% (based on 40 stocks)
Services: 2.78% (based on 101 stocks)
Technology: 2.76% (based on 78 stocks)
Utilities: 1.95% (based on 35 stocks)
Top 10 Most Volatile S&P 500 Stocks Over The Last Month

Office Depot, Inc. (NYSE:ODP): 5.99%
The New York Times Company (NYSE:NYT): 5.19%
Genworth Financial Inc. (NYSE:GNW): 4.8%
Cliffs Natural Resources Inc. (NYSE:CLF): 4.77%
Eastman Kodak Co. (EK): 4.75%
AK Steel Holding Corporation (NYSE:AKS): 4.71%
Massey Energy Co. (NYSE:MEE): 4.7%
Micron Technology Inc. (NASDAQ:MU): 4.64%
LSI Corporation (NASDAQ:LSI-OLD): 4.63%
Marshall & Ilsley Corporation (NYSE:MI): 4.59%
[click for expanded images]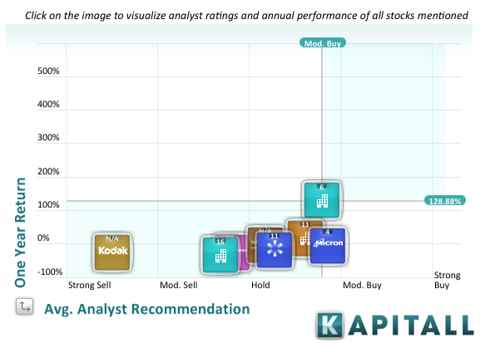 Top 10 Least Volatile S&P 500 Stocks Over The Last Month

Airgas Inc. (ARG): 0.96%
Qwest Communications International Inc. (NYSE:Q): 1.1%
CenturyLink, Inc. (NYSE:CTL): 1.1%
Johnson & Johnson (NYSE:JNJ): 1.23%
Clorox Corporation (NYSE:CLX): 1.3%
HJ Heinz Co. (HNZ): 1.33%
Southern Company (NYSE:SO): 1.34%
Campbell Soup Co. (NYSE:CPB): 1.34%
International Business Machines Corp. (NYSE:IBM): 1.36%
Kimberly-Clark Corporation (NYSE:KMB): 1.37%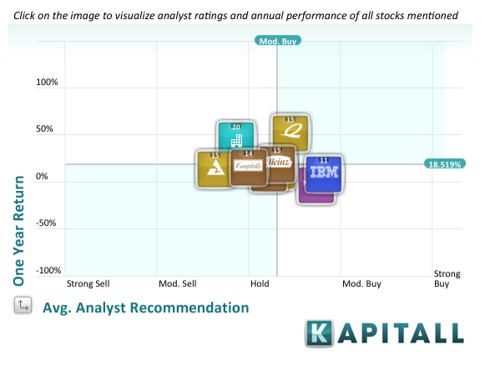 Disclosure: No positions