Sina (NASDAQ:SINA) will report its 1Q14 result on May 21. I am a seller ahead of the result, given the uncertain outlook of the advertising market. I am also worried about the evolving social networking pattern, as users gradually shift from microblogs to messaging apps. This may negatively impact Weibo's monetization.
Consensus expects non-GAAP EPS of US$0.15 (+650% y/y) on US$165m of revenue (+36% y/y) and US$10.6m of non-GAAP net profit (586% y/y). Earlier this month, Sina announced that it has been fined by the Beijing Municipal Cultural Market Administrative Law Enforcement Unit for the "unhealthy and indecent content" on its portal (Link). Its license for internet publication and license for online transmission of audio-visual programs would be revoked.

I expect guidance for the coming quarters to be weak due to the softening of the Chinese economy, which will negatively impact the advertising market. I see structural challenges for Weibo as users migrate from microblogs to messaging apps. Declining time spent on microblogs is a headwind for Weibo's ad revenue growth.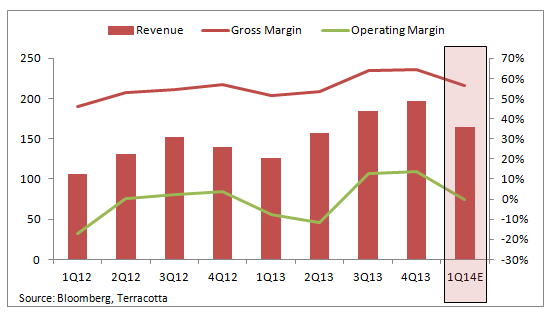 Twitter provides critical read-through for Weibo
Twitter's (NYSE:TWTR) 1Q14 result released last month disappointed on all key metrics. In my view, the result showed that user engagement continued to decline amidst a competitive mobile social network/media environment. While Facebook (NASDAQ:FB) reported strong mobile engagement metrics, Twitter reported engagement decline of 8% y/y. I see similarities between the Twitter-Facebook competition and the Weibo-Tencent competition. My analysis suggests that WeChat (owned by Tencent) has a lead over Weibo in mobile time spent by a factor of 2.5.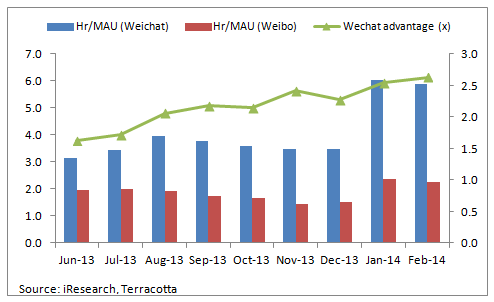 Since early April, Sina has fallen 10% compared to the Nasdaq composite, which has remained flat (see my last write-up "sell Sina ahead of Weibo IPO"). The market will likely be disappointed if the result does not meet guidance. Currently, the consensus expects Q2 EPS to be US$0.31(+47% y/y) on US$199m in revenue (+37% y/y), a rather aggressive estimate in my view.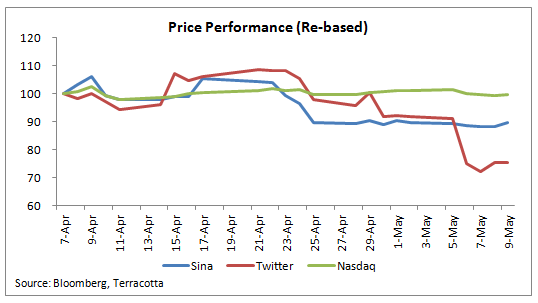 Valuation of 32x this year's earnings is a premium compared with the internet portal average of 21x and established online advertisers such as Baidu that trades at 28x this year's earnings.
Disclosure: I have no positions in any stocks mentioned, and no plans to initiate any positions within the next 72 hours. I wrote this article myself, and it expresses my own opinions. I am not receiving compensation for it (other than from Seeking Alpha). I have no business relationship with any company whose stock is mentioned in this article.