It's rare that I come out swinging for the fences about a brand new REIT, especially one that isn't proven and has hardly any assets under management. However, that was the case in 2011 when I wrote an article on Retail Opportunity Investment Corporation (NASDAQ:ROIC). Here's what I had to say about the company almost three years ago:
Investor's value growth and the three year guidance range for assets under management (for ROIC) are projected to be around $2.5 billion to $ 3 billion.
I went on to explain:
ROIC's diverse income stream should continue to grow and become a durable moat providing shareholders with sustainable operating results…ROIC is an appropriately named REIT and its economic moat should continue to develop into a significant and unequal operator. The competitive advantages outlined in this article promises to deliver significant value to investors as the "best in class" REIT continues to deploy capital to a consolidating and highly fragmented marketplace.
As I said, it's rare that I give a rookie REIT the thumbs up on the first date; however, as Dorothy Boyd (Renee Zellweger) said to Jerry Maguire (Tom Cruise), the 35-year-old sports agent working for Sports Management International, said:
You had me at 'hello.
A Track Record Worth Mentioning
To make it clear, my first encounter with ROIC was not a blind date. The company's core management team consists of its current President and CEO Stuart Tanz and several other leading shopping center veterans.
Tanz is no stranger to the shopping center business and he was the former CEO of Pan Pacific Retail Properties Inc. (PNP) where, during his nine-year tenure, he grew the company's market cap from $447 million to around $4 billion. Through a series of consolidative acquisitions, PNP purchased around $2 billion of retail assets (over 18 million square feet), and later PNP was sold to Kimco (NYSE:KIM) for around $4.1 billion (2006).
Another notable shopping center veteran, Richard Schoebel (currently COO at ROIC), was also directly involved in the success of PNP where he directed leasing and property management for around 38 shopping centers (and over 5 million square feet). With a long career in creating value, Tanz and his team have integrated a proven development and redevelopment platform with a proven track record for repositioning assets and identifying inefficiencies in the retail sector.
As evidenced by the early enthusiasm with ROIC's IPO, Tanz's track record (at PNP) was fundamental to the success of the investment model. During the period of PNP's public ownership, the company provided a 529% total return, compared with 355% for shopping center REITs, and 67% for the S&P 500 over the same period. Clearly, Tanz brings a veteran bench over to ROIC and included in the new brand is a formidable culture for profitability and success.
What impressed me most about ROIC (under Tanz's leadership) is that the company started as a "blank check" Initial Public Offering, meaning that the REIT commenced with no assets and a significant cash balance. With around $400 million in its war chest, ROIC was able to attract opportunistic investment properties by paying cash. Because there is a greater amount of discretionary equity required to buy (and refinance) commercial real estate, ROIC entered the public markets at a perfect time by capitalizing on market place inefficiencies (distressed with developers over their skis due to higher LTV ratios).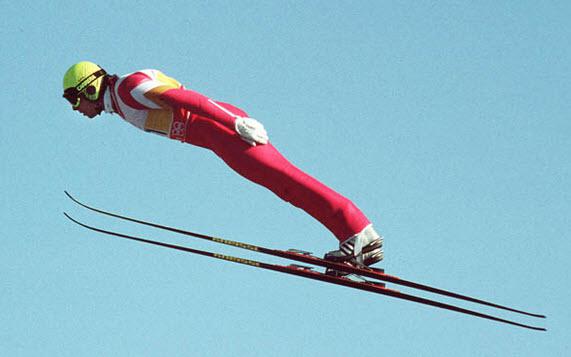 ROIC Hits All-Time High
Last week (May 9th), ROIC hit an all-time high of $16.22.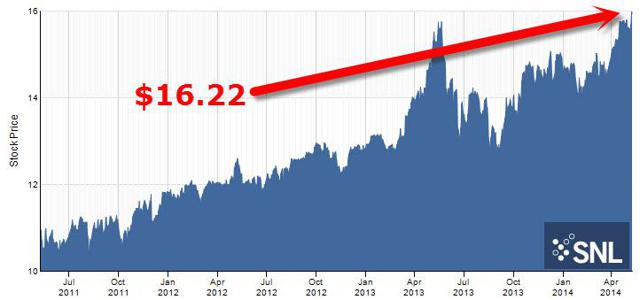 The company announced on May 9th that it was being added to the S&P SmallCap 600 Index at the close of business on May 9th and the inclusion in the index invited more attention as ROIC's operating platform. On Friday, a record 9 million ROIC shares traded:

The S&P SmallCap 600 measures the small cap segment of the U.S. equity market. The index is designed to be an investable portfolio of companies that meet specific inclusion criteria to ensure that they are liquid and financially viable. ROIC replaced AMCOL International Corp. (NYSE:ACO) in the S&P SmallCap 600 after the close of trading on the 9th (S&P MidCap 400 constituent Minerals Technologies Inc. (NYSE:MTX) is acquiring AMCOL in a deal expected to be completed soon, pending final approvals).
When ROIC commenced as a new equity REIT it had no legacy assets and the company originally targeted 11 of the top 15 U.S. retail markets - all enjoying strong, densely populated trade areas with lower unemployment. Also, these top tier markets enjoy above average household income levels and disposable income to support the retail investment model. In addition, ROIC was targeting markets deemed historically difficult for new development as zoning tends to be more restrictive.
ROIC has focused its growth on three primary west coast states (CA, OR, and WA) that continue to be the most sought-after markets in the country. As the company began to build the portfolio (in 2009 and 2010), it acquired performing and non-performing loans at discounts to the long-term intrinsic values. However, over the last several years, the company has shifted its focus on stabilized, high-quality, well-located, grocery-anchored shopping centers, where the company can build value through increasing occupancy and rents as leases roll over. As of Q1-14, ROIC has assets in excess of $1.5 billion.

As a result of its debt and equity activities, at Q1-14, ROIC had a total capitalization of $1.93 billion, with $686 million of debt outstanding, equating to a conservative 37.5 % debt-to-total market cap ratio.

The Growth Machine
With Tanz at the helm, ROIC has been nothing but a growth machine. For the first quarter of 2014, ROIC had $36.4 million in total revenues and $10.1 million in net operating income, as compared to $24.4 million in total revenues and $5.9 million in net operating income for Q1-13. The significant increase in revenues and net operating income reflects the growth in the company's portfolio from acquisitions during the past year as well as the company's leasing activity. Year-over-year revenue between 2012 and 2013 was up over 50%.

Also, in Q1-14 ROIC had net income of $3.3 million, equating to $0.04 per diluted share, as compared to net income of $2.3 million or $0.04 per diluted share for Q1-13. ROIC's Funds from Operations (or FFO) in Q1-14 totaled $16.5 million as compared to FFO of $11.5 million for Q1-13.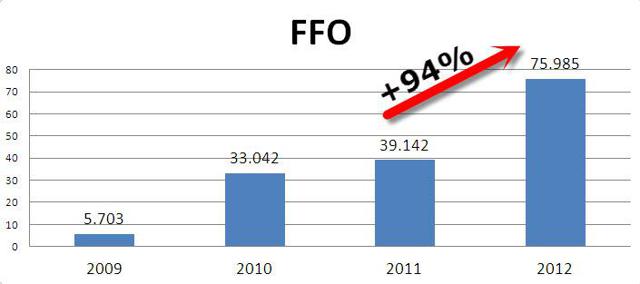 ROIC's FFO on a per-share basis also increased, notwithstanding a sizable increase in the shares outstanding due to over 21 million warrants being exercised since the beginning of 2013. Specifically, FFO per diluted share for the first quarter of 2014 was $0.21, representing a 10.5% increase over FFO per diluted share for Q1-13.

To date (Q2-14), an additional 1.5 million warrants have been exercised, generating another $18.4 million of proceeds to the company. So year-to-date, approximately 2.2 million warrants have been exercised in total, generating $26.1 million in proceeds thus far this year.
There are approximately 3.8 million warrants still outstanding that expire in October 2014 representing another $45.2 million in proceeds. Assuming the remaining warrants are all exercised, it would bring the total proceeds for 2014 to just over $71 million. Combining the proceeds from the warrants with proceeds from selling some non-core properties (as mentioned on the earnings call), ROIC could generate as much as $120 million in total equity proceeds in 2014 to put towards funding new acquisitions.
As of March 31st, ROIC owns 56 shopping centers, encompassing 6 million square feet, and the company's overall occupancy rate is 96.5%, up nicely from a year ago.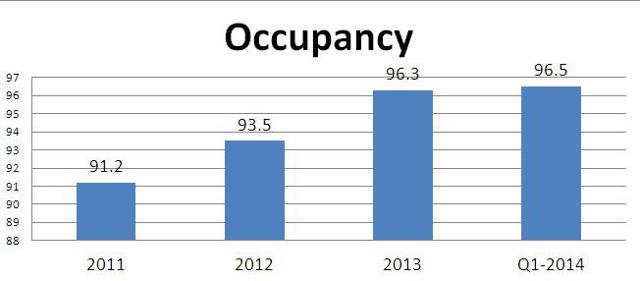 As a result of ROIC's pipeline of lease activity, the company anticipates that portfolio occupancy will soon reach 96.9%, which will be a new record high for the company.
So far in the first 4 months of 2014, ROIC has committed to $112 million in shopping center acquisitions, which include 2 grocery-anchored shopping centers acquired during the first quarter totaling $69 million; 1 grocery-anchored shopping center acquired recently for approximately $28 million; and 1 property under contract expected to close totaling just over $15 million. Stuart Tanz, ROIC's CEO, commented on the recent earnings call:
…we continue to focus on unique opportunities where we can fully capitalize on our market knowledge and presence, as well as our ability to quickly enhance value.
In terms of dispositions, Tanz adds:
As it relates to the broader marketplace, we are seeing a shift in the acquisition environment with potential buyers becoming more aggressive, and as a result, pricing becoming tighter. We are looking to capitalize on this by selling certain non-core assets. We are currently considering marketing several non-core properties that in total, could generate roughly $50 million in proceeds to redeploy in new core acquisitions.
I Found a Diamond in the Rough
ROIC has approximately $122 million outstanding on its unsecured credit facility and on a square-footage basis, 85% of the company's portfolio is unencumbered. And, for the first quarter of 2014, the company's interest coverage was a solid 3.4x, which takes fully into account the interest expense from the $250 million of bonds issued at the end of last year to term out the line. By maintaining a conservatively financed balance sheet, ROIC has been able to capture market opportunities.
The company's track record speaks for itself. Since its IPO (almost 3 years ago), ROIC has outperformed the peer group:

ROIC is one of two shopping center REITs that has increased its year-over-year share price:

I jumped on board last year (October 9th) and since that time my shares have returned 19.4%.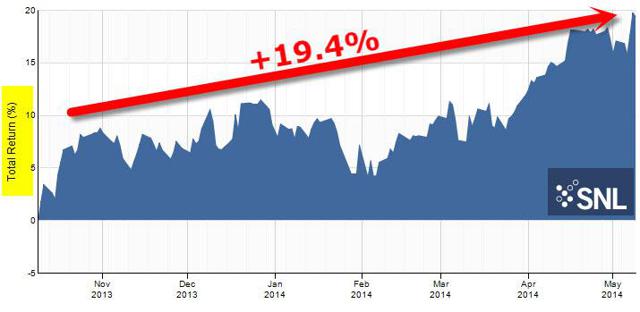 It was rumored a few weeks ago that ROIC was in talks with Vornado regarding a merger; however, since that time Vornado has announced its own spin-off related to 85 shopping centers. Other REITs have jumped into the spin-off mode, including Simon Property Group. The spin entity is called Washington Prime Group and it will own 54 shopping centers. Also, American Realty Capital Properties (ARCP) has announced its spin-off of 79 shopping centers (see my article HERE).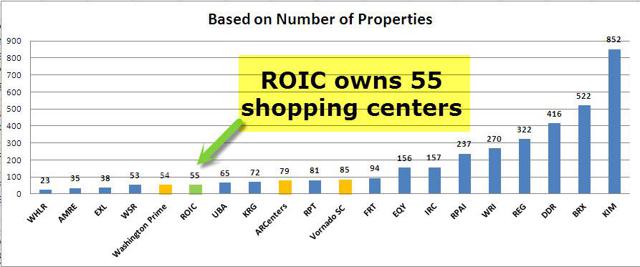 The playing field is getting awfully crowded and I suspect that there will be consolidation in the sector. From a market valuation perspective, ROIC is moving towards "premium valuation" ranges; however, based on Tanz's track record and prudent risk management skills, I suspect growth will be more impressive in 2014.

Tanz has demonstrated that he knows how to reward shareholders. That loyalty is reflected in the dividend record. Here is a snapshot of the company's quarterly dividend record (dividend increase in Q1-14 from $.15 to $.16):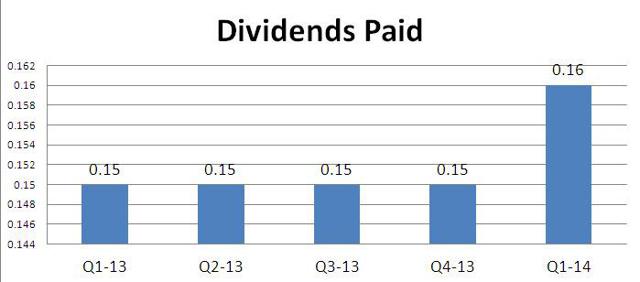 Based on an annualized dividend in 2014 of $.64, ROIC's average three-year dividend growth rate is 18.6%.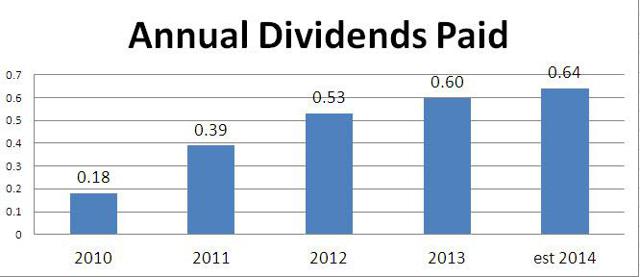 ROIC's current dividend yield is 4.02% (my entry yield was 4.4% in October 2013).

Sometimes I guess you should listen to your gut instincts. When I wrote my first article on ROIC I knew this company was a diamond in the rough. Although not a polished jewel then, my impulse told me that ROIC was going to be a big time contender. Last week, that feeling was confirmed. My "back of the napkin" estimates over three years ago were on target and now I will provide you with my "back of the napkin" for 2015.
Actually, I will do better than that. Using FAST Graphs' powerful analysis tool (below), I have forecasted ROIC to grow by around 7% in 2014 and 8% in 2015. I'm hopeful that there will be another dividend increase ($.17). Remember that ROIC has the free cash flow to raise the dividend and the company could certainly leverage up its balance sheet as well. However, ROIC has said that it will close $250 million or so in 2014 (50% already committed) and that is meaningful growth of more than 10% in assets.
ROIC's current share price of $15.93 is trading at a level influenced by the recent S&P 600 induction. I would not recommend buying shares until there is a meaningful margin of safety. I am moving my target BUY price (in my SALSA portfolio) from $14.00 to $14.50. ROIC has become a meaningful player that deserves more shelf space… I knew I should have moved earlier since "you had me at hello".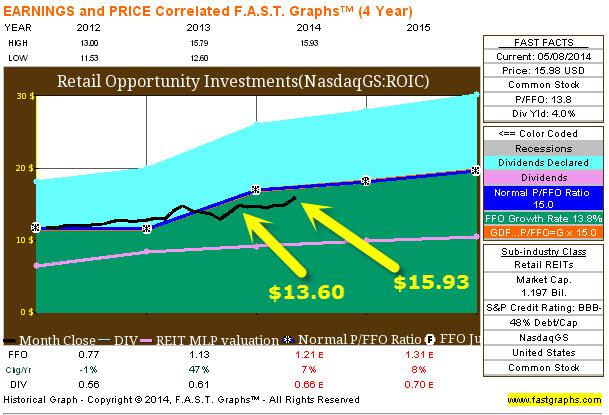 The Intelligent REIT Investor: For more information on REITs, check out my monthly newsletter HERE.
ReCon 2014: I will be attending the annual ReCon conference next week in Las Vegas and while there I will be interviewing over a dozen retail REIT CEO's including ROIC's Stuart Tanz.
Source: SNL Financial and FAST Graphs.
REITs mentioned:(NASDAQ:WHLR), (NYSE:FRT), (NYSE:REG), (NYSE:UBA), (NYSE:EQY), (NYSE:AMRE), (NYSE:WRI), (NYSE:RPAI), (NYSE:DDR), (NYSE:EXL), (NYSE:RPT), (NYSEMKT:WSR), (NYSE:KRG), (NYSE:BRX), and (NYSE:IRC).
Disclaimer: This article is intended to provide information to interested parties. As I have no knowledge of individual investor circumstances, goals, and/or portfolio concentration or diversification, readers are expected to complete their own due diligence before purchasing any stocks mentioned or recommended.
Disclosure: I am long O, DLR, VTR, HTA, STAG, UMH, CSG, GPT, ARCP, ROIC, HCN, OHI, LXP, KIM, WPC, DOC. I wrote this article myself, and it expresses my own opinions. I am not receiving compensation for it (other than from Seeking Alpha). I have no business relationship with any company whose stock is mentioned in this article.