Ever since the Federal Reserve decision on monetary policy on March 19th, the Canadian dollar (NYSEARCA:FXC) has staged a strong recovery, increasing about 3.4% over that time. Canada's weak employment report for April seemed to put an abrupt end to the rally on Friday, May 9th.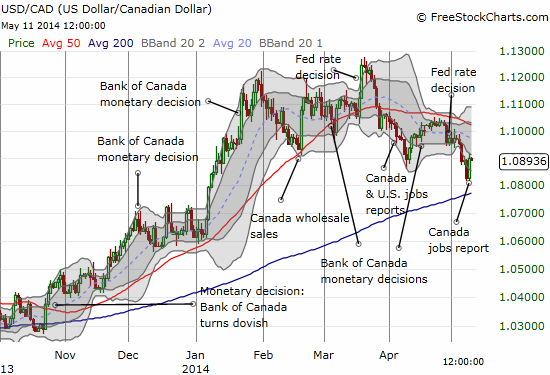 The latest report on unemployment in Canada helped sharply reverse USD/CAD just above its 200-day moving average (DMA)
Statistics Canada reported a loss of 29,000 jobs for April while the unemployment rate held steady at 6.9%. Using U.S. definitions, the unemployment rate declined 0.2 percentage points year-over-year to 6.0%. Overall, job growth has been stagnant for eight months. Year-over-year, 149,000 additional people are working in Canada with this growth evenly split between full and part-time workers.
This weakness in the jobs numbers was a reminder that monetary policy in Canada should remain relatively dovish for quite some time. This message was reinforced one more time during a speech on April 24th by Governor Stephen S. Poloz at the Saskatchewan Trade and Export Partnership in Saskatoon, Saskatchewan titled "Canada's Hot - and Not - Economy":
…it should be clear that we are still a long way from home, as it will take until early 2016 to get underlying inflation back up to 2%. Our economy has room to grow. And, when we do get home, there is a growing consensus that interest rates will still be lower than we were accustomed to in the past - both because of our shifting demographics and because, after such a long period at such unusually low levels, interest rates won't need to move as much to have the same impact on the economy.
In this same speech, Poloz both recognized the value of a strong Canadian dollar - "a stronger dollar gives the whole country greater purchasing power on global markets by bringing down the Canadian-dollar prices of imported goods and services" - and the impact a strong currency has on the manufacturing exports that Poloz sees as critical to getting exports to lead the economy again. Poloz as always is careful not to target a weaker currency, but the emphasis on export performance implies that the Bank will at least do its best not to encourage strength in the currency.
Poloz also pointed to momentum in the U.S. economy as a facilitator of "diminished strength" in the Canadian dollar. Of course, that momentum has increasingly been called into doubt even as Fed Chair Janet Yellen provided the following positive view in her Economic Outlook before the Joint Economic Committee, U.S. Congress on May 7th:
Looking ahead, I expect that economic activity will expand at a somewhat faster pace this year than it did last year, that the unemployment rate will continue to decline gradually, and that inflation will begin to move up toward 2%. A faster rate of economic growth this year should be supported by reduced restraint from changes in fiscal policy, gains in household net worth from increases in home prices and equity values, a firming in foreign economic growth, and further improvements in household and business confidence as the economy continues to strengthen. Moreover, U.S. financial conditions remain supportive of growth in economic activity and employment.
It is notable that the persistent weakness in the U.S. dollar index (NYSEARCA:UUP) has not translated into persistent strength in the Canadian dollar.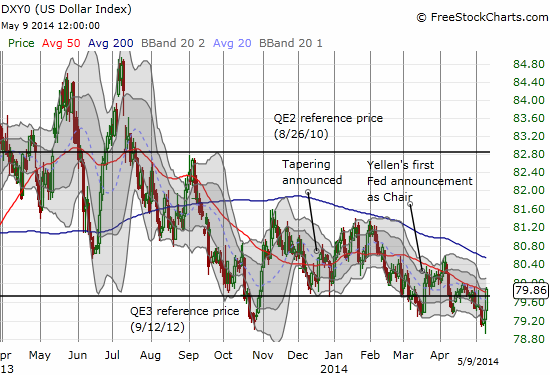 The U.S. dollar index continues to languish
Source for charts: FreeStockCharts.com
Per previous posts, I have treated the recent weakness in USD/CAD as an opportunity to rebuild a long position in the currency pair. The on-going weakness in the U.S. dollar index and the arrested upward momentum in USD/CAD definitely puts my upwardly revised target for early 2015 of 1.16 in jeopardy. I am not adjusting the target just yet, but I do feel it is very reasonable to expect USD/CAD to retest recent highs in the coming months.
Be careful out there!
Disclosure: I have no positions in any stocks mentioned, and no plans to initiate any positions within the next 72 hours. I wrote this article myself, and it expresses my own opinions. I am not receiving compensation for it (other than from Seeking Alpha). I have no business relationship with any company whose stock is mentioned in this article.
Additional disclosure: In forex, I am long USD/CAD.