Lately there has been some confusion in comments to various Seeking Alpha articles on whether DRAM is weak or strong. Here are some spot market prices for the DDR3 4Gb DRAM chip from various dates from DRAMeXchange:
$3.128 9/3/13 the day before the SK Hynix (OTC:HXSCF) Wuxi fire
$3.937 2/28/14
$4.123 5/8/14
And since DRAM is about 68% of Micron's (NASDAQ:MU) revenues, a firming price is a great thing!
I used to slavishly write down the nightly DRAMeXchange pricing since the historical database of pricing is behind a paywall; now this tedium only happens once a week or so. I concur with Micron and others who question the continued relevance of this DRAMeXchange spot pricing: spot is a very small part of the overall market, the spot prices don't reflect mobile DRAM pricing, the service doesn't cover all the latest chips, etc. But its still a worthwhile source to peek at and get a sense of, or a confirmation of, the trend.
And great things are happening, as this recent piece from Avnet on semiconductor leadtimes points out. See page 10 where, amongst long lead times for other parts, they point out that the DDR3 is on allocation! These are magic words which strike joy in the hearts of memory investors and fear in hearts of memory users. Avnet provides this little thumbnail to their memory customers:
DDR-3 is the design sweet spot from 1 to 4 Gb. Prevailing support is for the DDR3L / 1.35 V option which retains 1.5 V compatibility. Expect allocation and constrained delivery for 2014. 2 and 4 Gb DDR3 have seen slight increases most recently. Having forecasts and backlog in place is the best way to assure support.
The following slide is from a Sanford Bernstein update on Micron from April 4, and shows a slight tapering down of the Average Selling Price per Gb of DRAM.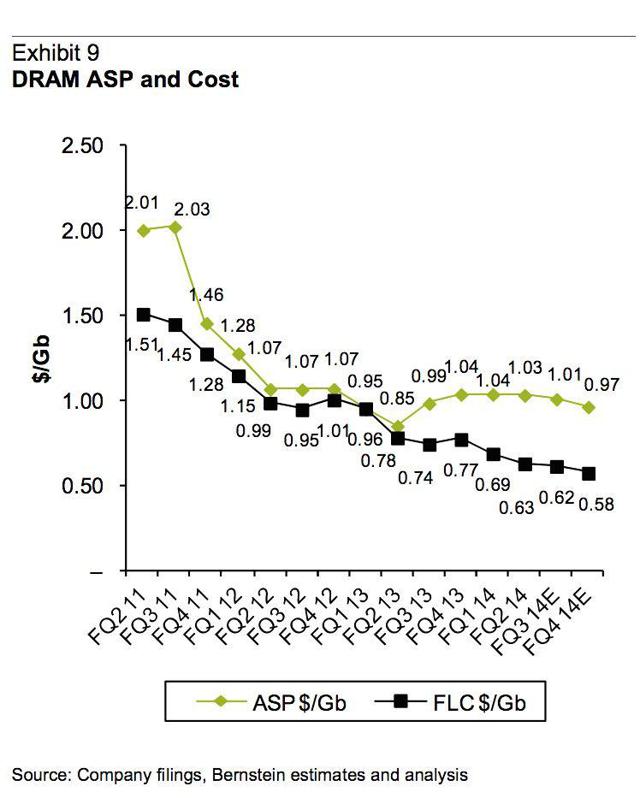 Click to enlarge
If one takes the $4.123 spot price from DRAMeXchange cited above, and divides by 4Gb, the resulting ASP per Gb is $1.03. While this appears dead on with the chart, I think the Avnet news that the most popular DRAM part is on allocation means the curve may not taper down by year end.
So what's next in DRAM? Well that's nice that parts are on allocation and the pricing is firming, but what happens next?
One of the biggest things to happen to DRAM in a while will be the roll out in the second half of the year of DDR4 which Wikipedia defines as follows:
DDR4 SDRAM, an abbreviation for double data rate fourth generation synchronous dynamic random-access memory, is a type of synchronous dynamic random-access memory (SDRAM) with a highbandwidth ("double data rate") interface, expected to be released to the market sometime in 2014.
And what's the big deal? Its twice as fast, consumes about 40% less power, and delivers 50% more bandwidth. Basically servers (among the first targets) will run cooler and faster and use less power.
While the release of DDR4 has slipped in the past it seems on target this time. SK Hynix has demonstrated what it says is the first 128GB DDR4 module. Intel will ship computers with DDR4 this year. And Micron's own Crucial memory sub is sampling server memories now.
This new memory should help Micron improve its gross margins as is implied in this slide from the April 4 Sanford Bernstein report: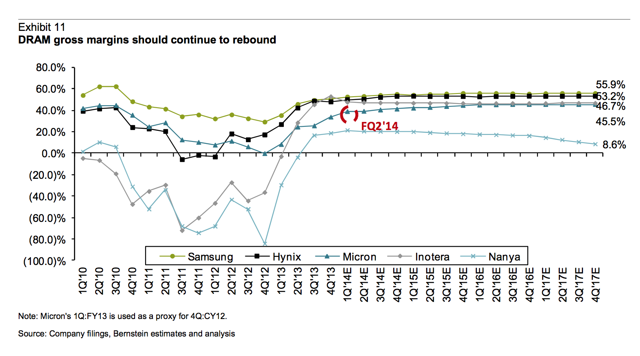 Click to enlarge
Conclusions. Pundits who predicted a roll back of the memory chip price rise caused by the fire at Hynix's Wuxi fab have been wrong. Firmness on pricing in the seasonally worst second calendar quarter is a great thing for Micron shareholders. DDR4 should propel us to another level of profitability.
Disclosure: I am long MU. I wrote this article myself, and it expresses my own opinions. I am not receiving compensation for it (other than from Seeking Alpha). I have no business relationship with any company whose stock is mentioned in this article.